Designer Interview
Bleue Burnham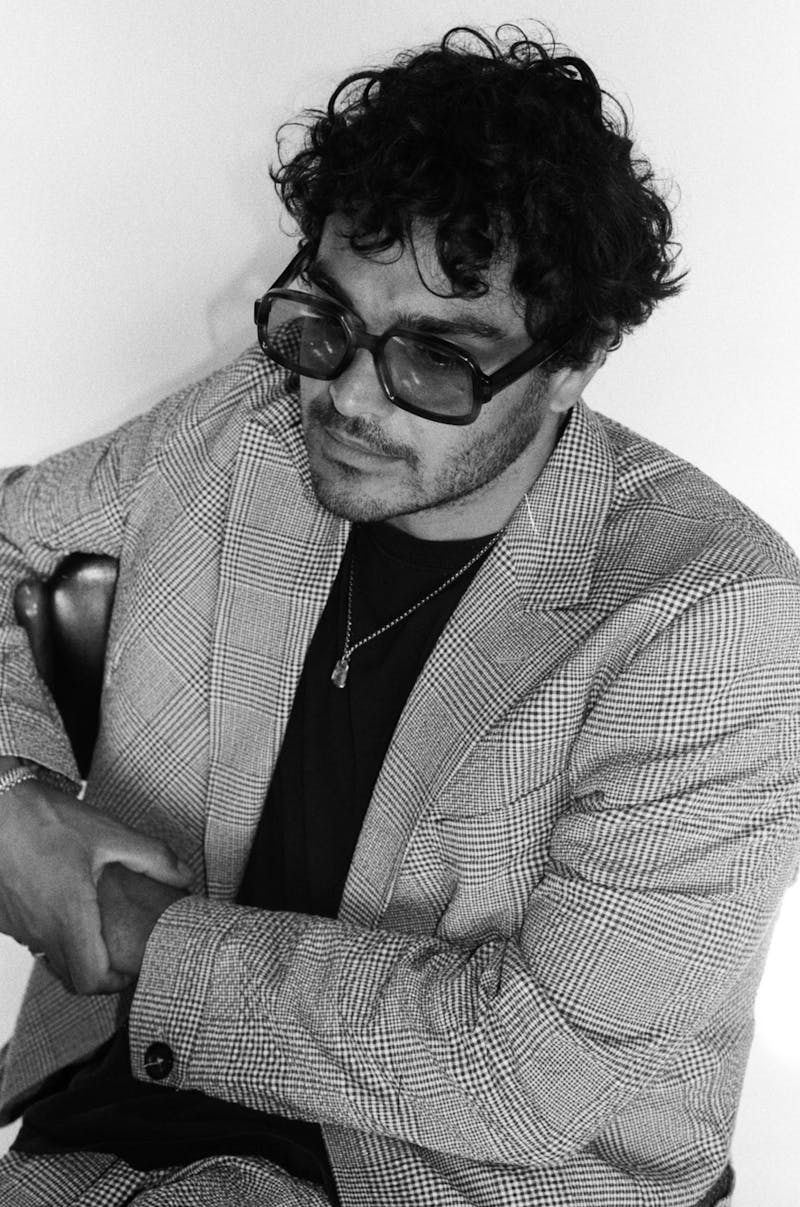 Contemporary, luxurious and with respect for nature, Bleue Burnham creates jewellery to enhance health and happiness
With an intuitive understanding of environmental structures and systems, Bleue Burnham has created his eponymous jewellery brand with respect for nature. Through continual exploration of concept, culture, precious metals and precious stones, Bleue Burnham fuses the esteemed
format of fine jewellery with an approach to design that is informed by a luxurious and contemporary understanding of health and happiness. Playfully encompassing activity known to enhance these. The intention is to create jewellery that enriches lifestyle through meaning and connection.
You grew up in Brighton and you are currently based in London, how have the two cities shaped you?
Brighton was an amazing place to grow up. Very free, liberal and creative. There is also the beach, lots of green spaces and easy access to the countryside. London is a bit more serious for me and is an amazing place to build yourself up. You are surrounded by amazing people and amazing opportunities, so it is very inspiring. I would say Brighton has shaped my outlook on life, whereas London has really helped me refine my vision and understand myself in greater detail.
It seems like fashion and style was always important to you, but how did you end up a jewellery designer?
I had always absolutely loved jewellery but weirdly it had never crossed my mind to start making it. It seemed like such a different world to me as I had no entry points. Then I had a relationship with a jewellery designer and she taught me how to make a ring using the lost-wax casting method. As soon as I made one ring I was hooked.
You studied environmental sustainability in University; can you trace how your interest in the environment and sustainability developed?
I don't know if there is a significant moment. It was more a process of learning how the natural world works and understanding climate change and industries' role in this. I think I have a natural talent for understanding environmental structures and systems in the same way that some people have a natural talent for Maths or English. So, as soon as I had a good level of knowledge it's hard to not be interested. The future of this planet and therefore humanity is literally in the hands of what we do over the next 8 years. There is no easy or comfortable way to do this but it's so important that individuals and businesses change the way we live. 
Your environmental stance for your brand is built on two pillars; what are they?
Internal and external. Internal focuses on our own, how we operate and function as a business and exploring methods of footprint reduction for our activities such as using recycled metals or transporting things via bicycle. External is about going above and beyond and using business to be a positive pillar of society. This includes looking at ways that we can use our business to improve the environmental outlook of humankind as a whole and undertaking activities such as incentivising renewable energy use and supporting healthy natural eco-systems. Both of these are a continual process, and we will always be trying to improve.
"Everything is nature. We are all nature. Humans often disconnect themselves from nature when it is the most important thing to be connected to."
What does nature mean to you, personally?
Everything is nature. We are all nature. Humans often disconnect themselves from nature when it is the most important thing to be connected to. It is where we all come from, it is what provides for us, it gives meaning to life and it is where we will finish our lives. It is what most religious people search for in god. To me it is god. It is the ultimate higher power which is so beyond our level of intelligence we will never fully understand it. Instead of trying to conquer its meaning I think it is important to understand that we are part of it, we need it, and we must care for it. Then just experience it and try to lead a life which leaves the world in a better place than you found it. 
Can you tell me a bit about your tree planting?
We used to plant a tree with every piece of jewellery sold. Tree planting managed correctly is amazing – it supports biodiversity, soil health and helps store carbon. The only slight downside of tree planting is that it can take a 65-year period for its full carbon storage to be achieved. Obviously, we don't have 65 years to turn things around so now with every sale we invest in tree planting but also support carbon reduction schemes that have more immediacy.
Your brand is an exploration of concept and culture, in which ways?
It's a process of exploring narratives which relate to living. The concept is the situation, and the culture is how the situation manifests and flows. Currently my head is really in the space of gardening for beauty and why this is important and also how this is a representation of an individual.
You create meaningful designs; what does jewellery mean to you?
Jewellery is an extension of yourself. It is a method of definition and bringing your external self in line with your internal self. It's also a way of being connected to a situation or an individual; for example, my favourite jewellery is a bracelet from my grandmother. When I wear this, I feel connected to her and that brings me joy. In the same way, a piece of jewellery that is related to an important moment in your life can keep you connected to the importance of that moment. It can also connect future generations to the importance of that moment when jewellery is handed down.
How would you describe your aesthetics?
Elegant at heart with a playful and fun personality.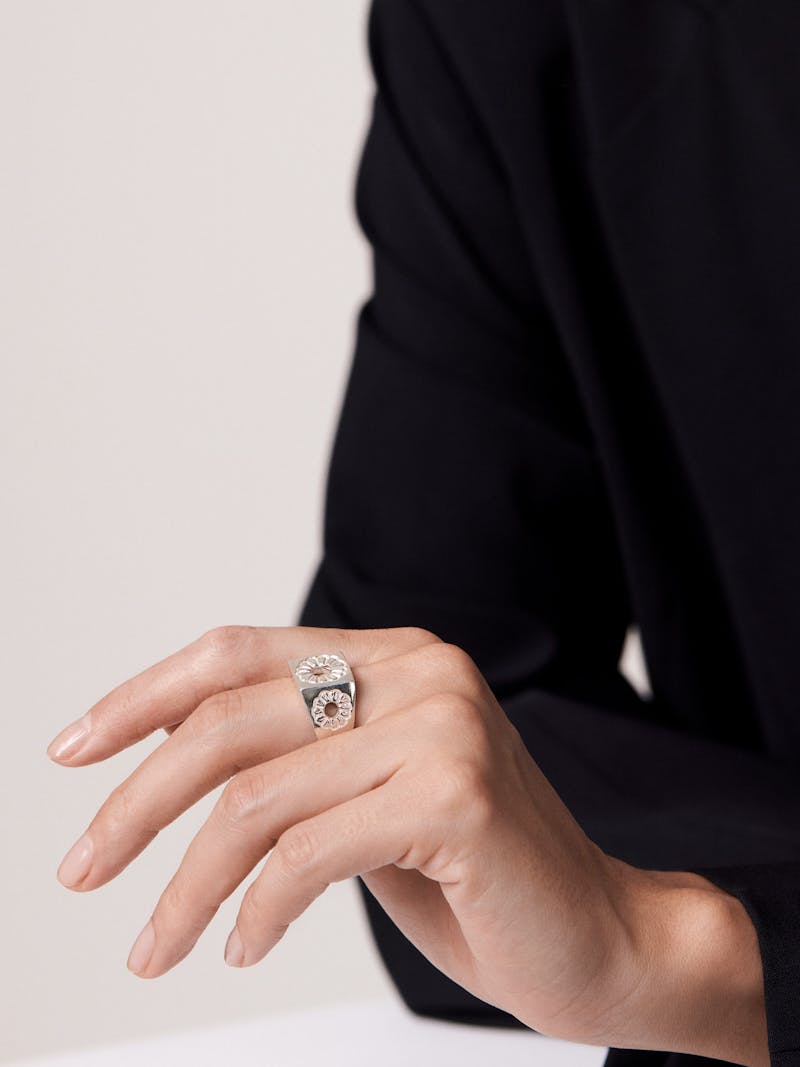 What's your process like?
I make everything by hand, so all pieces have passed through my hands. I make from wax so this is always my starting point then there are a few different directions it can move in. I spent years teaching myself to stone-set without following an already prescribed method, so I like to think my stone setting has a uniqueness to it. Recently I have also started to do a lot more engraving by hand, which I am really enjoying.
You work a lot with coloured stones, which stones mean the most to you?
The pink sapphire means the most to me. This was the first stone I used and when pink and gold come together it creates a beautiful relationship. Each colour really brings out the best in the other. Recently I have been really enjoying how green and yellow sapphires look in silver jewellery. This is also a beautiful relationship.
Who do you admire?
So many people. I feel I am often around so many amazing people who inspire me. My friends and family are constant sources of inspiration and have helped shape me into the person I am. From a wider view, I have incredibly deep admiration for Sir David Attenborough and the message he is currently sharing with the world. I also hugely admire Isabella Tree and the work she has done with Knepp estate in helping build knowledge on the beauty and intelligence of nature and the environmental benefits of re-wilding.
If you could time travel, where would you go and why?
I would go to the 80's, enjoy a summer on the French Riviera, with a few weekends in Paris, London and New York and then do lots of exploring around Asia in countries such as India, Sri Lanka and Thailand.
What's your wishes for the future?
Greater unity and love between humanity and the natural world.