Designer Interview
Rebekka Notkin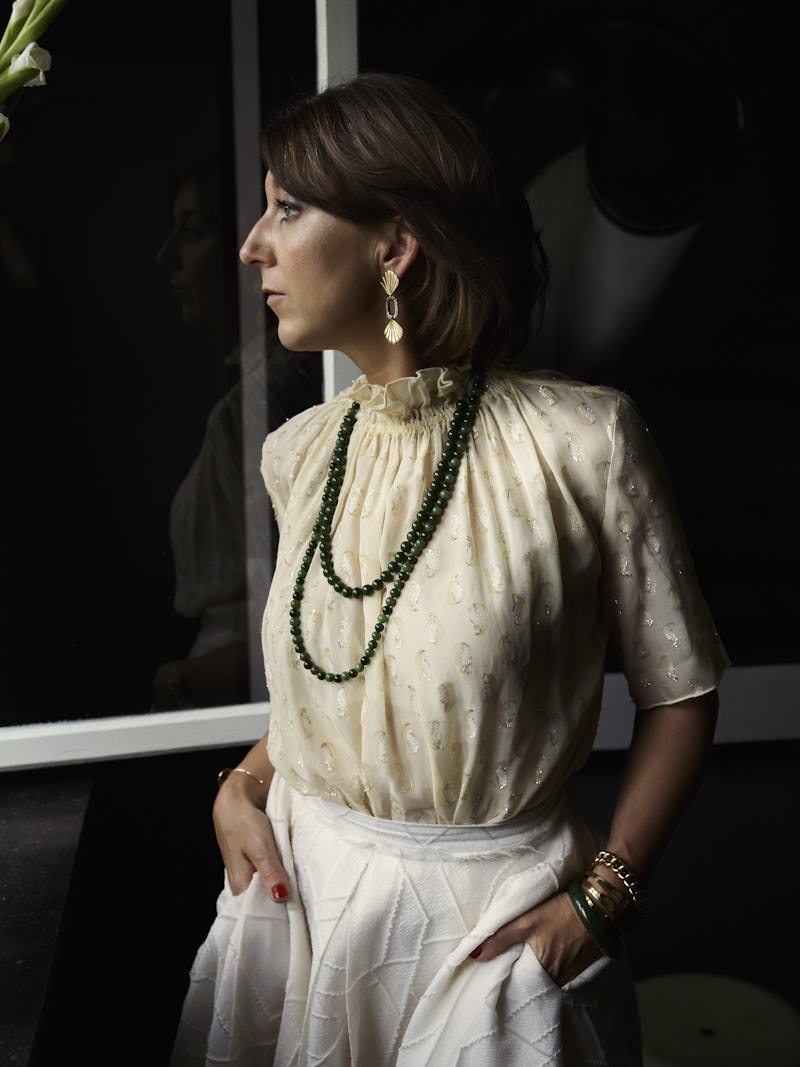 Traditional craftsmanship takes centerstage in this designer's enchanting universe of pieces of jewellery detached from time
Chances are you've noticed Rebekka Notkin's immaculate creations; with a timeless elegance and outstanding craftsmanship, they've gained popularity in her home country of Denmark and abroad. From her beautiful studio in the center of Copenhagen,
she creates jewellery inspired by the magic of history; and each individually crafted design has a unique story to tell. Rebekka lives and breathes her profession and here, she shares her thoughts on how she found her calling.
I read somewhere that your father was a goldsmith. Have you always known that you would follow in his footsteps?
Not exactly, but everything I've done, what I've been preoccupied with and things I've been interested in have been miniatures—doll house furniture, Barbie clothing, jewellery for my dolls and paper dolls. And when I was allowed in my father's workshop, it felt like magic. So from that point in time, I knew. 
You were an apprentice of Torben Frisch: a very classic craftsman? 
Indeed. It was a workshop, where we did work for other goldsmiths. It was a traditional workshop with classic assignments.
So that was your foundation for your craftsmanship? 
The craftsmanship is basically four years, and a combination of my apprenticeship and the goldsmith course. And when I did my final examination, I received a medal [A Danish tradition for graduating with distinction, red.]. Normally, I don't mention that, but it speaks to the idea that craftsmanship is very important to me. 
Perfection seems important to you, which is evident in your creations, I believe. 
Perfection as such is not a goal, but I am preoccupied with composition. The fact that my jewellery is well composed is incredibly important to me; in that way it fulfills my ideals and what I believe to be perfect. It does not need to be completely taut and even, but composition and expression should build up to perfection. 
In general you have strong values? 
I'm shaped by the very classic Danish goldsmith tradition. In Denmark, we have Georg Jensen, who's the grand old master, and we are known to be good craftsmen. It was always my ambition to become a good craftsman. This has played an important part in my ambition to do things right and create classically enchanting and apparent constructions. My pieces are straightforward in the way that they are easy to understand. Nothing is hidden, and the backside is just as nice as the front. In that way, tradition and craftsmanship is integral to my work. To let go of that would feel like a compromise.
I assume that's why your jewellery feels so timeless. As modern as your creations are, they are very timeless too. 
I believe that is exactly what makes it look to the future, while also pointing back in time. 
"If you are not wearing your jewellery, it can feel like a part of you is missing. It can hold such importance that it works like a talisman of sorts."
Multiple sources mention Art Deco as an inspiration or reference in your designs. 
Personally, I do not use the term in relation to my jewellery, but the 1920s and the 1930s with their intricate patterns and ornaments in both architecture and textiles are very inspiring. 
The time and the spirit.
And the lines. With Art Noveau, which came right before, everything was very curly, you could say, and then we enter this new time, and things become sharper.  
So the general aesthetics of the time?
Yes, and patterns and shapes that repeat themselves. It's very fascinating. I'm especially inspired by this French Jewish artist, Sonia Delauney, who was part of the group of women described as avant-gardists. She was a rebellious textile weaver, and she was wonderful. She had this knack for creating repetitions of archetypal figures. It's not that I want to create textile as jewellery, but the lines!
Now that you touch upon it; aesthetics in general seems important to you; in art, textiles, interior… 
I live and breathe it. It might be due to my attention to detail; I notice compositions, shapes… It is not easy to explain; it is just the way it is. 
What's been most influential to your work? 
Once, I had the pleasure of working with antique jewellery; we restored old classics; from Cartier to Bulgari pieces. It not only influenced me, it also tells a story of pointing to the past; if anything, Cartier is the 1930s. It was a huge deal to me working with these antiques. Danborg [now defunct, red.] was an antique store selling only antique jewellery. I have the utmost respect for pieces where composition, craftsmanship and aesthetics work to create unity. That idea has undoubtedly had the most impact in my way of working today. 
That was before opening your store? 
I had just finished my apprenticeship and I worked there for a year before starting my own shop. 
Was it important to you to start on your own?
I am not sure I would use the word important, but I felt like I had to. You cannot nurture your own expression and style working for someone else. And to be able to create a comprehensive universe around it not only elevates it; it tells a story.  
Storytelling. That's what jewellery can do; from the inherent story in the piece itself to the symbolism attributed by the wearer.  
Precisely. I believe in credibility. It should be a product made for a reason, something that can last forever. There's longevity to it. To me, the story attributed to it by the individual wearing it is absolutely wonderful. I don't have any shares in that story, and yet it holds so many layers. Personally, I will be inspired by something I've seen or experienced, something extraordinary or beautiful, which will be reflected in my jewellery, and be part of my storytelling.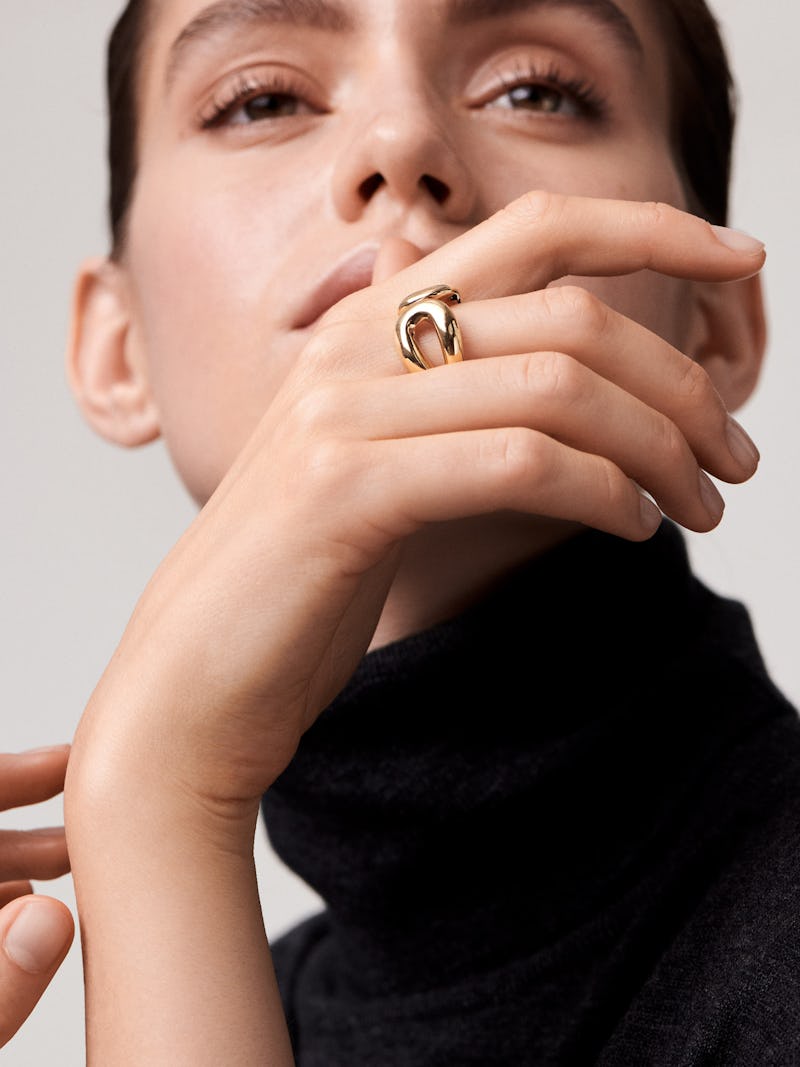 You describe yourself as introvert, and I guess that makes sense in your choice of profession, because you are very one-on-one with your craft.  
The work is very quiet and requires concentration and focus, which suits me perfectly. I enjoy the time when I am completely focused and disconnected from my surroundings. In this way, I am very much my own person. Jewellery is detached from time. It holds its own time. It can live on its own. It's not dependent on the world. It shies away from trends and fashion. It can of course be dependent on one's economy, but it can also be inherited. In this way, jewellery is detached from the world. 
Do you lose time and place when you work? 
Time tends to disappear, and it flies by unnoticed. I'm very focused. I will paint and sew too, and often find myself in these enclosed universes. 
When you craft jewellery, you become such a big part of people's stories, so I would imagine that it makes you go that extra mile. 
Definitely. We attach so much value to our jewellery. I know from myself and from conversations with people that it can feel like a part of you is missing if you are not wearing your jewellery. It can hold such importance that it works like a talisman of sorts. You simply need to wear it. To me, this purpose is magical. And history tells us the same; jewellery has always held this power. Not only can it signal your tribe; it can signal wealth and protection too. It is a way to send signs to the world around you. 
Do you make a lot of one-of-a-kind pieces? 
A whole lot. And I do limited editions too. There's great variety in my work. The art pieces that I do are typically for exhibitions or private customers. 
With private clients, it's a different work process?  
I don't have to think about the commercial potential, so it gives me a lot of freedom. And they are pieces that I cannot show to the world, because people pay a lot of money for it, and that comes with certain discretion. 
It is very interesting that there's this element to the industry too. 
In a way there's this secret layer. It's very personal. 
Selection of
Rebekka Notkin's Products