Designer interview
Sophie Joanne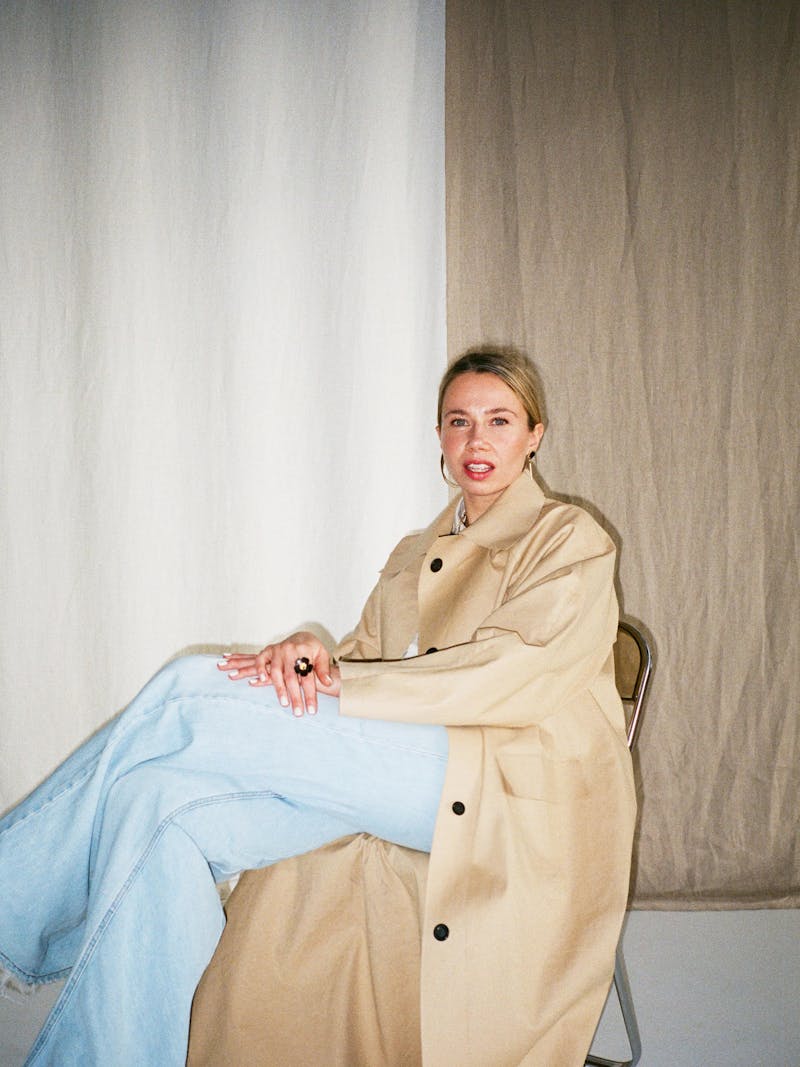 Sophie Joanne is a promising jewellery designer from the Netherlands who's a relatively new player on the fine jewellery scene. Don't take her 'newness' too lightly - her designs have graced many a glossy magazine and she is quickly garnering international success in the jewellery world. The irony here is that the only thing 'new' about Sophie is her very original design aesthetic. She has an instantly recognisable profile thanks to her life-size candy coloured carved gemstones and enamelling. This for any jeweller, let alone an emerging jeweller is not an obvious chess move.  To summon the courage to delve into strictly handmade techniques that stem from faraway lands costs money, time and most importantly, imagination. It's no surprise then that one of Sophie's most prominent inspirations is surrealist art. Her jewellery is a dizzying melange of kaleidoscopic colours like the pistachio peridot in her flower ring or the fist-sized and elaborately carved powdery amethyst in her Lotus necklace that rests calmly on the chest but looks like it bears shamanic properties. As well as carving her gems, Sophie has certainly carved out a niche in the fine jewellery industry and left an indelible impression on just about all of us.
We sat down with Sophie to talk about her journey, the importance of preserving ancient methods in jewellery making and her plans ahead.
Tell me about your background and how you got started?
I used to work in fashion for a long time for different Parisian brands and then in February, one month before lockdown I decided I wanted to do something more sustainable, something smaller and more creative instead of managing teams. I really just wanted to design my own thing. That was about 2 years ago. And then, I also always had a big love of jewellery as my grandmother and mother were both big collectors of jewellery, so I always had something for it I guess. Both of my grandmothers are from India and I used to go to India twice a year for work so when I returned I went to Jaipur and came across this amazing artist called Mr. Kamal, he has won a presidential award. He is an amazing enamel artist and does carving too. I just fell in love with the work he does. It was more traditional, definitely, but so beautiful. So I thought I would start by designing 5 rings with him carving and enamelling and just see how it would go. They turned out so well so I added some more to the collection and then officially started the brand. I actually started selling to friends and family and then it went really fast from there, as I only started just before the pandemic. The second collection came out in the beginning of this year and now I am about to release the third collection in Paris in the beginning of October.
How do you feel now that you are officially a jewellery designer, has the penny dropped?
No! Because I have so much to learn still. Now that I am designing my new collection I am more challenged than last time because I am aware of how much more there is to learn, but then again I am so much more aware of things I wasn't aware of in the beginning. I'm learning much more about the stones, so much more about the techniques. I am working with Mr. Kamal in India, then there are stone carvers, one in Germany, one in Italy, I also have my own goldsmith working for me in Amsterdam. I am learning everyday so I don't have the feeling that I am established yet!
Is there a difference in working in the fashion world versus the jewellery world?
Yes two different worlds. In fashion it was such a different process. You made the sketches, then the sample pieces, then you revised the sample like 8 times but it was a relatively quick process.  Now if I do the slightest thing different, even one millimetre, it changes the wearability and the whole design and we have to start again. Also Mr. Kamal only makes samples in gold so yes, it takes much more time before a product is finished. And also the thing with fashion is that it's not permanent. Jewellery is totally different, I didn't want to make something that is so brand focussed, I want people to wear my jewellery whenever they want and not attach it to a season, like fashion.
"This is why I love to do what I do, I work alongside people with so much history and knowledge on what they are doing, they have an ancient understanding with jewellery and I get so inspired by it. For me it's the biggest pleasure to work with artisans"
Do you design everything and outsource the production to Mr. Kamal in India? What is the process of how you design?
 Mostly I design and sketch everything myself with watercolour paint and then some of the harder things are done in 3D (CAD) design. They are then sent to Jaipur and the samples are made by hand. Then from there it evolves, either some samples are good on the first go, other times we have to redo them, it could take three or four times. In the beginning I only wanted it to be a made-to-order, bespoke pieces - B2C, but now it has scaled so it's more business-to-business and the orders are much bigger as they are coming from bigger companies now. It can be tricky because my pieces are handmade and going from 2 pieces to 100 pieces is a challenge obviously! So that's where the real work starts. It's exciting because there is a rise in colourful jewellery.
I really think it's wonderful that you are preserving a heritage method of jewellery embellishing by supporting legacy artisans like Mr. Kamal.
Yes I think so too! Mr. Kamal does the traditional minekari technique, meaning he draws the designs on the jewellery with a special pen and then he puts the different colour glass pigments in a small hot oven which they then take out and then pour the coloured layers onto the jewellery. It's really quite beautiful to watch how this happens and this is what he specialises in using 22 karat gold. This is why I love to do what I do, I work alongside people with so much history and knowledge on what they are doing, they have an ancient understanding with jewellery and I get so inspired by it. For me it's the biggest pleasure to work with artisans like that.
Also, Jaipur is very colourful isn't it?
Yes absolutely and the colour there is partly what inspires my designs as well.
More generally where do you get your inspiration from?
First of all, modern art. Also, doing more research on different flowers and also stones. They are so interesting because they dictate their own designs by their own shapes that they naturally become.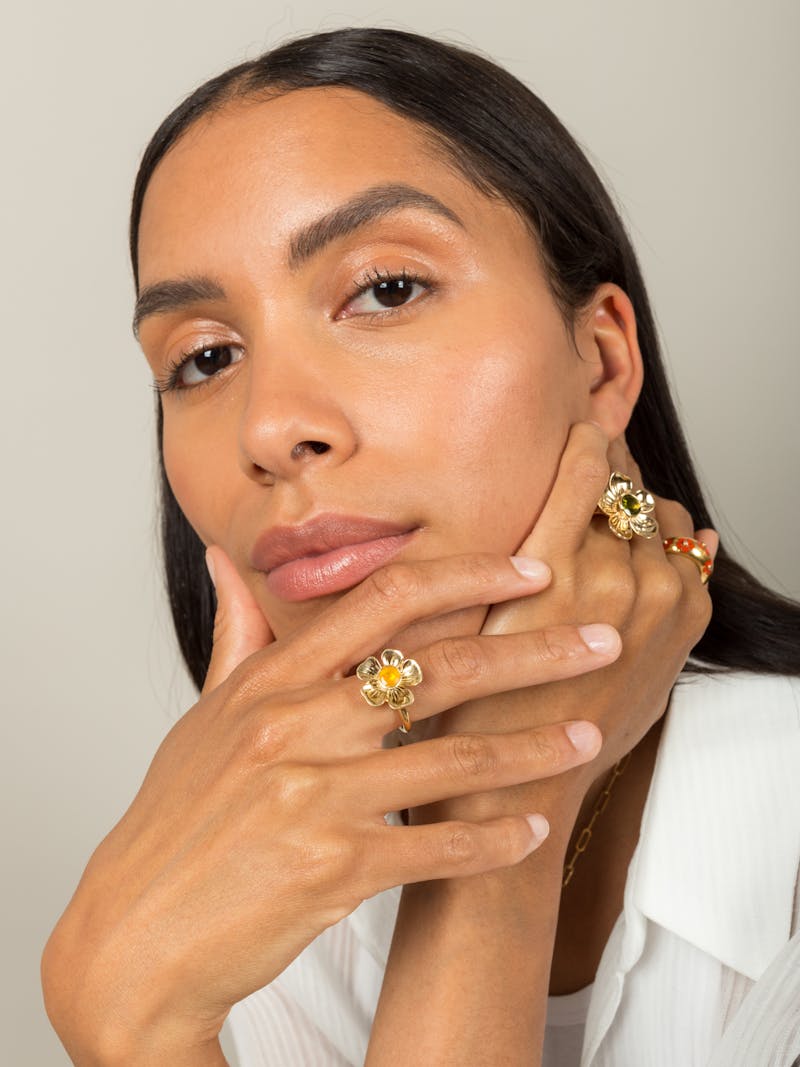 Did you ever think you would be a jewellery designer when you were younger or at least something creative?
Creative yes, because I always loved fashion and film but I didn't know with jewellery. Jewellery makes me feel so good and I was actually just telling my husband the other day that I hope I can stay in this forever because making meaningful pieces for people makes me feel so special. I even just got a message from friends-of-friends and they want me to make a ring for them because they just had a baby. So it gives me this access to connect with people over happy occasions so that makes me so happy. It really does.
Owning your own business – is it tricky?
I have an intern and a few freelancers helping me out. Being the creative part is a bigger challenge for me now because I am also faced with up-scaling the production. It definitely has its ups and downs but having my own brand and doing something that makes me happy is so worth it. I'll always have doubts because the business is behind my name and so I worry about if people will like the look of the jewellery, I worry about production all sorts of things! This is much more personal for me than making a collection under a big brand's name.
What's next in your collections? More colours, more flowers?
Absolutely. I'm inspired by a lot of artists like Dali and Himla af Klint- she had a tremendous use of colour. I'm also working with a lot of beautiful new stones and they have even more colours than before! Of course I also love flowers as you can obviously see and I am always investigating new types. My best sellers are the flower rings, so I'll keep going down that path but with new shapes and different flowers. As I said, I'm always inspired by surrealist art and some of them are really unknown. There is one artist that I love who wasn't famous but her paintings were full of flowers and shells and her work made a real impact on me.
Do you collect any art yourself?
Some. Our house is full of art, but not the well known artists like Matisse or Miro! We don't quite have the budget for that! But I love going to museums, reading about art and watching art documentaries. Actually watching the documentary on Andy Warhol on Netflix made me feel much better about myself because he too was insecure at different stages. So it proves we all feel a bit like that, especially as artists.  
Do you sell a lot of engagement sales?
A lot! I sell lots of the flower rings for engagement pieces. I can only speak for myself here, but I obviously love colour and I think there are plenty of people out there that like creative designs and would want them as engagement pieces. People want something special and unique not just the same engagement ring as everyone else.
Certainly but it's interesting that now people are also buying 'cocktail rings' as engagement rings. Even 5 years ago.
Absolutely!
And do you think people are more individualistic and less scared to experiment with these things?
I think so. Jewellery has been 'traditional' for a long time. You would only buy something when you were engaged or having a baby, but now we're seeing women buy for themselves and have something unique. They see clothing as something more uniform and jewellery as personal and emotional.
If you weren't a jewellery designer…
I think a chef. I come from a family that is all in food, so I am actually the odd one out. My grandfather had restaurants, my mother cooks at her small boutique hotel and my brother works at a Michelin star restaurant. I just love entertaining so maybe I would have a small restaurant in Amsterdam.
In three words can you typify your jewellery…
Colourful, blossoming and artistic.