Designer Interview
Leigh Miller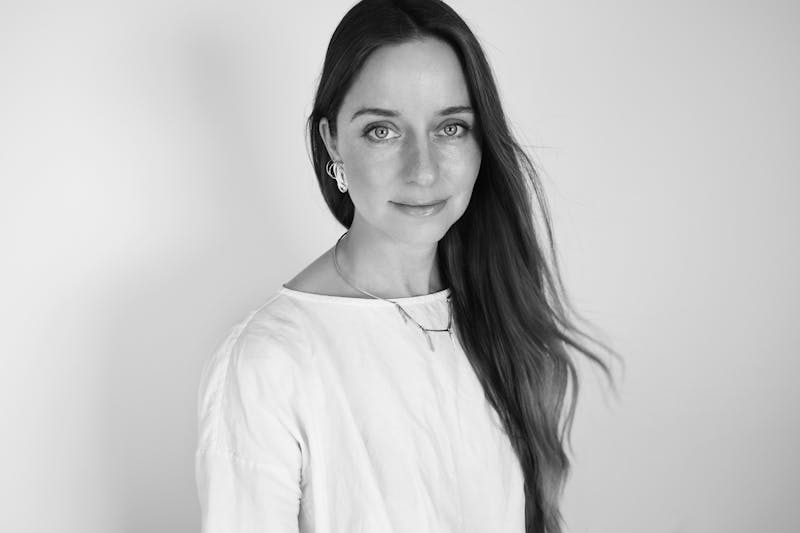 With respect for nature, Leigh Miller creates sculptural pieces inspired by the ocean and the mountains
Most notable for her use of a great spectrum of materials and an unconventional approach to methods, Leigh Miller sculpts in molten wax, casts her pieces, and hand-hammers them to translate her inspirations into metal. Taking inspiration from nature, its patterns and forms, living in and with nature,
Leigh's relationship with nature is what drives her approach to design and process. Sustainability plays such an important part in her work that she continuously pushes to deepen and expand her practices, regardless of the struggle
You're based in Los Angeles. Have you always been based there, or is it new?
I've jumped around a bit. I'm originally from Santa Monica, a beach town in Los Angeles. I've lived in Northern California for a bit, and I did my bachelor's degree in fashion design at Otis College of Art and Design, which was many many moons ago. I moved to New York and I ended up working for a variety of different designers there.  I was working in these corporate environments, and when you go to school for fashion design… I just remember creating my initial package of my application to school and it was designing dresses that had hand blown beads dripping down the back of a gown, and then I ended up designing chino trousers. Several years in, I was not really having the creative outlet that I had hoped for. About 10 years ago, I started thinking about what else I could do.
What initially attracted you to jewellery? I read somewhere that you lived in Rio de Janeiro when you started taking jewellery classes?
I was seeing a Brazilian man at the time and I ended up moving down to Rio. I had already gotten a jewellery bug at that point, but I started taking classes there at Atelier Mourao. The school was founded by Caio Mourao who was a preeminent mid-century modern jeweller in Brazil in the 60's. Frankly, what I would have loved to have done is to have been a sculptor, but I didn't have the courage to be a sculptor.  The way I saw it, to be a fine artist, there is a good chance you could end up becoming a starving artist… so I always thought that jewellery was a good compromise between being an artist and a designer, as it is a potentially profitable industry where you know that you have a salary you can count on at the end of the day.  So, I've always thought of jewellery as a potential to make little wearable sculptures. In clothing design, you are very much restricted to a woman's own self-image and making sure that she feels beautiful within the piece, but a piece of jewellery is just an independent little art piece. I loved that. I also loved the breadth of material that you can work within; the palette of materials has always been inspirational to me too. 
Talking about the way you make your jewellery; you use these ancient traditions?
I mean, I use lost-wax casting, that's frankly the traditional method of casting these days, but what I do that's different from most other designers, is the way that I work with my wax. One of the signatures within my look is the melted-looking wax texture. I heat up wax and I melt it and I pour it onto a surface, and I work with it to get the general shapes that I want, but it always is up to the moon and the stars to ultimately dictate how the wax melts.  But I will get different ideas of how to work with it.  Then I'll take these melted wax formations and then I will cut them out and refine them and have them cast into metal. And then work from there I make my master models, and eventually the molds for production.
"I heat up wax and I melt it and I pour it onto a surface, and I work with it to get the general shapes that I want, but it always is up to the moon and the stars to ultimately dictate how the wax melts."
So, it's this combination of sculptural and natural?
Often times, I will be inspired by nature itself, whether it's a particular plant, sometimes I find inspiration in certain cactus shapes, or the fact that the nature of the melted wax inherently looks like water, so I'll find different inspirations of watery bodies and things of that nature as well. I have also taken inspiration from a variety of seastones. In my second collection for example, I found some beautifully weathered stones on the seashore in Costa Rica.  The stones had holes running through them that had been burrowed out by little sea crustaceans…. and I based a whole collection around those stones.
Personally, what's your relationship with nature now that it has such an importance in what you create?
I almost always lived by the ocean, so I always felt like that definitely lent to my jewellery. Nature is a really important part of my life. For every collection, I take time to go on a little trip, a little retreat. For this last collection, I actually went up to Ojai, a local little mountain town. I will take some time in nature, and, this sounds very Californian, I do a little meditation in nature, and I sit down with my sketchbook and just look around. There's actually a beautiful little meditation park near here too, and it has incredible landscaping, there's ponds and every type of flora and fauna that you can imagine. And I will often go there, look around, and see a certain plant, and it will inspire me. Always going into nature to get my inspiration, whether it's by the ocean or in the mountains.
Is it always nature that's your source of inspiration?
Nature is the main source, but there's definitely a few different collections, where I pulled a little bit from mid-century modern sculptors. Jean Arp, Barbara Hepworth and Henry Moore, they really spoke to me. A few of my pieces are actually inspired by their aesthetics as well.
Going back to nature a little bit, because I think this connects to it, but your whole idea on sustainability and self-auditing, maybe you can talk a bit about that as well?
Yeah, going into nature so much, makes it very clear to me, that sustainability is of utmost importance. I had explored earlier to expand the brand a little bit to work with overseas agents to help me make the jewellery, but I've pulled back on that and decided to do everything locally, so that it can be as sustainable as possible and so that we can have the smallest footprint possible. It's been a little bit more of a juggle during corona to do everything in-house, but we generally make everything in-house, and if not, we make it locally within Los Angeles. All of the metal waste we have in the studio is recycled and refined, we use natural pickles (a low-grade acid) and we try to use and re-use as much material we can within the studio. In addition, I am trying to source as many local and fair-mined stones as possible. We started working with an incredible sunstone mine this past season, they are in Oregon, and they actually mine their own stones, and they cut them there, so that cuts down on the footprint as well. And it is nice to be able to meet a miner and be able to see the entire line of distribution. Because oftentimes, with stones, you will meet a distributor or a cutter, but you won't actually meet the miner themselves, and here you are going to be able to see about fair-mining practices. I am developing that relationship and looking forward to sourcing more.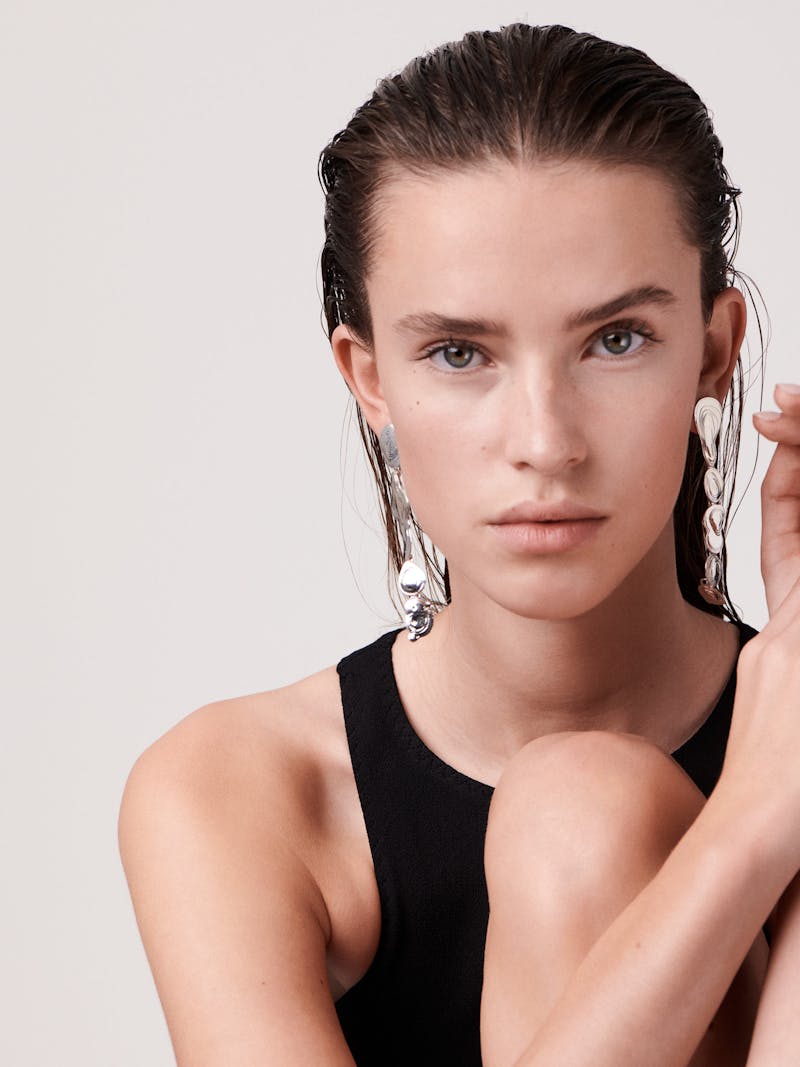 Amazing. Has it been difficult to find the right sources for sustainable materials and stones?
Yes, very much so. To be honest with you, starting with metals, it has been incredibly hard. Gold is much easier, because it is so highly valued that refiners will take the time to work with recycled metals and create refined metals. It is much more difficult with silver. That's been an interesting thing to navigate. And then stones, yeah. There's a huge annual gemstone show in Tucson. I went to Tucson this past year, specifically to try and source as many direct mine relationships as possible. It is very, very hard. There's very little transparency in the industry.
With castors too?
It is hard to balance finding a castor that does good work, and works with 100% recycled metals.  Because my pieces have a lot of texture on the surface, so if there are casting issues, it is very clear, and then unfortunately, the more you recycle things, the more impurities there are, and you don't get as high a quality of a product, so it is hard to find a mesh of the two. For the moment we are using partially recycled sterling silver. 
Makes sense. Amazing that you put so much effort into it.
Yeah, it's for us all, right?
You sometimes use these unconventional materials like glass, and other materials that you normally wouldn't see in jewellery. How come you are attracted to these materials?
That was actually part of what attracted me to jewellery. The fact that you can work in this array of different materials. I like to think of my work as play as opposed to creating a commodity, and I take a lot of enjoyment in playing with different materials and creating different material combinations and ways of working with materials so for example the way that I work with the wax. I've also started doing some glass casting, which is something that I haven't really seen done with jewellery and it's just fun to come up with different material combinations and to create new things.
I guess it's also a way of working with materials that are available to us? Seems like it goes hand in hand with your other practices like the sustainable sourcing of stones.
Very much so. Just pushing what we have available and working with it as much as possible.
What do you see as the next big thing? Or maybe you want to move into something new?
I want to explore housewares a little bit too. I feel like we are all at home right now and we are spending a little bit more time in our home environment, so I want to explore small objects to have around the home. That's what I am really excited about.
So, you are moving a little bit in the direction of sculptures.
Baby steps.