Designer Interview
KATKIM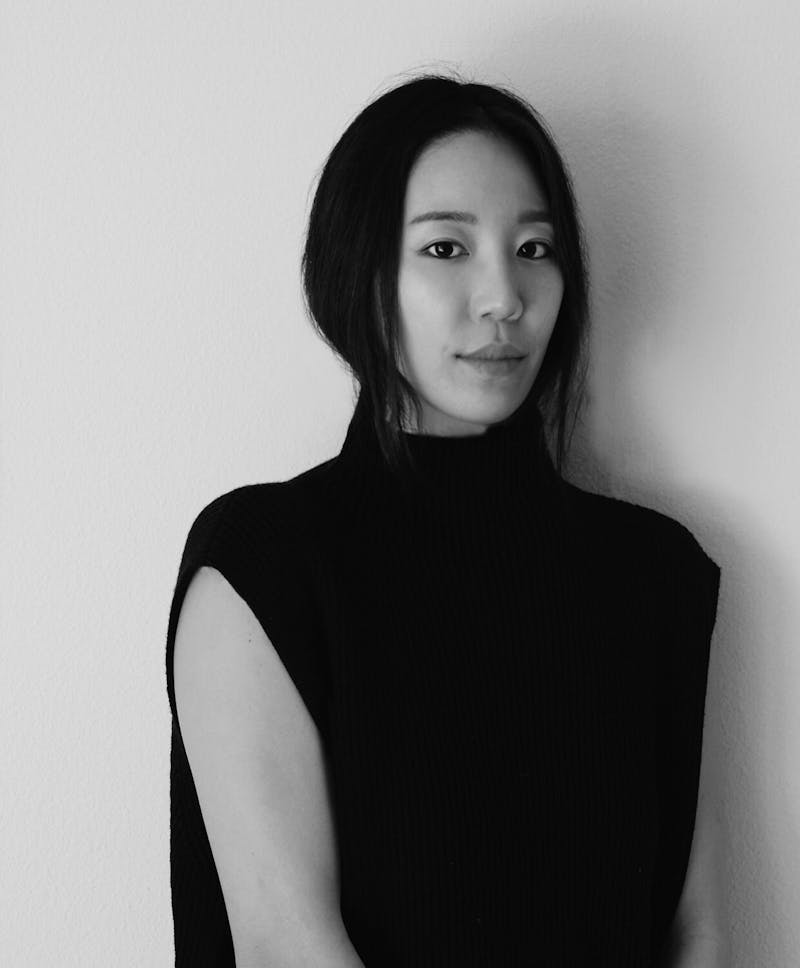 Graphic shapes and forms make for perfect statement pieces in KATKIM's universe of mindful practices and surprising designs
With a background in graphic design, Katherine Kim caught a jewellery bug after taking a course at Central Saint Martins. She shifted gears into jewellery design and never looked back. After spending hours and hours investigating the environmental impact of jewellery making, Katherine launched a brand with a
profound focus on sustainability, and today, she designs graphic statement pieces for the conscious and modern individual. Floating diamonds, unconventional cuts and graphic shapes, KATKIM is a brand for anyone looking for something a little bit outside of the norm.
Maybe we can start with your journey into jewellery? It was kind of a coincidence?
I was in a different field for sure. The jewellery industry is such a unique sector, I would say. I didn't have family members or anyone I knew growing up in the industry, so it kind of happened serendipitously. I was majoring in graphic design during college and then I did a few internships in New York at design agencies. I realised that it wasn't really for me, being in front of a computer. It was not inspiring, so I decided to study abroad. I applied to Central Saint Martins, and I took their jewellery course there, and I just completely fell in love, and that's when I shifted gears into jewellery. Jewellery for me has always been something where it takes me back to certain memories. I love that element of it; translating my ideas into something tangible that can be around with you forever. I loved how that whole idea was so meaningful and rewarding, so I decided to pursue it. And I am here today, doing jewellery.
Your background in graphic design also had a very creative aspect to it with drawing and shapes and so on. It makes sense that it could lead to something completely different, like jewellery design.
For sure. My training in graphic design definitely helped me, and I've been hearing that it shows in my work. A lot of my pieces are definitely very graphic. That training carried on with me through my work now.
You are very invested in sustainability?
When I decided to start my brand that was my number one priority over everything. I wanted to make sure that I was doing everything in the most thoughtful way. The jewellery industry is very opaque, in a sense. That was what I was getting when I got into the industry, and I didn't like that about it, so I wanted to be as transparent as possible. I do a lot of my own research to make sure I am making the smartest and most responsible decisions for my business and practice. That was my number one priority when starting my business. That means I never wanted to take my production overseas, I just kept my production local, so I started it in New York. I was right there with my production team, overshadowing everything, sourcing all my own stones and gold, and working with all the reputable suppliers who I knew adhere to ethical supply chains. I wanted to know where all of my materials come from. Making sure I am staying on top of the start-to-finish production side of it.
But it is not easy, is it?
It is definitely a lot of work, and you can never really say that what you are doing to serve your purpose of being ethical and sustainable is enough… your work is never done. It is always going to be a work in progress. Having the goals in mind of being mindful and continuing to try to improve the way you work, I think, is very important. Which is what I try to implement in my day-to-day and how I do my business.
"I do a lot of my own research to make sure I am making the smartest and most responsible decisions for my business and practice. That was my number one priority when starting my business."
What's your relationship with nature? And where does your notion of sustainability come from?
When I was doing my research on it; the water pollution, the gas emissions and all that, it really stuck with me. I think I was more cognisant of it, because I started my brand when I was pregnant with my first daughter. I just really wanted to make sure we weren't leaving any, or very little carbon footprint, for my children and for future generations. I think that is when it really hit me that I wanted to be mindful of what I was doing.
Leaving something better for the next generation. I guess that's also what jewellery is, something that we pass on.
Absolutely.
Can you describe the aesthetics of your brand?
I would say I am typically very minimal, and graphic in a sense, because of my background. It is a default, and it just becomes a little bit more graphic. What I am known for is one of my first designs, which is the ear pin. It evolved into many different designs. I came up with the idea after thinking about how iconic the safety pin is, and I cut a big jumbo safety pin in half and I put it through my ear and that's how the idea transpired. Very graphic, statement, iconic. I get really inspired by shapes and forms. I also wanted to create a new way of wearing fine jewellery, whether on the ears or with floating diamonds. Experimenting with things a little bit outside of your traditional norms of fine jewellery, I would say.
Makes sense. This process of finding inspiration, do you do something special? How do you find your inspiration?
For me, it is everywhere. But it comes mostly when I am in the studio and I am just playing around with metals, balancing stones on my hands, wrapping metal around my ear. That's how ideas transpire. Sometimes, I go back to my graphic design days, where I am putting stuff together 2D; and then I translate them into 3D. That's how my process is in terms of how I work.
It is quite physical?
It is very physical, and I think with jewellery, it has to be kind of physical because it adorns the body. You have to conform to that and be comfortable and be functional and it just works for me to work that way.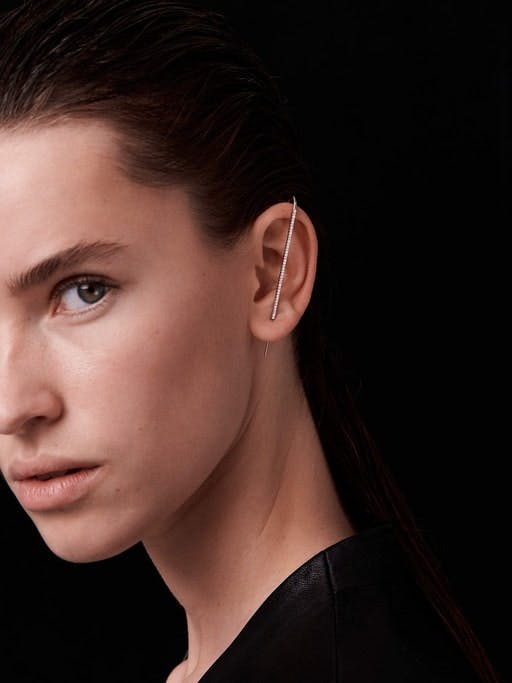 What do you feel like the role of jewellery is today for the person who wears it?
My customers are definitely the ones who are mindful of environmental impact, which makes them appreciate what we do here and support what we do. That's number one. And the clients who do come to us, have a very clear idea of what they want. The most things I do here are simple and classic but with something a little different to it, and I think that's what they like about the pieces, and what they are gravitating towards.
Your pieces feel so timeless but so modern.
That's pretty much my approach to how I want to design. A very modern approach but with pieces that you can pass down for generations. It is 18kt gold, quality diamonds, and we put a lot of thought and time into making each piece by hand. I want them to withstand the test of time and live on forever.
Maybe we can talk a bit about your stones, because your cuts are quite unique?
Organically, it evolved from traditional round brilliance cuts to working one-on-one with clients to use unique cuts. I did start out with trilliant cut diamonds as one of my bridal pieces, and that got a lot of traction. I placed two triangles up and down. I guess, it is just the graphic side of me, I wanted to explore. There are so many unique beautiful diamond cuts out there, and I wanted to really showcase them. That's where my idea of floating diamonds came about, really bringing out the essence and true beauty of the cut of the stones and really highlighting that in a unique way.
It must be quite amazing designing engagement rings knowing what meaning it carries for people?
It is my favourite part and also a huge honour because they are including me in such an important process of their lives and for me to be able to be part of that journey, there's nothing better than that.
You are now based in Los Angeles and making all jewellery locally in downtown Los Angeles. What's life like there? It must be quite different from New York City?
Definitely. I was actually born and raised here. After having kids, I wanted to be closer to home. I lived in New York for 13 years, and then decided to move back home to be closer with family. Los Angeles definitely changed a lot since I left. It has become a different world out here. It's only been going on two years now, and it is kind of cool, coming back home and still experiencing a new environment. In many ways, it is very inspiring, and I am still learning and adapting to this new place, which is also my hometown. But new. It has been fun.