Designer Interview
Sophie Rogers Pacharee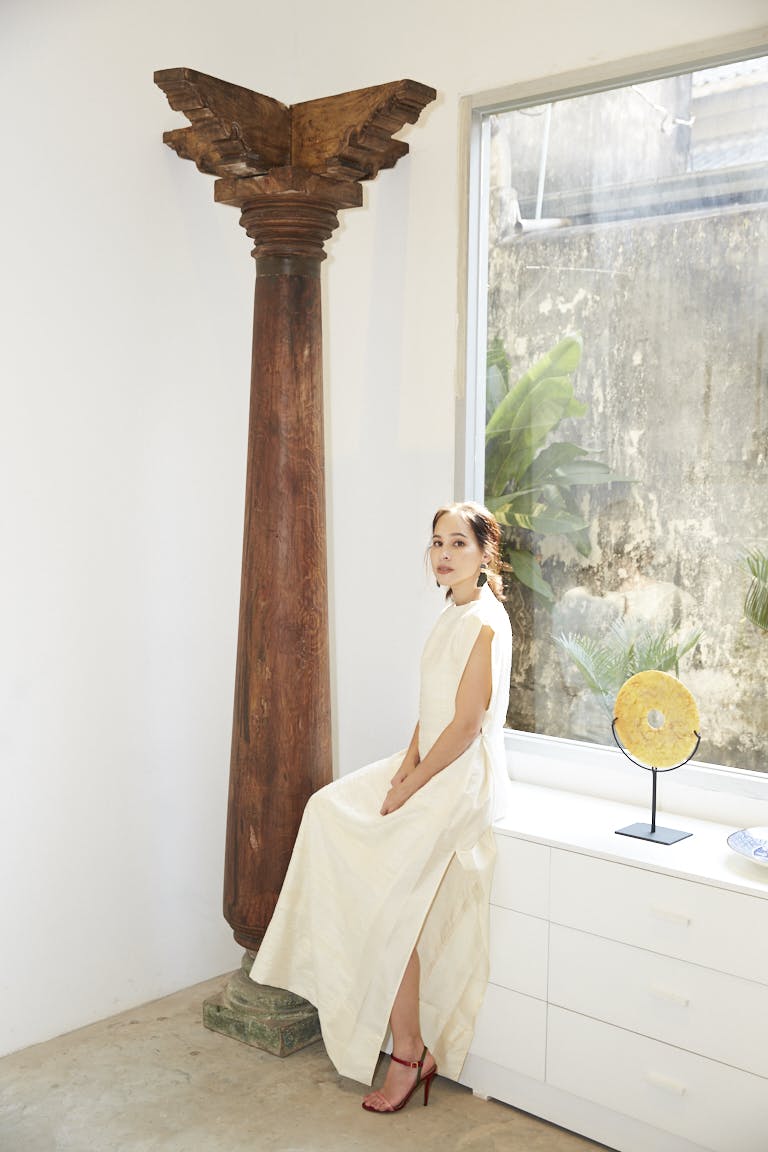 Nostalgic and contemporary, Pacharee is a brand with an extraordinary respect for the natural wonders of the world
For Sophie Pacharee Rogers, a force kept pushing her away from her roots and then pulling her right back in, and she's finally accepted that jewellery is within her. It is an intrinsic ability to discover and uncover unique gems and pearls, inherited from her gemmologist father. In her creations, she takes people on a journey into their origins in
what she herself calls nostalgic designs. Memory, tradition and abstract art all come into play in Pacharee, a jewellery house with strong connections to the past and an extraordinary respect for the natural shapes and wonders of pearls and gems, making for a contemporary brand unlike any other.
You come from a gems-trading family, but it took you some time to go into this industry. Could you describe your journey into jewellery?
My story is a bit of an odd one. When you grow up in a family that does something, and you see something every day throughout your childhood, you either fall in love with it and follow it or you fall in love with it and you try to tell yourself that it's not for you. My dad was a big gemmologist and he always took me with him on his gem trips. When he met big clients, I would always go there with him. And I'm telling myself that I don't want to do this, because I've been forced into it. I keep trying to find my own path and I get into advertising, and I live in New York City for 10 years, and all my career life is advertising, but everyone knows that I am into design and fashion. At one point, I sneakingly went to GIA in New York and took a one-day jewellery-design course, telling no one about it. I feel like I'm always hiding it. The turning point is when I got pregnant and I was living in London, with my husband, and we decided we need a different environment, so we move to Zürich, and when we move here, I struggled to imagine myself in advertising here. 
This is when you decide to do jewellery?
Not yet, but this is when I decide to do something different. I want to do something on my own. This is when I go back to Thailand, and I fall in love with this handwoven silk and cotton, and natural dye, so I design a clothing collection actually. And then one week before the shoot, I thought something was missing, and decided to add some jewellery. I ask my mom to open up her safe, and I find her stone and pearl collection. I pick out these Baroque shaped pearls, and they become the very first earrings I design. I call over the family goldsmith and I basically draw on the pearl to show how I want the gold setting to be. I want the feeling of a melting gold that goes into the pearl. It was one week for him working really hard to get it done on time, and we shot around five pieces of jewellery. When I launch the collection, people start inquiring about the jewellery instead of the clothes. People have not seen anyone approach pearls this way. This was the point where I had to decide to drop the clothing line and focus on jewellery. It was really sad for me to say goodbye. Sometimes your heart is somewhere, but you are actually better at something else, and you are kind of fighting it. And I feel like I've been fighting it and avoiding jewellery so much, but it is actually within me.
For Pacharee, you use raw, natural stones and pearls. Can you tell me about your relationship with gems and pearls?
After the first orders, I go back to Thailand, where I was raised, and where my dad was a big gemmologist and it's a very nostalgic trip. That was the trip that I remember that really formally shapes what the brand is about, what Pacharee is about. It's really about gems and pearl discovery and it's about respecting the nature of the pearls and gemstones. If you look at my gemstone pieces, it's actually not a faceted gemstone that's introduced. I go and I find the rubies and the pearls, and I work with a cutter to slice them up, instead of using faceted stone and I think all of that really boils down to my connection with childhood trips with my dad meeting the gemstone traders who bring rough stone to the office and I remember touching these pebbles, and thinking they are just stunning as is. All of those memories become a lot clearer and the pearl connection with my dad who collected really rare shapes of pearls to begin with. It is really a reflection of everything I've seen as a child, and it's coming together in the design. I think the beauty about the brand is that I don't overcomplicate things, because everything I design feels very personal, because of the connections I make with the past. All of the goldsmiths, I work with now, are the family goldsmiths who worked with my dad in the past.
"Our essence is that we are representing the origin of the gemstones and the pearls, and we design in a way that respects their unique curve and every curve they have and the colour and the texture that they have."
Tell me about the pearls.
When I went back to source more pearls, back then you only saw round pearls in the markets, and baroque pearls were very rare. Then, I noticed a hidden strand of Keishi pearls at one of the dealers, they are the flat pearls, and I thought they were so special. They were really puzzled and couldn't understand why I would be interested in these shapes, because no one cared about them. I asked to see what else they had in the backstock. They brought out these Birch pearls. The interesting thing about these shapes of pearls is that it's a different interpretation. They can still be classic, you can wear it formally, but they are still effortless, but I think it feels very abstract and modern. My designs, I feel, are often like abstract art. You can connect with it, it's luxury, and there's a DNA and uniqueness in every single piece. Because we play with these shaped pearls and there's a gold setting, it makes it impossible to use a moulding process, so everything needs to be hand-sculpted because the shapes of the pearls are different. You need to create a waxing process around each one of them, and that makes it really special. And people really connect with that.
So, every piece is unique, because the starting point is always the pearls of gemstones you discover?
Yes, every single piece is unique, because we uncover and discover interesting shaped pearls. Even for gemstones, it is something you cannot find in the market. We go and find them rough, and it is a bit of matchmaking, where you go and pick a rough, which on the outside might have a nice colour, but when you slice it in, it may surprise you even more, and it might be a three-dimensional colour, or no colours. We are taking the buyers into the sourcing journey. It's not something that's in the market, that you can just go and find in the diamond district. It is really connecting people with something unique and taking them onto that journey with you.
I read somewhere that it is about exposing the origin of the gemstones and the pearls.
Yes, take rubies as an example. Rubies are introduced as red, but the ruby rough that we find, when you slice it in, there is black, white, green and red within a ruby. In one of the fine jewellery pieces we did last year, there's even a crystal star shape within a ruby, and I told the cutter to keep it that way. I didn't even know that this is the way they crystallise. So I think it's something that's very special, because what you see in the market, diamond cuts, gemstone cuts, it's almost like plastic surgery, you don't really connect with the origin of these gemstones anymore, it has become uniform. To me, you're almost hiding the beauty of it. Our essence is that we are representing the origin of the gemstones and the pearls, and we design in a way that respects their unique curve and every curve they have and the colour and the texture that they have, so that's the DNA to our pieces.
There's this huge knowledge of gemstones. I also hear this duality between traditions and modernity. It reaches back in time, but it points to the future too.
I think nostalgic is a good word to use. I think it links back to childhood. It becomes very intrinsic. I design by the feeling of it, how I want to create an abstract imbalance. It's classic, but it's contemporary at the same time. And back to the abstract art, everyone can appreciate and interpret it in different ways, and I think that's what each piece of my jewellery does. It is very personal.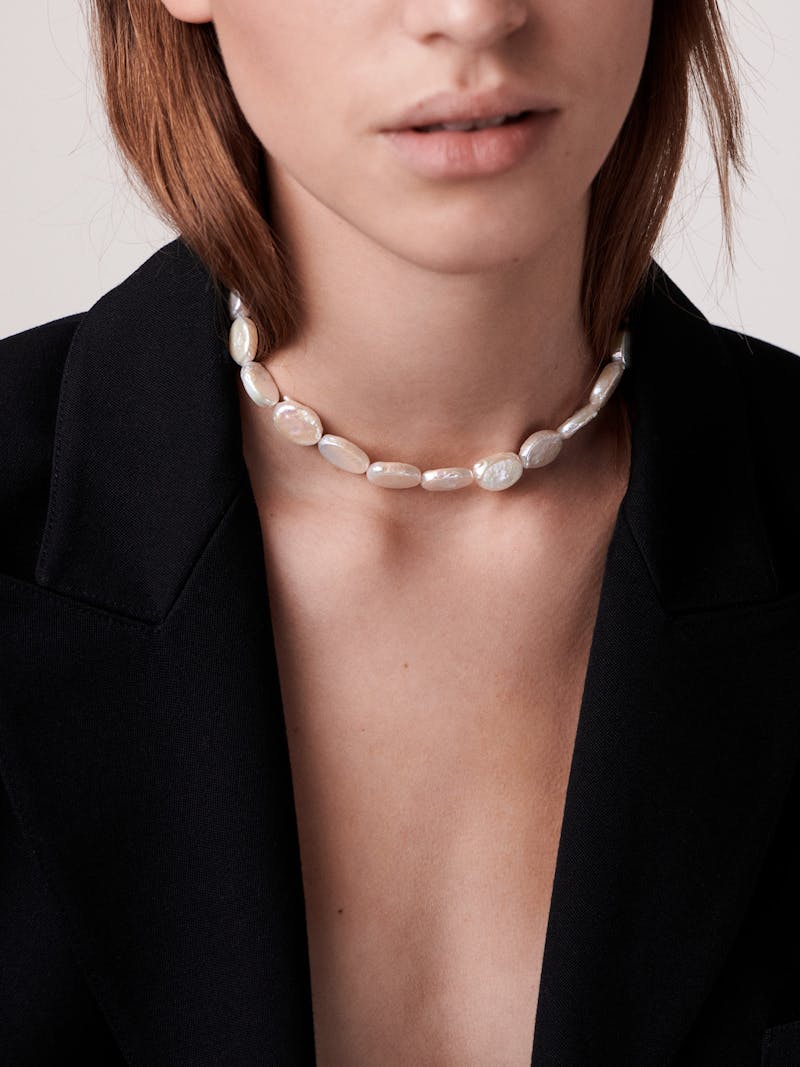 Maybe that links to what the role of jewellery is today, for you personally and for the wearer?
That's a good point, and I think an advantage that I have is that I am not from a jewellery design background. With every piece I design, the conceptual part is very fast. I have a feel for design, it just comes to me. But the longest process that I went through is two parts; one is sourcing, so finding these pearls and gemstones, I took forever to get to them, and the second part is finishing. A piece of jewellery doesn't just have one interpretation, and I spend a lot of time on the right length, and the right height, the amount of balance, where does it stop, the dimensions of the hoops, what goes where, this conducting part, the finishing part. To me, that's really important. Because jewellery is really personal. You touch it, you look at it closely, you wear it every day. I would wear the pieces over and over again. Are the earrings too heavy? I will personally be doing that, wearing it a couple of days, until I am completely happy with it.
Seems like you are very personally involved in the wearability and how it feels and how it connects to you?
Yeah, and in the beginning, for the first year or so, I cannot even let go of the process of pairing the pearls. The earring pairings. I drive my team crazy. It is something that you cannot really teach. I am trying to find a formula in terms of how they can pair them, because I live in Zürich, I have to be here half of the time, because of my family, so I need them to be able to do it for me. But the first year, they just couldn't do it the way that I envisioned it. But now we are at the place where I have an amazing team, and they basically sit and watch me do it, and so they are learning by observation, and getting the feel of how I do it. It just is really difficult.
Somehow that's how you learned too, by looking at your father. You were part of his journey, without really knowing it. I guess it is in your blood, which isn't so for that many people. Maybe that's what makes it hard to learn. It is intrinsic for you?
That's probably how it is. My father being a gemmologist, everyone calls him an artist within this field. Him dragging me out to all these appointments, I probably also listened and absorbed in all of these stories he had to tell about his stones and pearls. He only traded pearls and gemstones that were super rare. So not gemstones you find in the market. That is probably connecting me back to my passion and my natural instinct to go for these unique pairings, and unique gemstones, and shapes.
Moving into something a little bit different now, but you were born and raised in Thailand, and I know you work with artisans in Thailand, so maybe tell me about your relationship with where you are from, because it seems like it plays in a lot?
I was born and raised in Thailand, and that's where my dad conducted his business, and I think what a lot of people don't know is that a lot of fine jewellery brands actually produce in Thailand, and we are lucky to be the hub of all the gems trading. We literally lived in that district, and now, I work really closely with the family-cutter and the family-goldsmiths, who was working for my dad for a long time to experiment with new cuts and designs. Every time I go back now, it's going back to these childhood memories. It's just a special feeling going back, and every trip is like reconnecting with my dad. He passed away when I was 18, so it felt like a big part of me was missing. This whole thing is a beautiful journey for me to keep the memories alive.