Designer Interview
Pernille Holm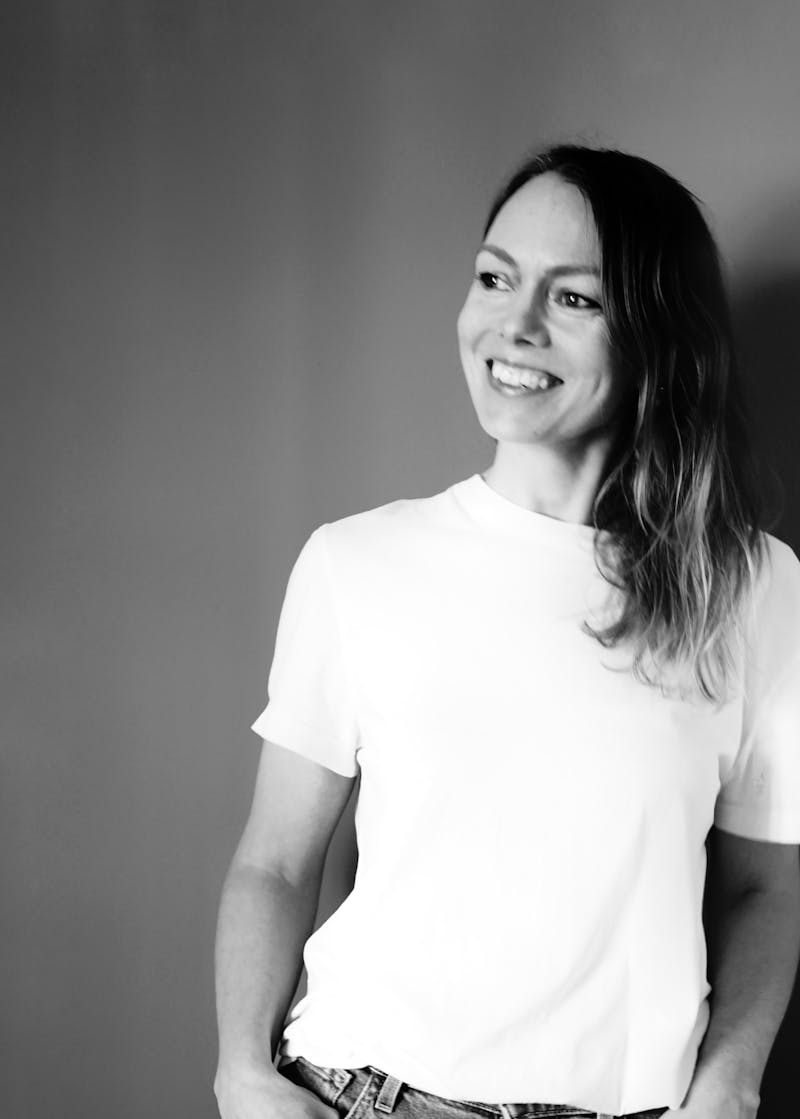 Handmade with the finest materials, these organic pieces are crafted to the highest standards
Texture. This is the word Pernille Holm, a native Dane, brings up more often than any other word in her impressively expansive English vocabulary. It starts with texture. It ends with texture. Where is her inspiration from? Texture. Most important quality to her jewellery? Texture. Indeed this idea is unequivocal when looking at her pieces. I use the word 'pieces' deliberately as I feel it gives more scope to just how much dimension and sculpture there is to each solid gold creation of hers. If there was a category of 'wearable body ornaments' then Pernille Holm's jewellery might be more befitted for that.
What's a fun (and crazy) fact, is that the diminutive and rather shy Pernille wasn't always the established jeweller we have come to know and love, she was actually a management consultant beforehand. I guess, she is a formidable living example never to classify creative 'types' as purely right - brain dominated. Maybe there is a more philosophical whisper which underscores her jewellery; much like her very textured pieces, we all have very textured lives. And there is endless beauty in that.
 We thought it would be a good idea to pick Pernille's brain on what motivates her and also to discuss all manner of things jewellery. Enjoy the interview.
How did you get started?
Let's just say I didn't take the straight road. I have a master's degree in business and worked as a consultant in communications for many years. That was an exciting career – but I was in my head all the time. And I really felt I needed to try a different path. I missed being caught up in something creative and making something with my hands. To me it just had to be jewellery. It has always been a passion. So I started taking a course with this amazing goldsmith who was very keen on teaching the craft. I was totally sold to the process and found such harmony by the bench. But I had no business plan, nothing other than I really loved making jewellery and had so many ideas in my head about the pieces I wanted to make. So I found myself taking a really big leap into something I knew nothing about. I then took the decision to quit my full time job and started working freelance instead, which paid the bills and gave me time and freedom to pursue jewellery making.
Did you find there were any transferrable skills from consulting?
Running my own business is easier for me with my background as opposed to someone only with a craft background. I know how to make an excel spread sheet and how to do the invoicing. But even though I have been working with communications for so long, it is so difficult doing it for myself and that's one of the main barriers for me.  Working in communications for others is so easy and enjoyable, but for me, it's tricky to explain my brand, story and narrative and talk about myself. I'm quite vulnerable about it. You know, it is me, it's my name!
What was a significant sale that you remember making?
In the beginning I was selling my jewellery through word of mouth within my network to friends, friends of friends. But I clearly remember the first time I got an order from a complete stranger – who bought quite a costly engagement ring. I was so proud! That is a moment I will never forget because it's at that point where I thought, "wow, I can actually do this!" And then as you say – the rest is history. I'm so thankful that I took the leap into jewellery!
What's your favourite part of the production?
I love working with wax because that's very therapeutic to me. The textures are what inspire me. I then get an idea of what textures I like to create, through working with hard wax where I carve or soft wax or liquid wax where I drip it, so I get the full expression from whatever wax I use. I also use sand casting where I get grainy textures in the metals, so essentially once I get the desired texture, only then can I create the shape.
I clearly remember the first time I got an order from a complete stranger – who bought quite a costly engagement ring. I was so proud! That is a moment I will never forget because it's at that point where I thought, "wow, I can actually do this!"
What inspires your designs?
I have a thing with organic textures and forms. Nature is quite remarkable. Molten gold is so beautiful. It looks so soft and I always feel like touching it. However, it is so fleeting. It hardens instantly when you remove the heat and the texture changes completely. Also, gold nuggets have just always been a thing for me. I love the erosions and rough texture.
Ah I see, so that's genesis of the 'nugget' collection!
It is indeed yes! The texture is my starting point and I develop a collection from there. However, it is never a full collection – since I make things mainly to order and work a lot with customisation, I have the freedom to continue to develop and build on a specific theme or collection.
Would you work with silver as well?
I really do love working with gold, it's such a nice material to work with, also, it doesn't tarnish and is resistant to everything, so it's very long lasting. It does have its limitations though because it's so heavy and expensive so you have to take into consideration things like when making a pair of earrings, if they're solid gold they will be too heavy and just too much, so from that perspective maybe It's not a bad idea to look at silver, but it is just an idea for now. I actually do all my prototypes in silver so I am used to working with silver. Silver too has its limitations, it wears down differently than gold, it will oxidise and blacken unless you silver-plate it. So for now it's gold, diamonds, sapphires and rubies. Mainly I get a lot of requests for diamonds, they're my absolute favourite. Small sapphires and rubies are stunning too but can also be very expensive because it's hard to cut them (they're so tough) you need a big stone to cut them.
What were you like as a child, where you always creative or more cerebral or caught between both worlds?
I was caught between both worlds because I would write a lot of small stories as a child, my mum always thought I would be a journalist and then I ended working in communications anyway so of course I ended up writing a lot. But I would always sit and make things with my hands; embroider pearls on shirts and make jewellery. But it wasn't on the cards that it would go that way because I come from a family of business people so it was more natural for me to go into business. It was at a much later point where I felt like I needed that creative outlet again.
Do you think motherhood spurred you on to do something different in your career?
Definitely. Also the fact that working as a consultant can be very time consuming and I just felt like I needed to use my time in something I was more passionate about and evolve in the way I wanted to and have more freedom. On the other hand, it is always in my head. I design all the time because I am always thinking about it, no matter where I am and what I am doing.
Do you think you need to study jewellery design or jewellery making before you get into it? Does that technical background inform you?
It goes hand in hand, the technical and design because it's difficult to get ideas of what to create if you don't have technical knowledge, so in that way it gives me a broader perspective of my designs. It gives a bigger opportunity space. The better you are at the craft the more design opportunities you can think of. The same goes with stone setting, if you don't know how to set the stones then you won't be able to design how the stones could be set. You would be limited in that way.
Do you think on the whole, it helps to be an emotional person to make a jewellery collection?
Hmm. I don't know. I think maybe it helps, because you put a lot of love into every piece and to be able to make it in the exact satisfying way that you want. With organic jewellery it's easy to do too much and make a mess. You have to continue to change it and look at it from different angles and do it over and over again to get the desired result. So much is in the detail. It's a cliché but it's true and I believe that you have to be somewhat emotional and sentimental to do that because it's not just business and jumping straight to the next thing. To me, to get the correct balance is so important, so perhaps it helps to be someone who pays attention to emotion.
Three words to describe your jewellery?
Artisanal, effortless, refined.
Is Copenhagen a good backdrop for jewellery designers?
I haven't been anywhere else. What I do know is that there are a lot of good studios and good schools where you can try it out, so in that way it's a nice place. Of course if you're in London then there's more opportunity, but Copenhagen is great.
Are there any celebrities you would like to see wearing a Pernille Holm design?
I want people to wear my jewellery because they choose it and wear it rather than a PR team who give it to them. But if it were a celeb, I guess someone who is quite cool, calm, collected and has an authentic vibe.
What's next for you?
For many people, running your own business is all about growth and next steps. But I really try to appreciate the moment – and not rush into everything. Getting where I am right now is a huge deal to me and it's so easy to just go with the feeling of wanting more and more and more. Part of changing my career path into jewellery was also to get more freedom in my everyday life. That said, of course it's impossible not to make plans and have dreams for the future. And I do. I hope to continue this journey I'm on. There are so many exciting things ahead – but first I'm looking forward to the summer break that's just around the corner.