JEWELLERY STORIES
Julie Loui Grundtvig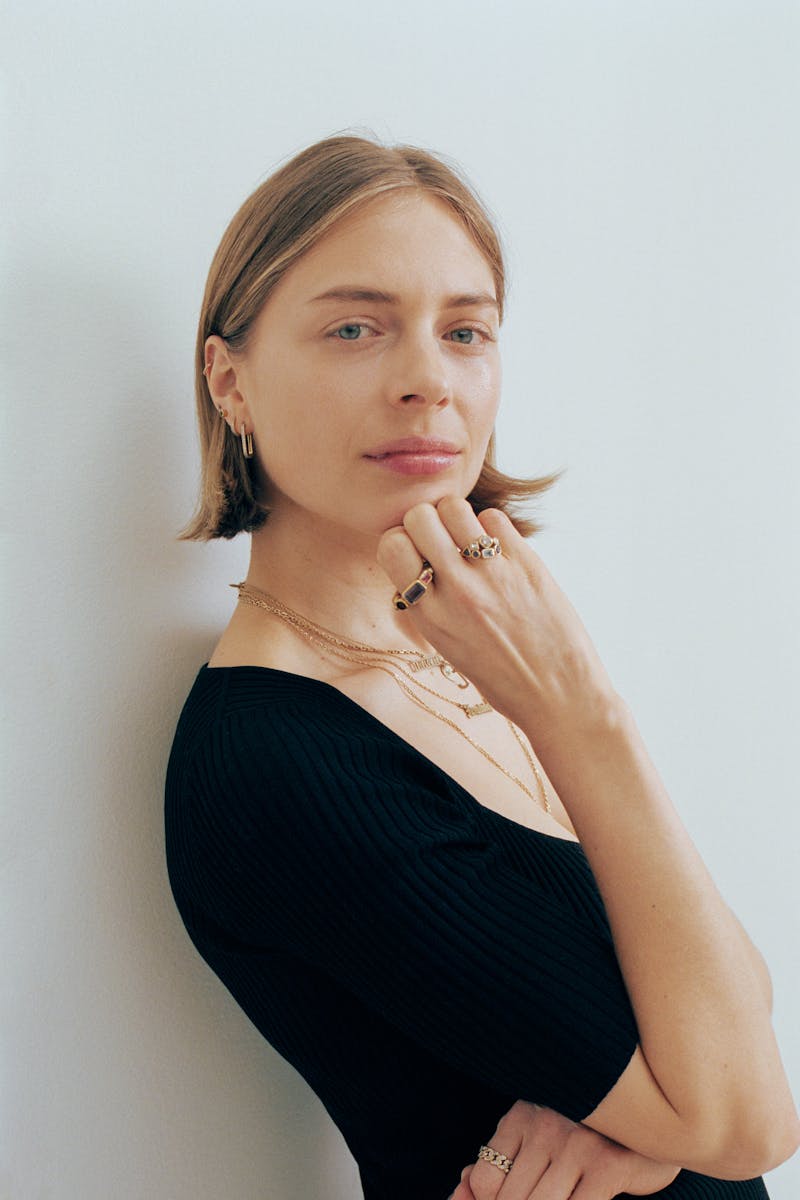 Name: Julie Loui Grundtvig
Occupation: IT Management Consultant & actress
What jewellery did you wear in the portrait? Bespoke engagement ring made by Niels Monies (and Jacques, my husband), it's solid gold with tourmalines, sapphires, aquamarines, and diamonds, custom-made Cuban link solid gold ring ('kæreste-ringen'), one-of-a-kind Monies ring, made of cobber, gold, and various gemstones, short necklace with heart and letter pendant, the solid gold chain is a family heirloom, and the 'for real' heart and the letter 'J' with pave diamonds are custom made, just like the extra thin solid gold bar necklace saying 'DIPLOMAS' and the long necklace with a gold chain and jade buddha pendant with two small diamonds are custom too.
What is your own favourite piece of jewellery, and why? Before my boyfriend proposed to me with the most beautiful bespoke ring made by Niels Monies, who is an amazing goldsmith and jewellery designer, I would not have been able to pick one favourite piece.
Niels Monies is my oldest childhood friend and the fact that he worked on this ring for almost a year - drawing sketches and carefully picking the diamonds and gemstones together with my boyfriend - makes me so incredibly happy. Knowing of their collaborative process is just the sweetest thing. A fun side story is that I used to work for Niels' parents, Gerda and Nikolai, who are also amazing jewellery designers. Gerda gave me the incredible ring I am wearing in the portrait for my birthday in 2017 and I remember Jacques jokingly telling her that she certainly set the bar high and made it hard for him to exceed that ring when he one day would propose to me. When Niels and Jacques made my engagement ring, they also showed it to Gerda in the process - and Jacques initially wanted it to be inspired by some of Gerda and Nikolai's fine jewellery pieces, like the ring Gerda gave me. It feels like a full-circle story and now this ring naturally holds meaning and love beyond all my other pieces. 
Can you describe a cherished memory connected to jewellery? I have celebrated milestones in my life by designing and buying custom jewellery for myself for years now; when moving abroad to work in San Francisco at 22, I designed my first custom gold necklace and had it made just the way I wanted it, when I finished my bachelors I made a silver ring with diamonds and sapphires that I had been thinking about for years, and when I started my Master's (which I never thought I would!), I made my box-chain necklace stating 'DIPLOMAS' to manifest the educational journey I just embarked on. This way, I have many cherished memories and milestones perpetuated by jewellery.
What does jewellery mean to you? Practically, jewellery is my favourite accessory - something that can leverage every outfit and make it more personal. But more importantly, spiritually, jewellery holds meaning beyond its value for me: It's life's milestones, the most thoughtful gifts from family and friends - and in some cases unconditional love like with my engagement ring. For years, I thought I was going to be a goldsmith. I have also had my own jewellery company producing custom pieces on-demand and direct-to-consumer for years. Most of the jewellery I wear is custom-made and designed by myself. I simply love jewellery and have a very diverse and eclectic collection of fine jewellery, diamond pieces, family heirlooms counting jade from ancient china and silver chains from Jordan and Damascus as well as all my custom made letter jewellery mixed with cheap and fun pieces from travels and trips around the world. I guess I am an untraditional collector who loves every piece I own. I am thrilled to think of all the jewellery pieces I am yet to own!
How do you use jewellery – do you have a daily uniform, do you wear special pieces for parties, is it embellishment, a second skin, or? To me, there are no rules when it comes to jewellery: I mix gold and silver - expensive and cheap. I wear the same earrings and necklaces without taking them off. Every 2-3 months I switch it up a little and change some of the pieces in the 'permanent collection'. I have four rings that I change between on an everyday basis. My engagement ring is a constant that I only take off when doing sports, training my dog or being out hiking in nature or something similar. From time to time I will wear something completely different than my daily jewellery uniform for a party or a special occasion. I love how easily you can change your whole look and vibe by wearing no other jewellery but a simple, dainty freshwater pearl necklace - or two oversized statement Monies earrings!
Follow Julie on Instagram @juliegwester
Julie's Finematter Favourites
Selected from our Journal