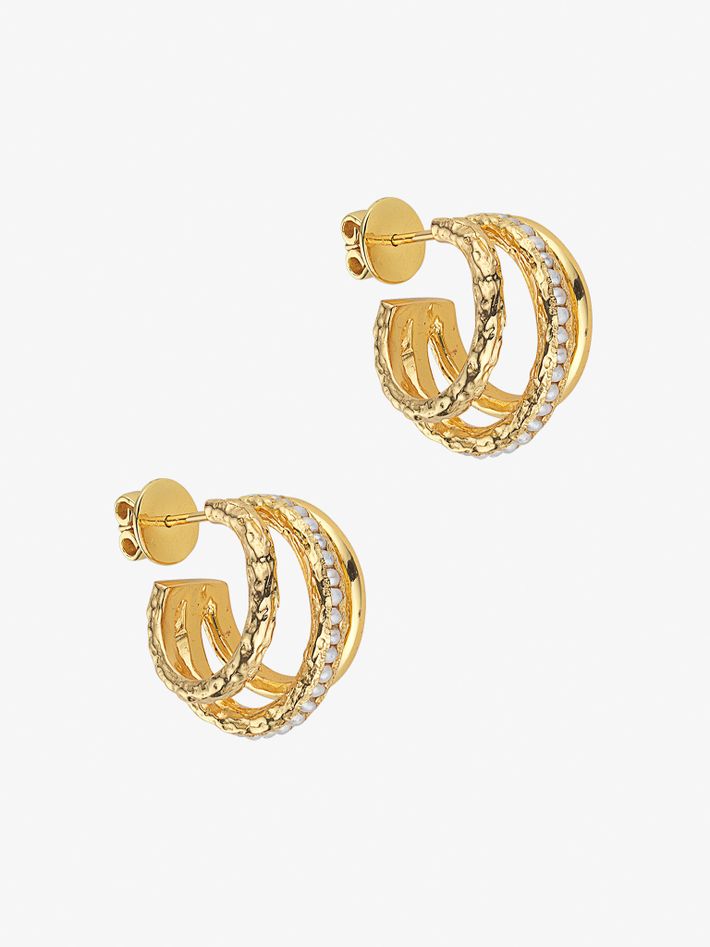 Grece Ghanem's favourites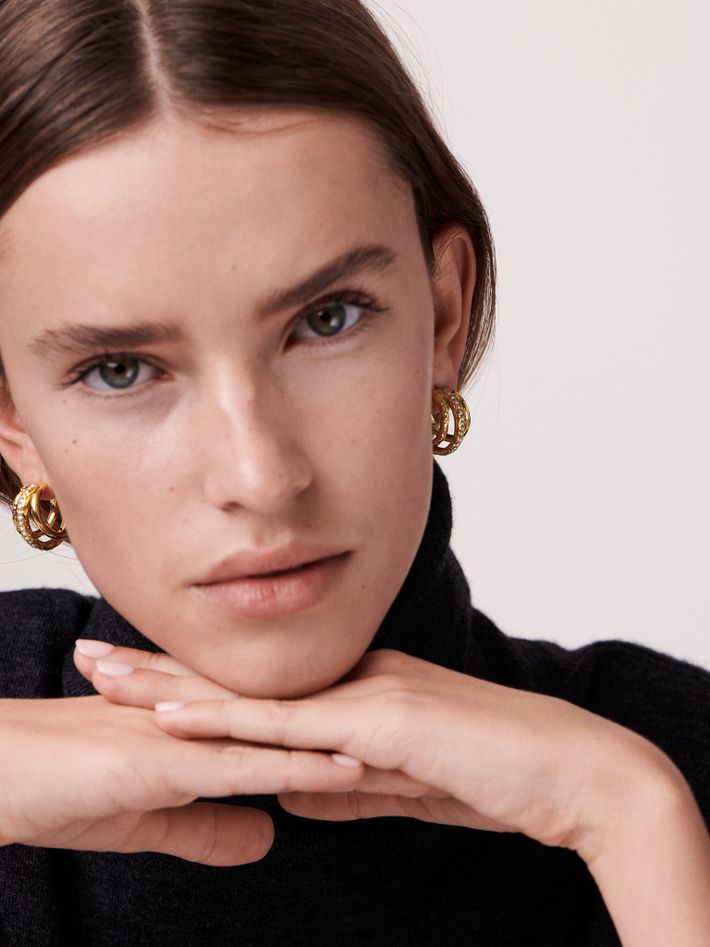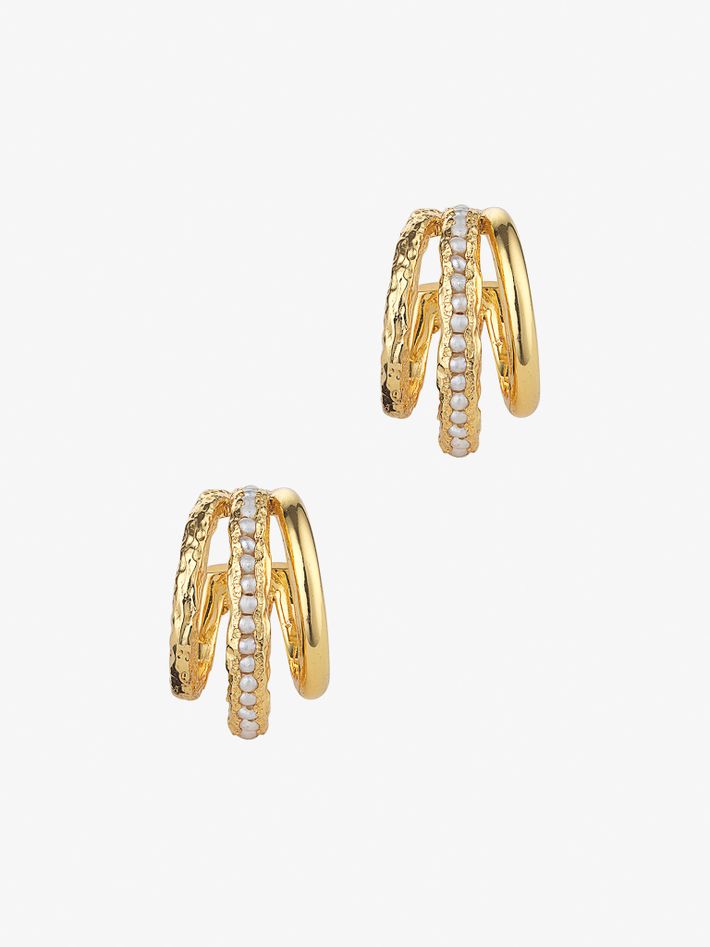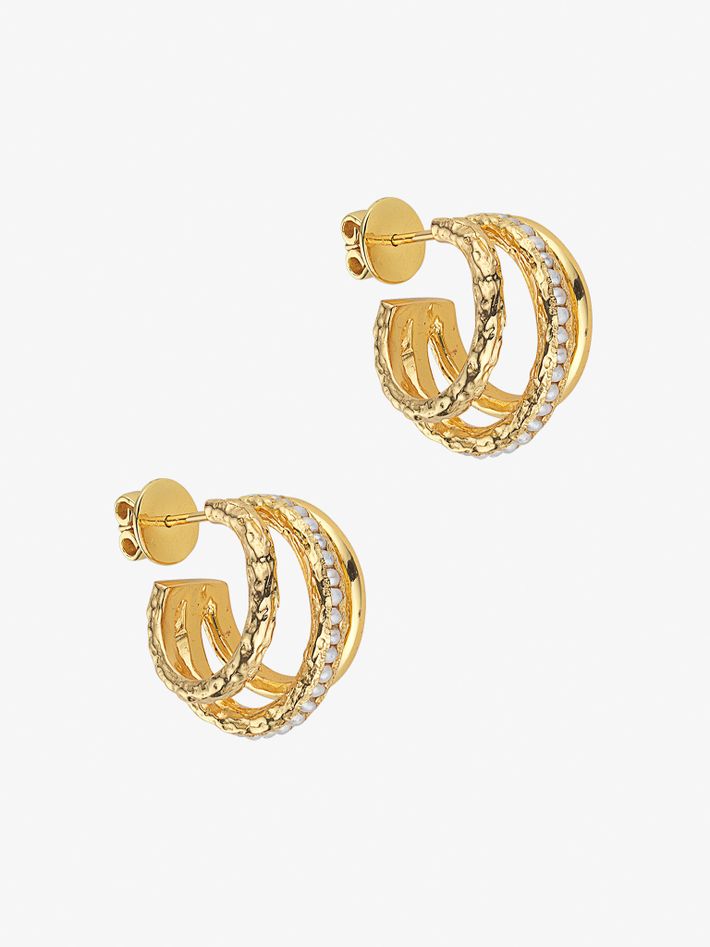 Grece Ghanem's favourites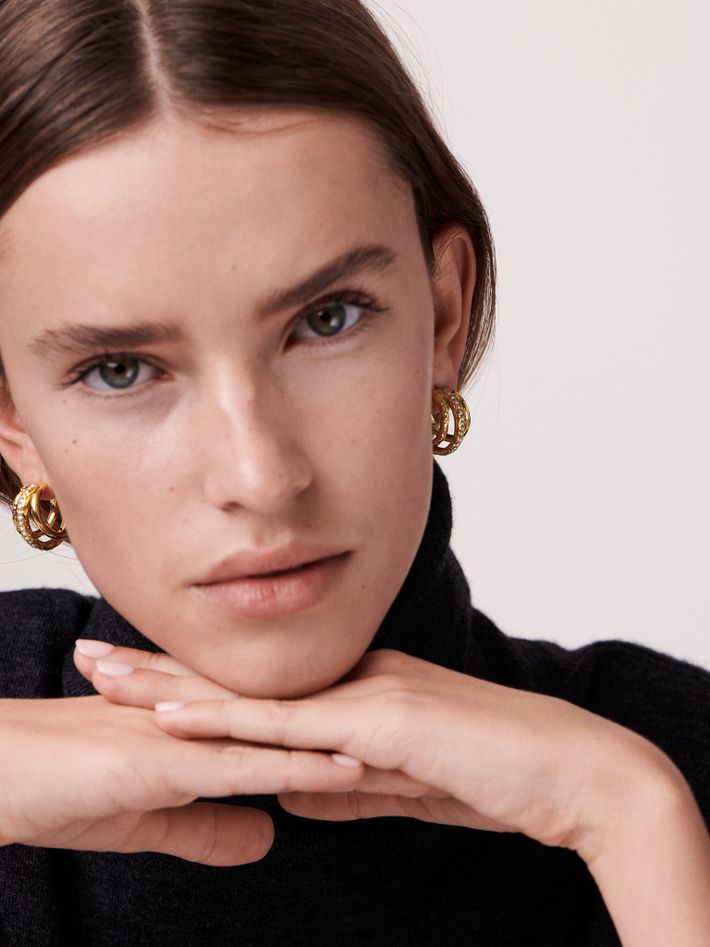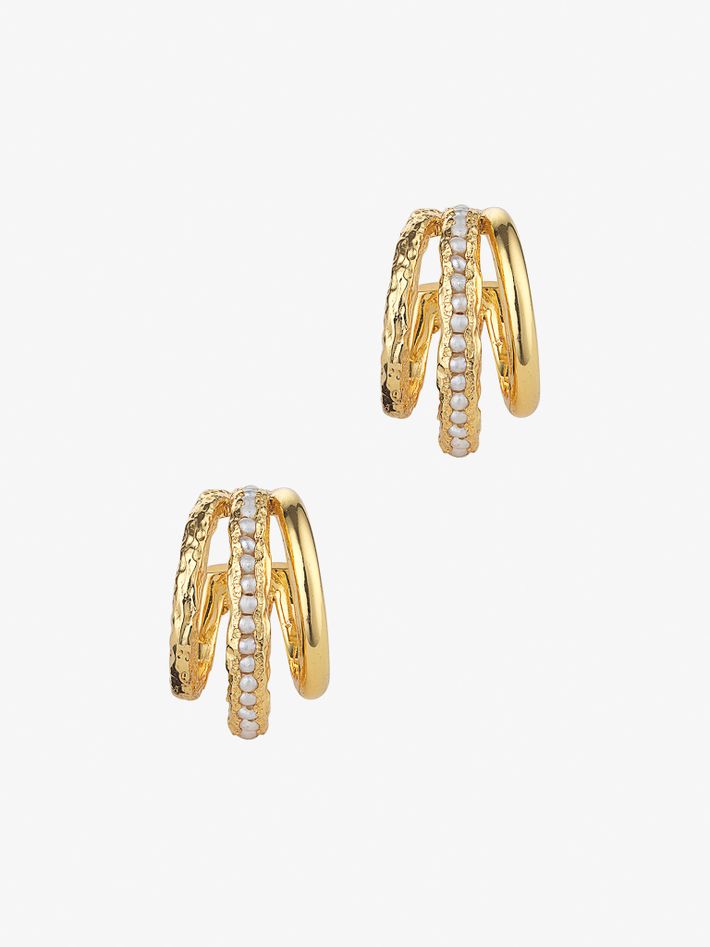 18 kt yellow gold plated sterling silver
Pearl
Pair of earrings
---
All taxes and customs duties included
Free shipping via DHL, fully insured
Includes
certificate of authenticity
Ships in 1-2 days.
In stock
Ask Pacharee a question
Some questions are best asked to our amazing designers directly, fill out the form and they will get back to you as soon as they can.
For any queries around delivery, price or returns, please contact us here at Finematter
Certificate of authenticity
Designed & created by

Pacharee

Issue date

6 February 2023

Location

Bangkok
Digital certificate
All jewellery pieces sold or appraised by Finematter have a digital certificate of authenticity.
Besides proof of ownership, it verifies the quality of your piece, including designer, metal, and gemstones.
If you are buying this as a gift, it can be transferred to give the receiver direct access to the warranty, aftercare services, and more.
Expert digest
A perfect combination of textures: Pacharee's signature organic 'Dhin', a row of mini freshwater pearls, and a clean polished one to finish.
Miranda Williams, Finematter
Brand Recognition
Rich gold paired with shimmering pearls and semi-precious stones, these are easy fashion items with a twist. Choose from personalised letters to statement earrings; a great go-to gifting choice.
Product details
Metals
Yellow gold
A precious and highly durable metal which comes in different golden hues depending on its purity.
18 kt
75.0% gold content, a warm buttery yellow hue and considered the most classic gold. An exclusive as well as durable precious metal.
Plated
Covered in a thin layer of precious metal electrically charged onto a base metal, which will gently wear off with time.
3 Microns
The gold plating on this piece is the thickest used for jewellery and is highly durable. Won't show signs of wear until after 4-5 years.
Sterling silver
Base
The most precious and durable base metal. Will not lose its shape, discolour the gold plating on top, or cause allergic reactions.
Polished
The surface has been polished to give it a bright shine. It can always be re-polished to regain its shine after wear.
Gemstones
Pearl
Two rows of mini freshwater pearls
Round
Perfectly spherical and shiny.
Size and fit
Hoops earring
Butterfly
Closure
2.2cm
Drop length
Made for you by
Pacharee
Jewellery designed with respect for the natural shapes of pearls and gems
Our curator Miranda says:
Rich gold paired with shimmering pearls and semi-precious stones, these are easy fashion items with a twist. Choose from personalised letters to statement earrings; a great go-to gifting choice.
Created by local artisans in Bangkok

Works mainly with baroque and keshi pearls 

Inherited love of gems and pearls from her gemologist father
Designer Interview
Sophie Rogers Pacharee: "Our essence is that we are representing the origin of the gemstones and the pearls, and we design in a way that respects their unique curve and every curve they have and the colour and the texture that they have."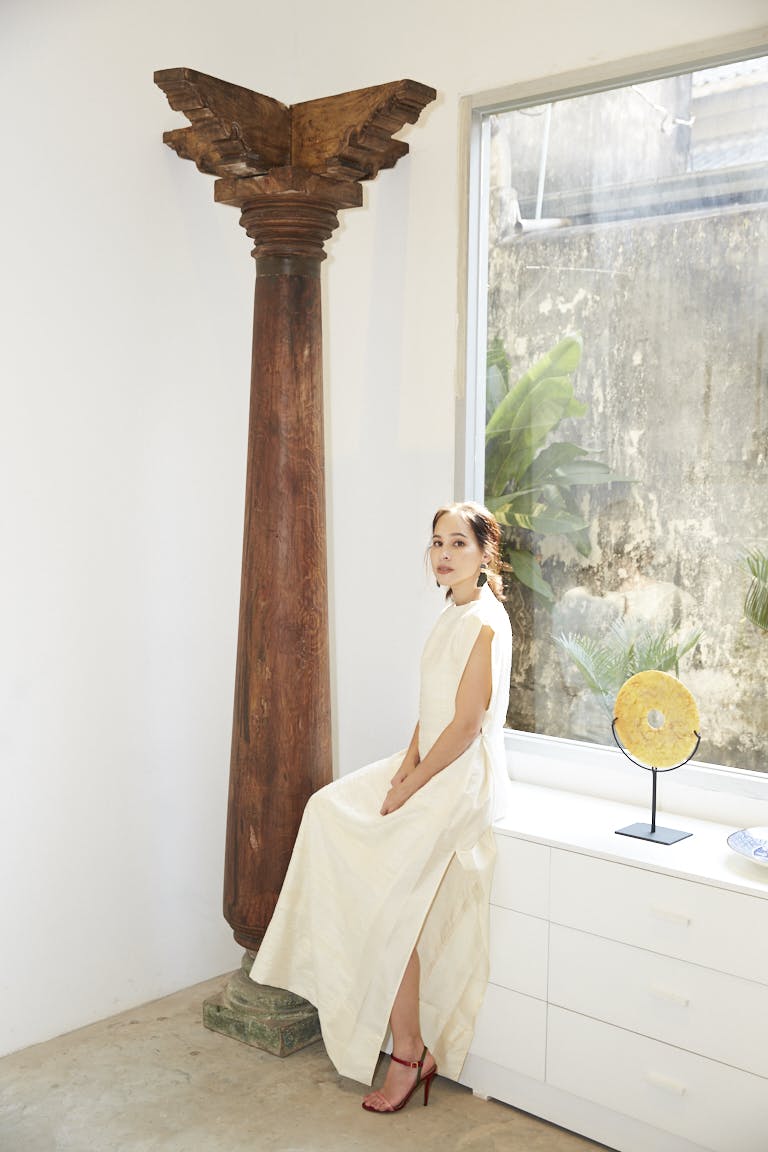 You come from a gems-trading family, but it took you some time to go into this industry. Could you describe your journey into jewellery?
My story is a bit of an odd one. When you grow up in a family that does something, and you see something every day throughout your childhood, you either fall in love with it and follow it or you fall in love with it and you try to tell yourself that it's not for you. My dad was a big gemologist and he always took me with him on his gem trips. When he met big clients, I would always go there with him. And I'm telling myself that I don't want to do this, because I've been forced into it. I keep trying to find my own path and I get into advertising, and I live in New York City for 10 years, and all my career life is advertising, but everyone knows that I am into design and fashion. At one point, I sneakingly went to GIA in New York and took a one-day jewellery-design course, telling no one about it. I feel like I'm always hiding it. The turning point is when I got pregnant and I was living in London, with my husband, and we decided we need a different environment, so we move to Zürich, and when we move here, I struggled to imagine myself in advertising here.
This is when you decide to do jewellery?
Not yet, but this is when I decide to do something different. I want to do something on my own. This is when I go back to Thailand, and I fall in love with this handwoven silk and cotton, and natural dye, so I design a clothing collection actually. And then one week before the shoot, I thought something was missing, and decided to add some jewellery. I ask my mom to open up her safe, and I find her stone and pearl collection. I pick out these Baroque shaped pearls, and they become the very first earrings I design. I call over the family goldsmith and I basically draw on the pearl to show how I want the gold setting to be. I want the feeling of a melting gold that goes into the pearl. It was one week for him working really hard to get it done on time, and we shot around five pieces of jewellery. When I launch the collection, people start inquiring about the jewellery instead of the clothes.
Read more
People love how we ship their valuable purchases - free of charge