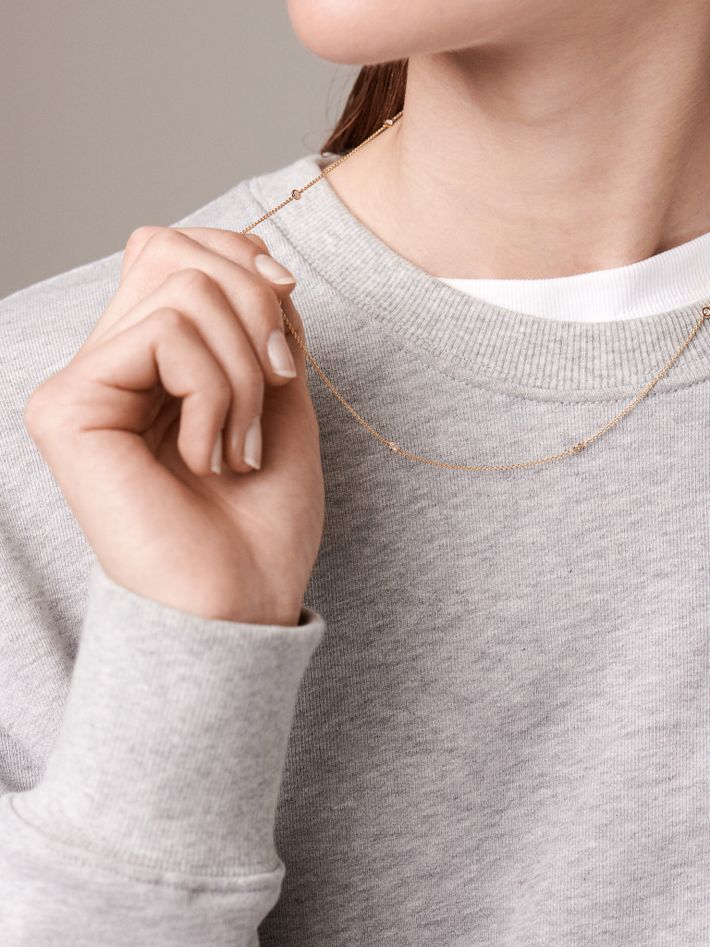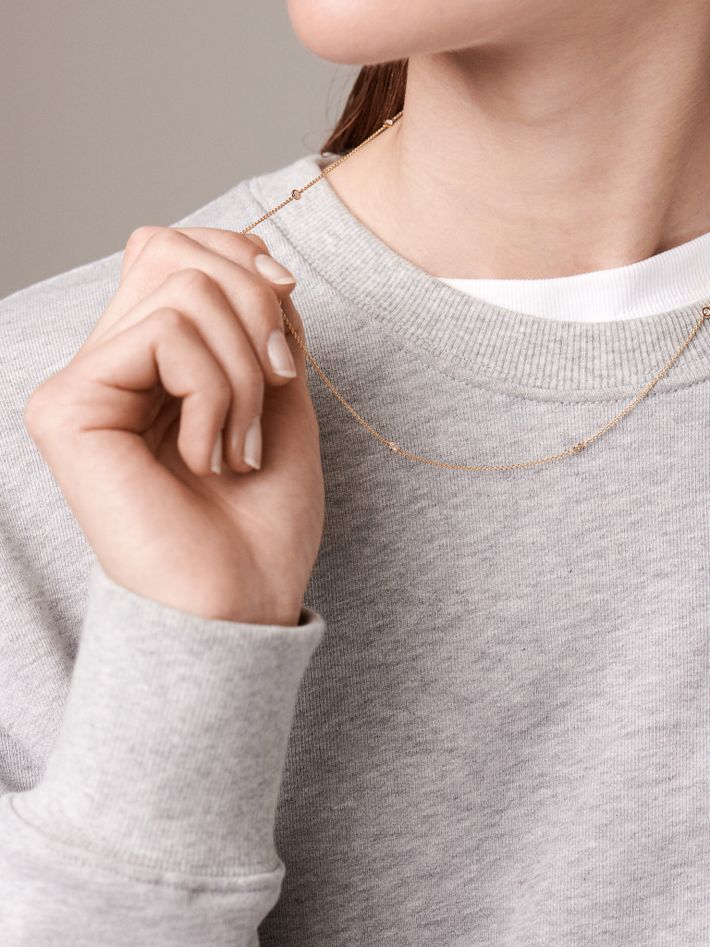 14 kt solid yellow gold
0.21 ct in 7 diamonds
---
All taxes and customs duties included
Free shipping via DHL, fully insured
Includes
certificate of authenticity
Ships in 1-2 days.
In stock
Ask P. Hertz a question
Some questions are best asked to our amazing designers directly, fill out the form and they will get back to you as soon as they can.
For any queries around delivery, price or returns, please contact us here at Finematter
Certificate of authenticity
Designed & created by

P. Hertz

Issue date

2 December 2022

Location

Copenhagen K
Digital certificate
All jewellery pieces sold or appraised by Finematter have a digital certificate of authenticity.
Besides proof of ownership, it verifies the quality of your piece, including designer, metal, and gemstones.
If you are buying this as a gift, it can be transferred to give the receiver direct access to the warranty, aftercare services, and more.
Expert digest
Perfectly spaced white diamonds floating on a delicate gold chain, this beauty looks great on any neck.
Miranda Williams, Finematter
Gemstone Quality
An amazing gemstone, will make a statement and retain it's value for a lifetime.
Brand Recognition
Family owned and regarded for their quality craftsmanship, a piece of P. Hertz jewellery is a perfect go to for fine and effortless gifting.
Product details
Metals
Yellow gold
A precious and highly durable metal which comes in different golden hues depending on its purity.
14 kt
58.3% gold content, relatively hard with a subdued yellow hue, making it a popular choice for jewellery that lasts a lifetime.
Solid
Made of a single, solid precious metal or metal alloy. Highly durable, can always be re-polished to regain its shine after wear.
Polished
The surface has been polished to give it a bright shine. It can always be re-polished to regain its shine after wear.
Gemstones
7 × Diamonds
7 diamonds, total 0,21 ct G /VVS. The chain comes standard in 50 cm with an extra link at 45 cm.
0.21 carat
The unit of weight for diamonds, equivalent to 0.2 grams.
VVS1
Clarity
Inclusions so slight they are extremely hard for even a trained gemologist to see under 10x magnification
G
Colour
Near colourless and rare white with a very slight warm tone, near impossible to detect. (Grade G)
Round
Shape
Size and fit
Chain necklace
Lobster claw
Lock
50cm
Length
Made for you by
P. Hertz
A cornerstone in Danish jewellery offering jewellery of the highest quality
People love how we ship their valuable purchases - free of charge