---
Free 14 day returns
Free shipping via DHL, fully insured
All taxes and customs duties included
Ships in 1-2 days.
Just 1 available
Product details
Metals
Yellow gold
A precious and highly durable metal which comes in different golden hues depending on its purity.
18 kt
A buttery yellow hue, considered the most classic gold. 75% pure, an exclusive as well as durable precious metal.
Solid
Made of a single precious metal, this piece will never oxidise or discolour and will keep its looks for generations.
Matte
Brushed surface gives an organic look. Will get more shiny with wear and can be brushed up later to regain its matte look.
Size and fit
Pendant necklace
Spring clasp
Lock
50cm
Length
People love how we ship their valuable purchases - free of charge
Made for you by
Rebekka Notkin
Timeless and elegant fine jewellery focused on outstanding craftsmanship
Our curator Miranda says:
Rebekka is a highly regarded designer who creates considered pieces that will be handed down from generation to generation. Her use of the finest materials, including gemstones like jade, complement her craft with solid gold.
In jewellery-making for over 25 years
Designer Interview
Rebekka Notkin: "If you are not wearing your jewellery, it can feel like a part of you is missing. It can hold such importance that it works like a talisman of sorts."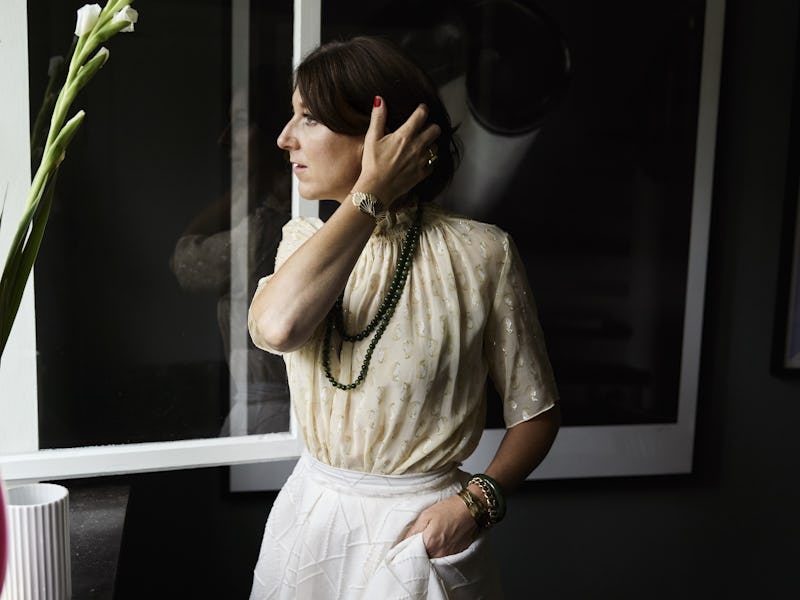 I read somewhere that your father was a goldsmith. Have you always known that you would follow in his footsteps?
Not exactly, but everything I've done, what I've been preoccupied with and things I've been interested in have been miniatures—doll house furniture, Barbie clothing, jewellery for my dolls and paper dolls. And when I was allowed in my father's workshop, it felt like magic. So from that point in time, I knew.
You were an apprentice of Torben Frisch: a very classic craftsman? 
It was a workshop, where we did work for other goldsmiths. It was a traditional workshop with classic assignments.
Read more