Our curator Miranda says:
"You will make an asymmetric pearl statement with these earrings, a single unique baroque pearl on a pair of diamond pavé hoops."
14 kt solid yellow gold
50 diamonds & 1 pearl
Pair of earrings
---
Free returns
Free shipping via DHL, fully insured
All taxes and customs duties included
Ships in 1-2 days.
Just 1 available
Product details
Metals
Yellow gold
A precious and highly durable metal which comes in different golden hues depending on its purity.
14 kt
A cool, subdued yellow hue. 58% gold and relatively hard, making it a popular choice for jewellery that lasts a lifetime.
Solid
Made of a single precious metal, this piece will never oxidise or discolour and will keep its looks for generations.
Polished
The surface has been polished to give it a bright shine. It can always be repolished to regain its shine after wear.
Gemstones
50 × Diamonds
white diamond pavé.
1 × Pearl
pearl shape and size varies, each is unique.
Irregular teardrop-like shape. No two pearls are the same.
Size And fit
Made for you by
Alice Waese
Beautifully handcrafted jewellery created by a skilled artist
Our curator Miranda says:
Alice is a skilled artist whose jewellery is influenced by drawing and sculpture, and made with a commitment to using high-quality materials and ethically sourced gemstones. Everything is handcrafted in textured gold, creating what can only be described as mini treasures.
Ethically sourced gemstones
Designer Interview
Alice Waese: "I like things to be elegant and worn in. Playful and meaningful. I suppose contrast is important."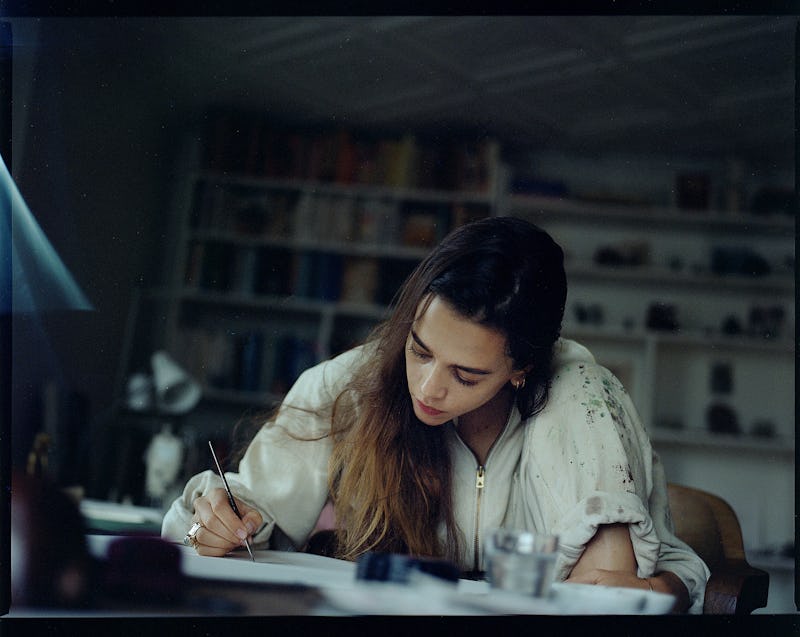 I grew up in Canada with my dad who is an artist and a computer programer and my stepmother who was a milliner. I studied at various schools; creative writing in Montreal, fashion design in Toronto, and fine art in London. I moved to New York to work with Maria Cornejo at Zero when I was 20. I then moved to London, and then back to New York where I currently live and work.
You studied fine art, how has that informed your jewellery practice?
While studying fine art I spent most of my time making sculpture and textiles. I think these mediums came together to create my current aesthetic. I didn't study jewelry making so I apply a more sculptural technique to the work. I create very intuitively and allow the piece to tell the story of the process. 
Read more