Our curator Miranda says:
"Marlene has spent years perfecting the chain, and the result is spectacular."
18 kt yellow gold plated sterling silver
---
Free 14 day returns
Free shipping via DHL, fully insured
All taxes and customs duties included
Ships in 1-2 days.
Just 2 available
Product details
Metals
Yellow gold
A precious and highly durable metal which comes in different golden hues depending on its purity.
18 kt
A buttery yellow hue, considered the most classic gold. 75% pure, an exclusive as well as durable precious metal.
Plated
Covered in a thin layer of precious metal electrically charged onto a base metal, which will gently wear off with time.
3 Microns
The gold plating on this piece is the thickest used for jewellery and is highly durable. Won't show signs of wear until after 4-5 years.
Sterling silver
Base
The most precious and durable base metal. Will not lose its shape, discolour the gold plating on top, or cause allergic reactions.
Matte
Brushed surface gives an organic look. Will get more shiny with wear and can be brushed up later to regain its matte look.
Size and fit
Chain bracelet
Hook
Lock
People love how we ship their valuable purchases - free of charge
Made for you by
Marlene Juhl Jørgensen
Pioneering jewellery merging Nordic traditions and ancient techniques
Our curator Miranda says:
Loved and respected designer Marlene creates a modern take on classic jewellery, covering everything from essentials to one of a kind pieces. We love her chunky chains and simple earrings set with diamonds, pearls and emeralds.
Designer Interview
Marlene Juhl Jørgensen: "I have to take responsibility and help impact the world in a positive way. You have to start with yourself."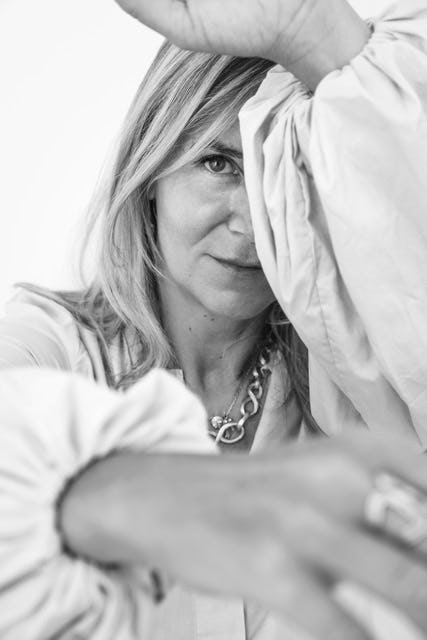 You've been in the industry 30 years now, how did you end up a jewellery designer?
It's quite early that I realise what I want to do in life. My mom has always had an interest in jewellery and would always have it custom-made. I remember how she once gifted us children a razor blade in silver and had one made in gold for herself. She was very modern and ahead of her time. It formed my interest in jewellery. I discovered designers like Gerda Lynggaard, Guld & Gummi, Birthe Steenbach and Torben Hardenberg who did untraditional jewellery. It took on a different life and became something more than pearls and eternity rings. It was a different approach and it opened my eyes to how you could work with unconventional materials like amber and rubber. It was an inspiration in the way that I started thinking about ways that I could redefine this universe and decide what it was supposed to look like.
FM: With whom did you do your apprenticeship?
With Vagn Drachmann. It was an amazing place. It was great, not in a cool way, but in a tough way. It really was incredible. Then, when I finished, I went to New York to study at Parsons. But I felt like I knew everything they had to offer already; they didn't have a Master's in jewellery. Instead, I started a Master's in Fine Arts. I had always known that I had to travel and try new things. Had I just started on my own immediately after my apprenticeship, I am not sure I would have found my own style.
Read more