White diamond mini compass rose ring
By Mociun
How to measure your ring size at home. You'll need:
Strip of paper, approximately 10mm wide and 100mm long.
Pen or Marker
Measuring tape or ruler
Step 1
Wrap the strip of paper around the base of the finger you intend to wear the ring on. It should feel snug, but comfortable enough to fit over your knuckle.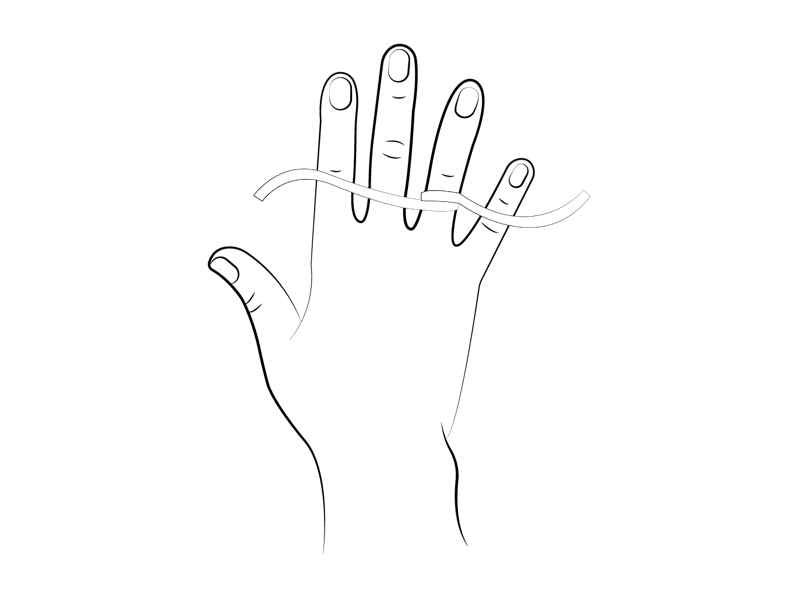 Step 2
Mark the points where each end of the paper meets.
Step 3
On a flat surface, measure the length between the two points in millimeters. This measurement is your ring size.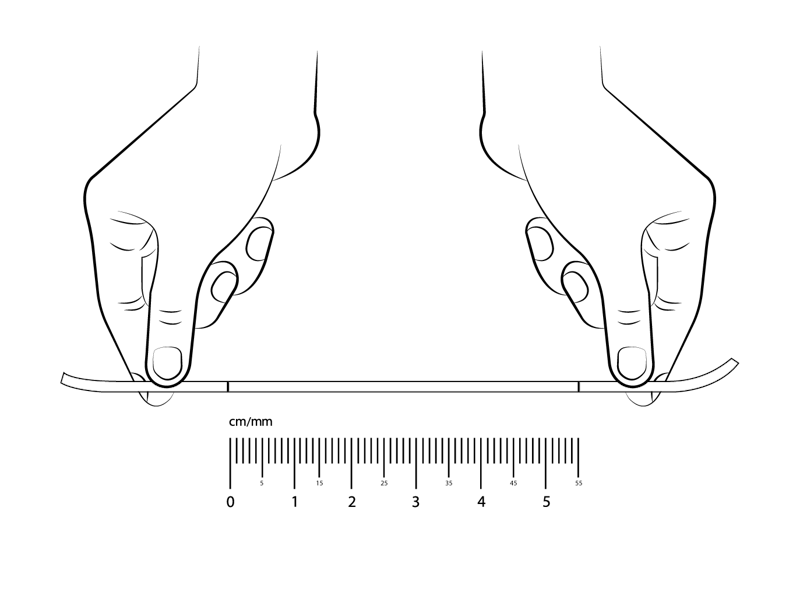 Tips
Your fingers will be at their smallest when cold and they tend to swell when hot. We recommend you measure your finger when your hands are a comfortable temperature - not too hot and not too cold.
For accuracy, we suggest you take this measurement at least twice.
Measure the largest finger you intend to wear the ring on.
If the measurement seems to be between two sizes, we suggest you opt for the larger of the two.
If your knuckle is much bigger than the base of your finger, measure both and go for a size between the two measurements.
Metal
14 kt solid yellow gold
Gemstones
0.25 CTTW in 7 diamonds
---
Free 14 day returns
Free shipping, fully insured
All taxes and duties included
Please select an option to see delivery time ↑
Product details
Metals
Yellow gold
A precious and highly durable metal which comes in different golden hues depending on its purity.
14 kt
A cool, subdued yellow hue. 58% gold and relatively hard, making it a popular choice for jewellery that lasts a lifetime.
Solid
Made of a single precious metal, this piece will never oxidise or discolour and will keep its looks for generations.
Polished
The surface has been polished to give it a bright shine. It can always be repolished to regain its shine after wear.
Gemstones
7 × Diamonds
An Old European cut centerstone diamond and 6 pavé set diamonds
The unit of weight for diamonds, equivalent to 0.2 grams, or about 6.4mm in diameter (slightly smaller than a regular pencil-end eraser)
Size And fit
Why we love this designer
Mociun is known for using coloured gemstones and antique diamonds
Jewellery was not Caitlin Mociun's first calling, but when she discovered it, she found home. It is a profession that not only makes her happy, but brings something special into the world. Known for her use of coloured gemstones and antique diamonds set in uncommon clusters, her remarkable eponymous Brooklyn-based jewellery house Mociun is such a unique brand in the world of jewellery that we couldn't imagine her doing anything else.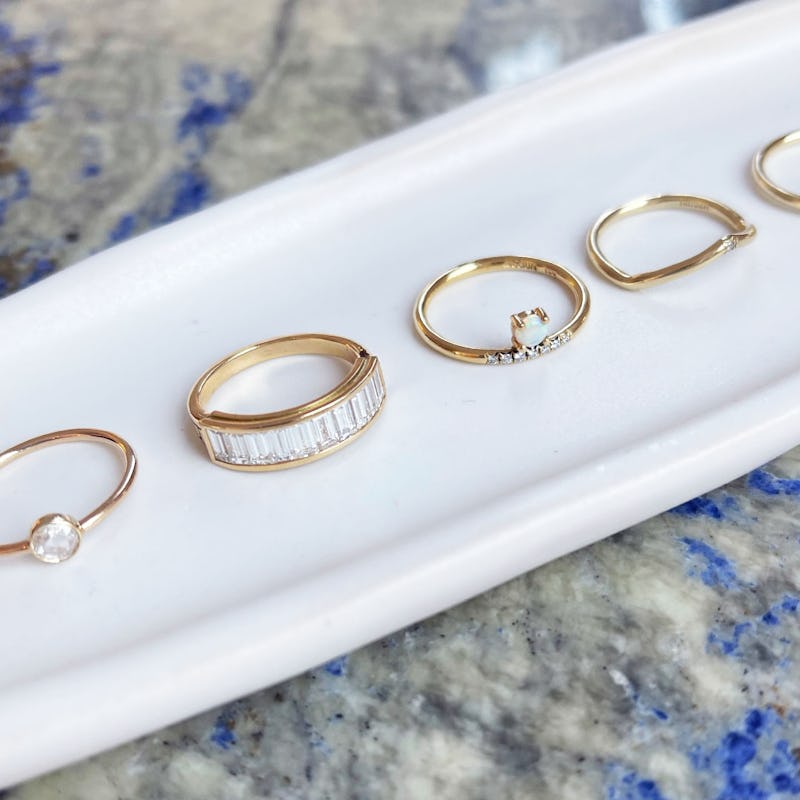 Designer Interview
Caitlin Mociun: "Humans have always had a desire to adorn themselves (so it seems from our history!). Humans use symbols like jewellery to identify things about other people."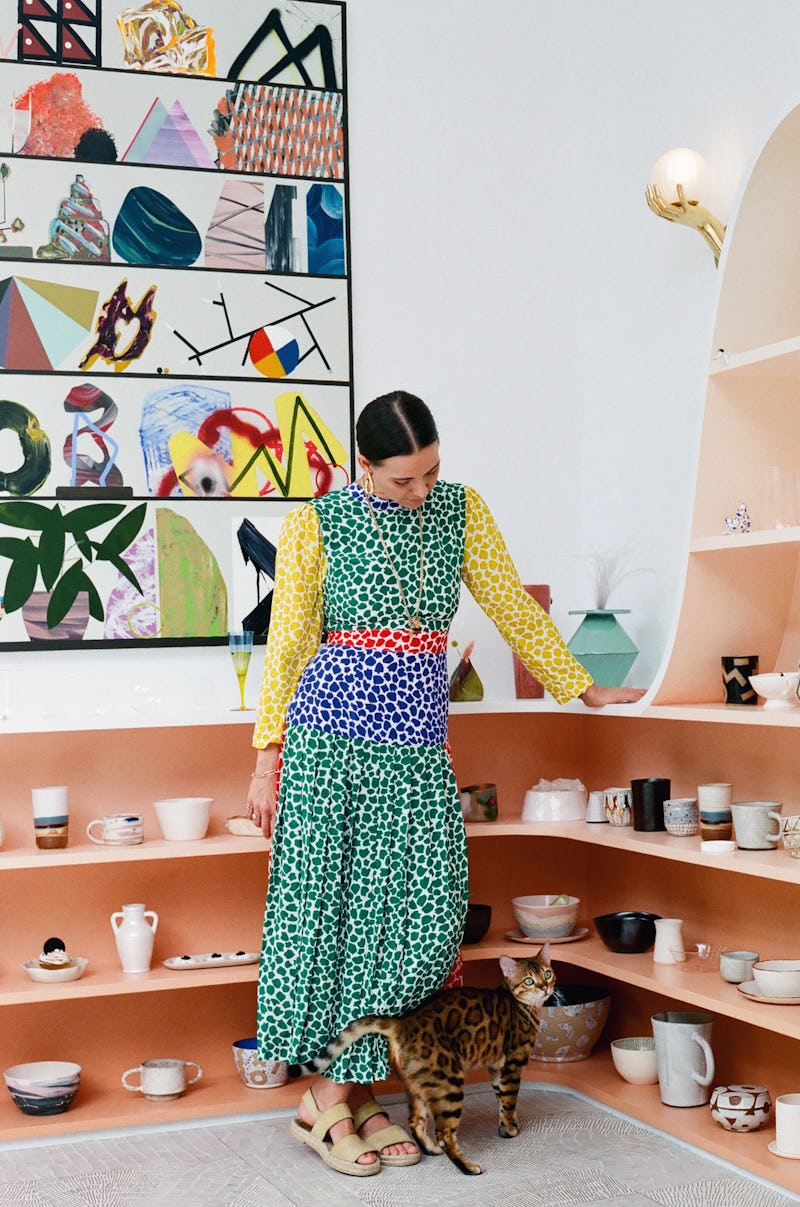 A California native, I began traveling at the age of 12, spending six years living throughout Asia and Europe, with extended stays in Malaysia and Prague, before earning a BFA in textiles at the Rhode Island School of Design.
Did you always want to be a jewellery designer?
I did not. When I was younger, I wanted to be a fashion designer. Which I did professionally (also under the name Mociun) for 6 years. When I was doing that I really wanted to get back into a fine art and installation art practice but it was easy for me to make and sell clothing so that is what I did, I did not enjoy it. When I started experimenting with jewellery, I felt happy and content with that practice.
You characterise yourself as a curator and a creator, in which ways?
I would say a creator first and a curator second. I design all the jewellery that we sell at Mociun and I act as the creative director for the company. Which means I do most of the styling for our photoshoots (along with one of my long-time employees who also does our photography and all our digital content and IG). I also curate the selection of home goods along with my buyer in our store in Brooklyn/online store.
You use unique gemstones; can you tell me about the sourcing of them?
I have worked very hard over the years to find the right sources of gemstones for my work. Not only am I looking for beautiful and unique stones but who we buy from is also important to me. I do my best to know as much about the materials that I buy as possible. We have found a number of sources that also care about the environment and the people who mine and cut stones. I always go to them first before I use our sources that do not have sustainability as a large part of their practice.
Read more
Sustainability
Adheres to the following sustainability practices
Direct carbonneutral shipping

Plastic-free and recyclable packaging