JEWELLERY 101
Birthstone jewellery
Birthstone jewellery is a great way to wear a piece of jewellery that has a special meaning. Gemstones such as emerald, sapphire and aquamarine each represent a specific month in the calendar year and designers are fans of using them in their work because of the personalised meaning they can give. Once you learn what gemstone corresponds to your birth month, you can begin shopping for unique pieces that not only match your style, but also carry a symbolic meaning. Categorised by month and associated with a colour, birthstones carry a unique meaning.
What is my birthstone?
01
January – Garnet
The dark red Garnet symbolises love, friendship, and faith.
02
February – Amethyst
Purple in colour, the Amethyst symbolises royalty, wisdom, and sincerity. 
03
March – Aquamarine
A blue Aquamarine stands for tranquillity, courage, and eternal youth.
04
April – Diamond
The colourless Diamond represents loyalty, innocence, and authority.
05
May – Emerald
Green Emeralds stand for good fortune and happiness which makes the green emerald a wonderful present even if it's not someone's birth month.
06
June – Alexandrite & Pearl
June is blessed with not one but two birthstones. Light purple Alexandrite gemstones symbolise luck, intellect, and balance while Pearls represent charity, truth, and humility.
07
July – Ruby
Fierce July babies will love the blood-red Ruby that stands for harmony, opulence, and nobility and adds an elegant touch of colour to any outfit.
08
August – Peridot & Spinel
Light green in colour, Peridot symbolises protection, prosperity, and felicity. The other gemstone associated with August is the orange Spinel symbolising longevity and devotion. 
09
September – Sapphire
The dark blue Sapphire symbolises wisdom, creativity, and serenity. Did you know that most birthdays are in September? 
010
October – Tourmaline & Opal
Available in a wide range of colours, tourmaline symbolises compassion, reconciliation, and endurance while opal stands for hope, loyalty, and confidence. We can't get enough of the unique iridescence of opals, so we've curated a very special selection of jewellery.  
011
November – Golden Topaz & Citrine
November babies might not have the brightest birth month but they shine with the golden topaz symbolising strength, friendship, and balance. And also their second birthstone, citrine is a confidence booster standing for success, vitality, and joy.
012
December – Blue Zircon, Tanzanite & Turquoise
The blue zircon represents wealth and wisdom. Blue/purple in colour, Tanzanite symbolises awareness, intuition, and communication. Turquoise stands for balance and good fortune and is said to have spiritual healing energy.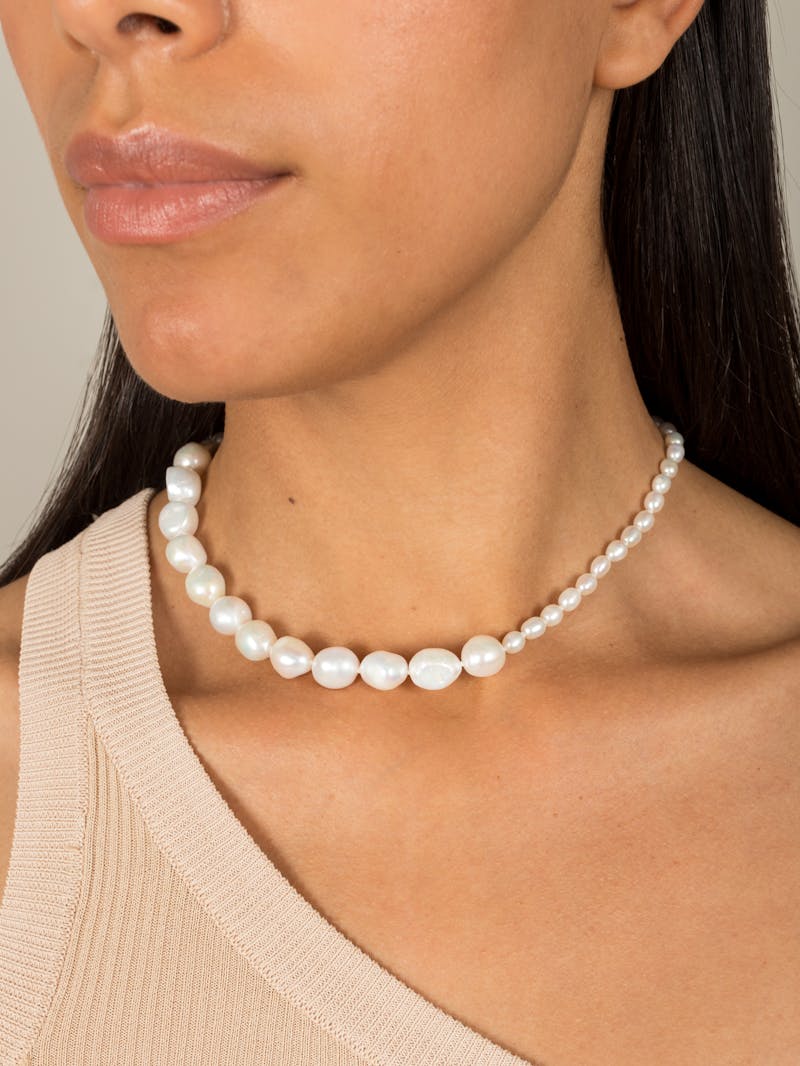 Birthstone Jewellery Shopping Tips
Each and every piece of jewellery available on Finematter is handcrafted by independent jewellery makers from all over the world, from London to Paris, Copenhagen, Rome, New York, and Los Angeles. Some designers hold a special collection of jewellery with birthstones for you:
Necklaces: Some of our most popular birthstone jewellery comes in the form of pendant necklaces. An example is the eye-catching emerald solitaire pendant by Elhanati. They make a special gift not only for a birthday but also for a new mother or mother figure who will carry their children's birthstone with a special sentiment.
Rings: Wear your birthstone on your finger with a ring that best matches your style. On Finematter, we have an assortment of birthstone rings from which to choose, including stunning collections by Mociun and Satomi Kawakita. Born in October, or shopping for a gift for someone who was? This Opal Crossover ring by WWAKE serves as a fantastic example of a birthstone ring we are obsessed with.
Earrings: If you (or the lucky recipient) enjoy wearing earrings, a birthstone earring set would be a perfect way to express yourself. Satomi Kawakita's Baby Birthstone Ruby Studs are gorgeous everyday studs and come in all birthstones.
Bracelets: Many of us enjoy wearing bracelets, especially ones that can be personalised. Kelly Bello's Heart Bracelet is a great way to wear your heart on your sleeve - quite literally.
If you enjoy a personal piece of jewellery why don't layer birthstones, initial letters and zodiac signs? You're bound to find the meaningful piece of jewellery you're seeking.
All of the talented jewellery makers on Finematter undergo a vetting process conducted by our experts, which makes our selection of jewellery very special. Your jewellery has been thoughtfully designed, carefully created, and meticulously curated with the purpose to last.