Renew, Recycle & Resell
JEWELLERY IS NOT FASHION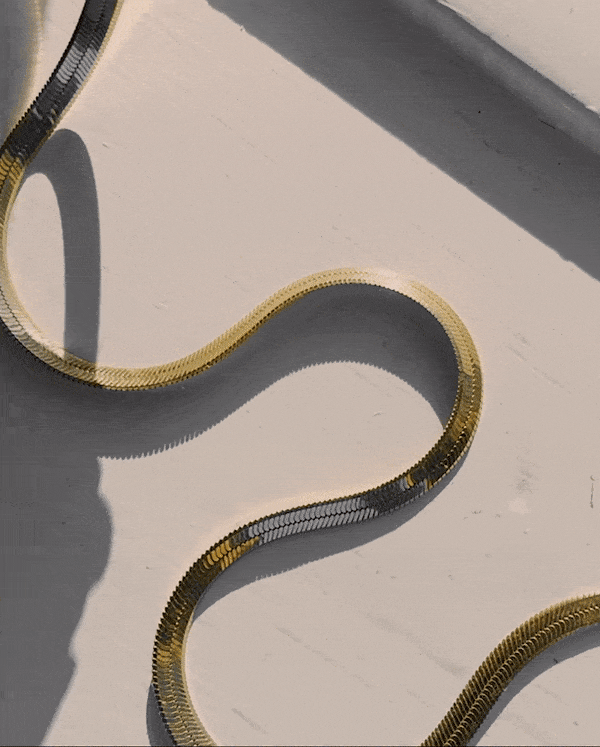 It's time to redefine jewellery ownership: why we're launching Renew, Recycle & Resell
Today, we're launching Renew, Recycle & Resell; to redefine the jewellery category and turn jewellery consumers into jewellery owners. This step has been underway since our start as a business, and boils down to one crucial realisation: 
Jewellery is permanent. Fashion is transient. 
So why is jewellery still being sold and treated like fashion? 
We thought it was about time to change that. That's why we're launching Renew, Recycle & Resell – to redefine what it means to buy, own and think about jewellery; as property that is intrinsically valuable, eternally durable and that can be endlessly renewed to last a lifetime.
A forgotten asset class
There's no denying gold is valuable - it's a tradable asset, with real value and liquidity in the modern economy. Since ancient civilizations, gold has been a universally accepted currency, and gold has always been a safe haven, untouched by inflation, speculation or geopolitical influence.
By the same token, it's also pretty indisputable that jewellery is valuable. By elevating the already precious raw material through design and craftsmanship, goldsmiths have been able to create prized possessions of sometimes incredible worth. 
However, in recent years jewellery has somehow lost its status as a valuable. As the fashion industry has looked for opportunities to expand, they've moved into adjacent categories, such as bags, footwear, sportswear, eyewear, beauty - and jewellery. And we're now being served jewellery as 'an accessory', in seasonal drops, with 50% off discounts, and sitting next to sneakers, t-shirts and dresses. 
Being presented with jewellery as a fashion accessory, we've somehow forgotten that jewellery is not a perishable product - neither in style nor in material condition. You could almost say the jewellery category has been corrupted by the commercial forces of the fashion calendar, forcing consumers to look at jewellery as a consumption item - not as the valuable that it really is.
But this is really doing injustice to jewellery, and to the myriad of talented trained gold- and silversmiths that make it - as well as to the owners of jewellery, who are in fact owners of real assets, perhaps with resale value they may not even realize. 
As such, jewellery is the ultimate overlooked asset class. It's a stable, non-speculative kind of asset, one that brings joy and tells a person's life story, just as well as it holds value. So why is there still so much opacity when it comes to the real value of jewellery? Why isn't there a well functioning market? Why isn't it just as easy and reliable to invest in jewellery, as it is investing in obligations, old coins, art, limited edition sneakers, or even bitcoin? 
We believe that this is both the past, but also the future of the jewellery category. To stop consuming, and (re)start owning. 
There's jewellery, and then there's real jewellery
The premise of property ownership is permanence. To be valuable, an asset needs to be durable. 
In that regards, all jewellery is not created equal, and it is important to distinguish between the categories. There's fashion accessories - the kind you'd buy on the highstreet, sometimes for the same price you'd pay for a pair of socks. Chances are, these pieces will have broken or lost their shape in less than a season, the gold will wear off after only a few wears, and they have absolutely no store of value. 
These products are fundamentally different to real jewellery. Real jewellery is made of precious materials of intrinsic value, such as solid gold and precious gemstones, materials that are chosen for their beauty just as well as their longevity (did you know that a diamond is the hardest material on earth?). Real jewellery is carefully crafted by experts, who know which processes to use to ensure the stability of shapes, the security of stone settings, and give the piece the general level of attention to detail one can expect from a piece of high quality design. Real jewellery is a display of originality and unique creativity. In other words, real jewellery will last a lifetime - or even outlive you; a trip to the V&A Museum will confirm that jewels made centuries ago are just as dazzling as when they were first made. 
When jewellery is real, it is;
Everlasting - and therefore Renewable
Jewellery is not about newness and trends, but about longevity. Real jewellery, made of precious metals and gemstones, can be renewed and refreshed again and again. Whether it simply gets polished up, replated with a fresh layer of gold, or remodelled, a piece of real jewellery can stay beautiful and relevant over a lifetime. 
Circular - and therefore Recyclable
Jewellery is the ultimate circular item. Precious metals are limitlessly recyclable, and jewellery therefore has the potential to be a 100% circular product - purchasing recycled jewellery and giving life to new jewellery through recycling, consumers can be a part of making the transition towards a circular economy, while benefiting from the inherent value of the precious materials jewellery is made of.
Valuable - and therefore Resellable
Real jewellery is intrinsically valuable, through the value of materials and quality of design and craftsmanship that has gone into making it. It is therefore a good store of value over time, whether passed onto future generations, recycled or resold. A piece of real jewellery is essentially a piece of property that you can wear, and that brings you joy. Purchasing a piece of real jewellery is an investment decision, rather than a regular purchase. 
Turning consumers into owners
This is what Finematter is about; creating a shift from consumption to responsible, lasting ownership. To extend the life and relevance of products across generations. To bring circularity and awareness of materials into our mindset as consumers. To bring value beyond the instant gratification of buying. To unlock a forgotten asset class. 
Fashion is about consumption. Jewellery is about ownership. 
Visit Finematter.com to become a jewellery owner today. 
*****
Selected from our Journal