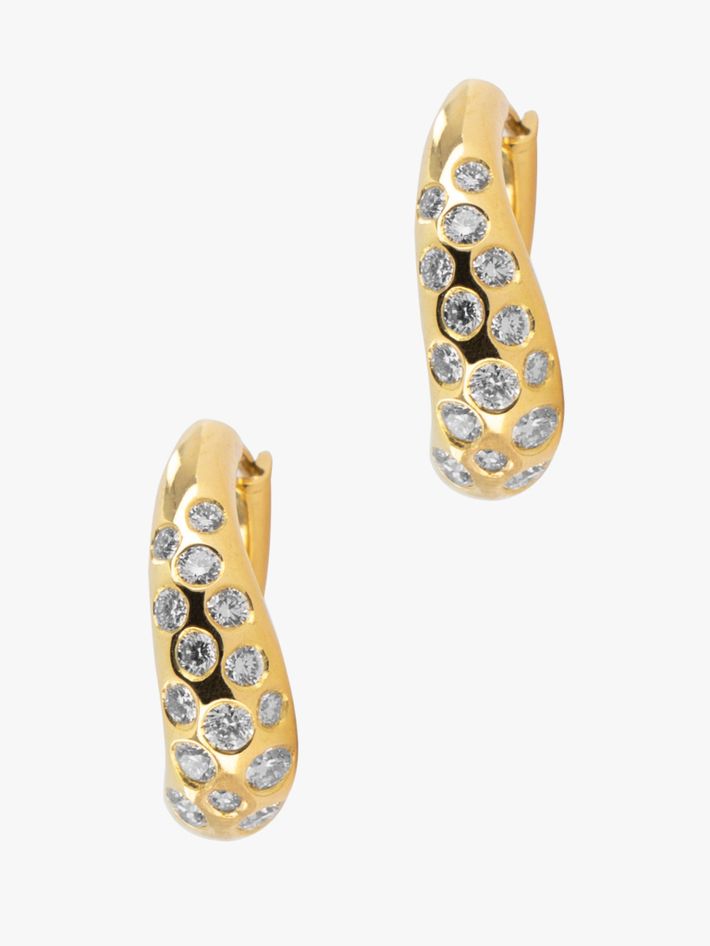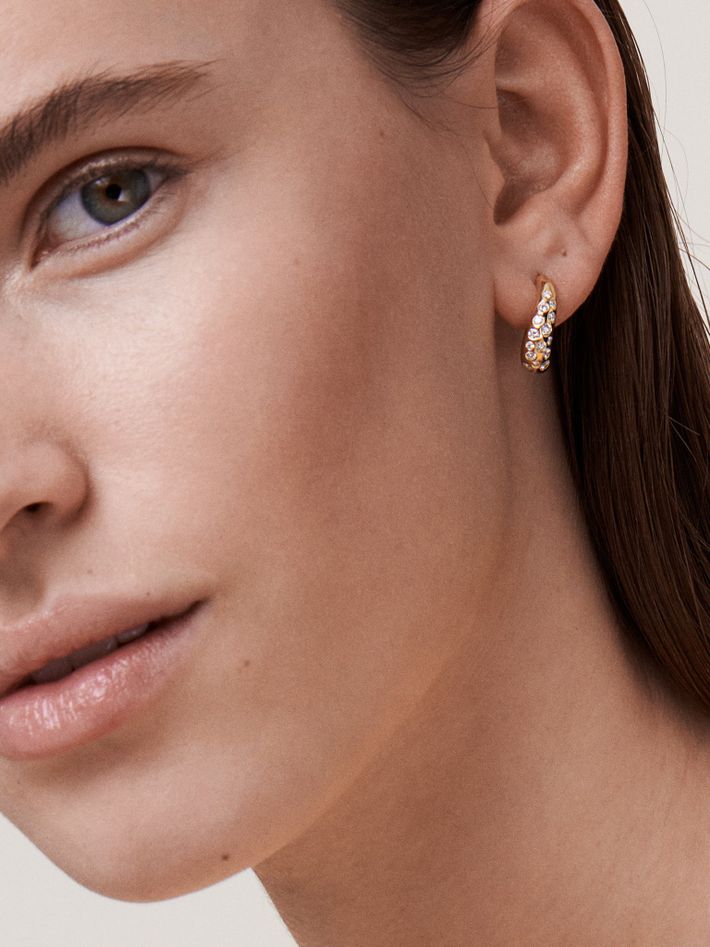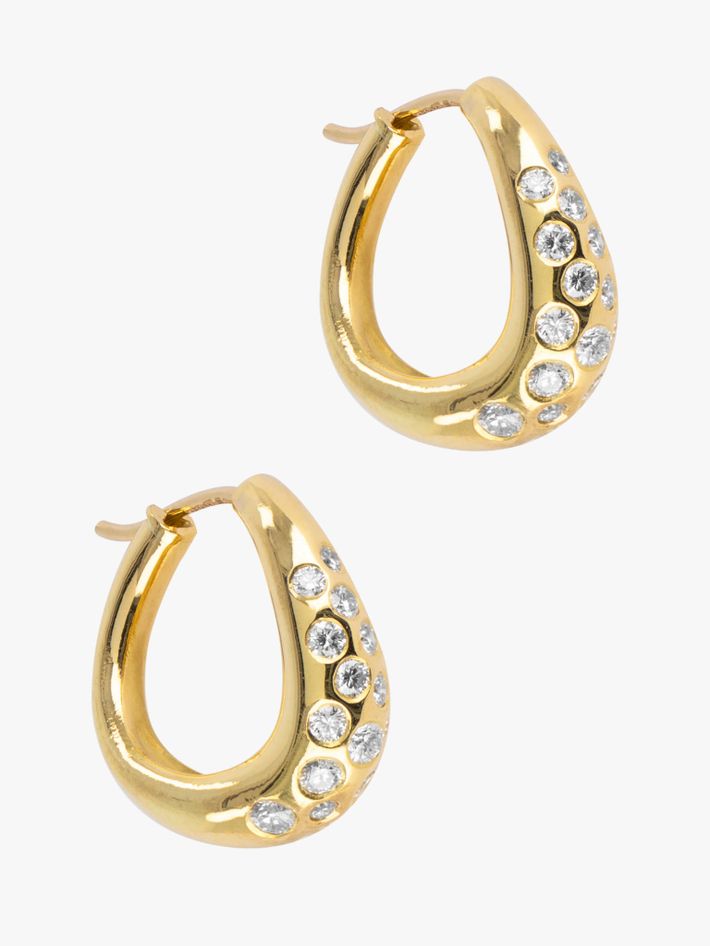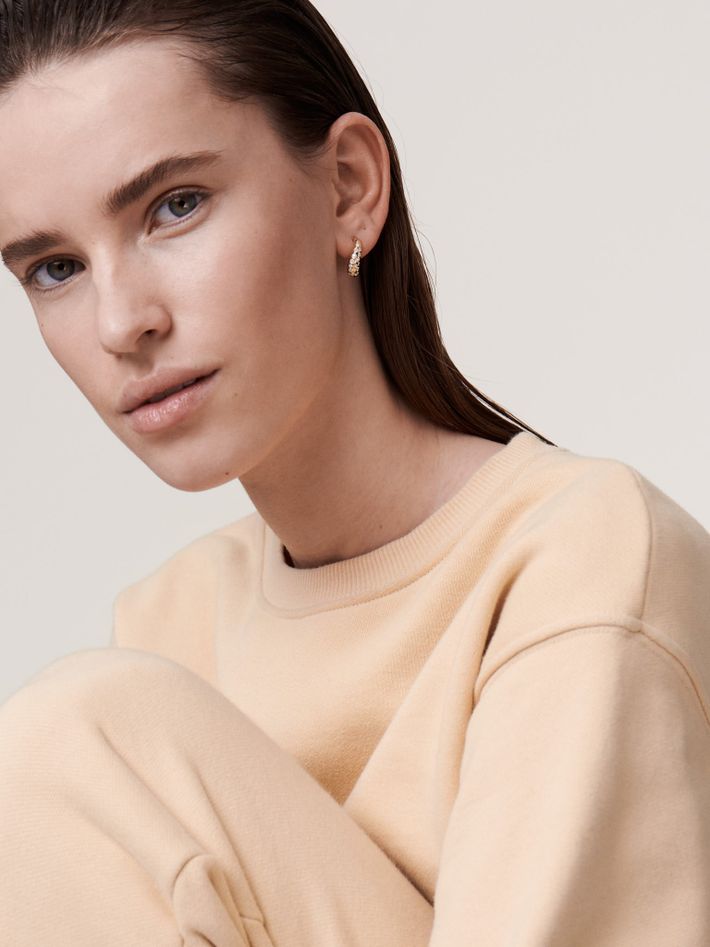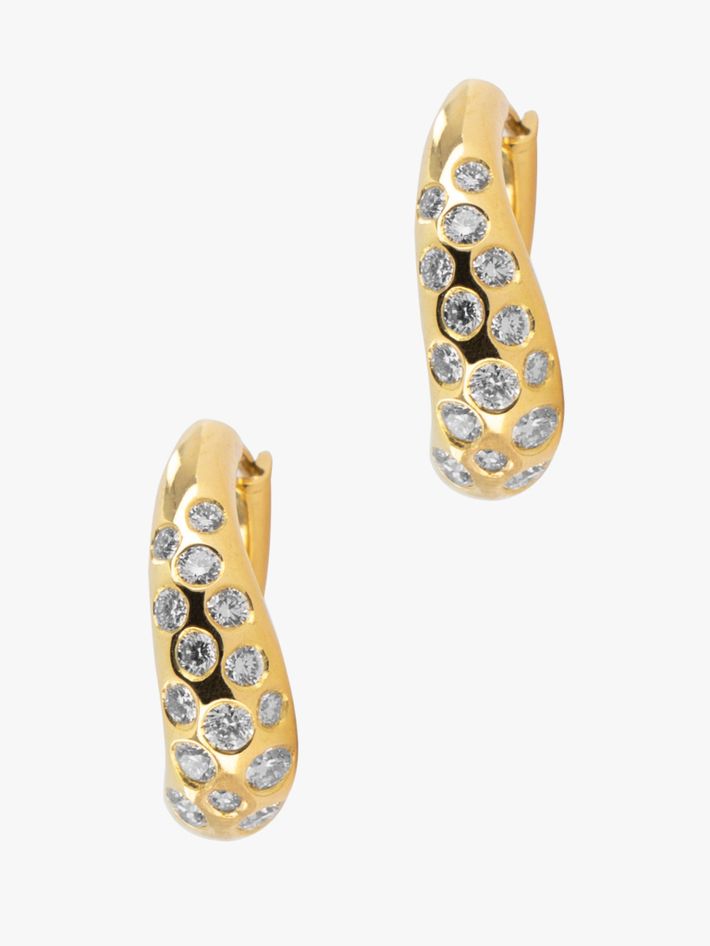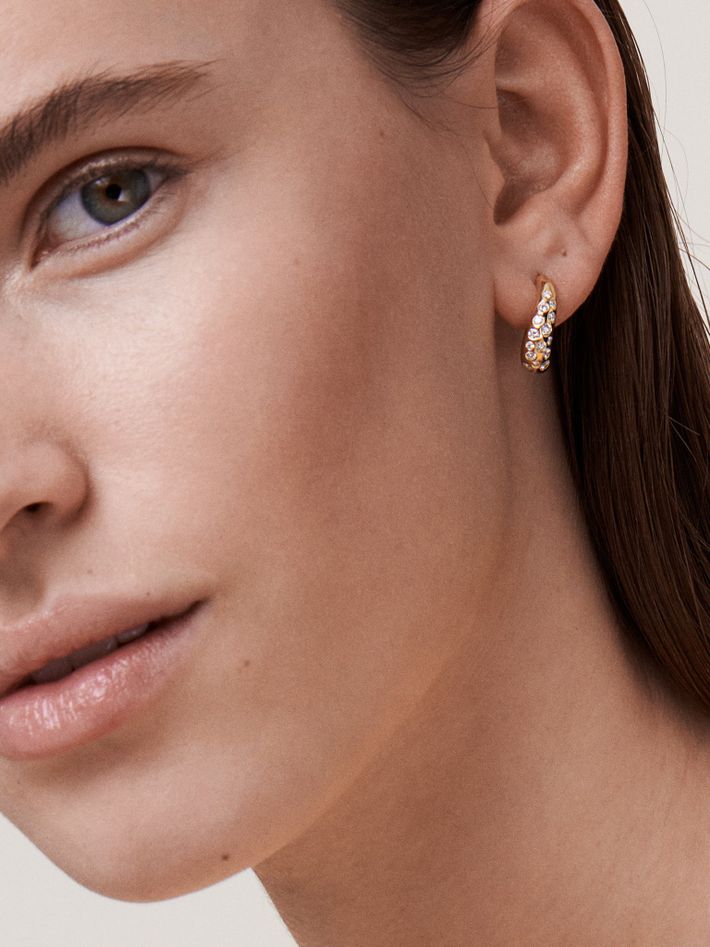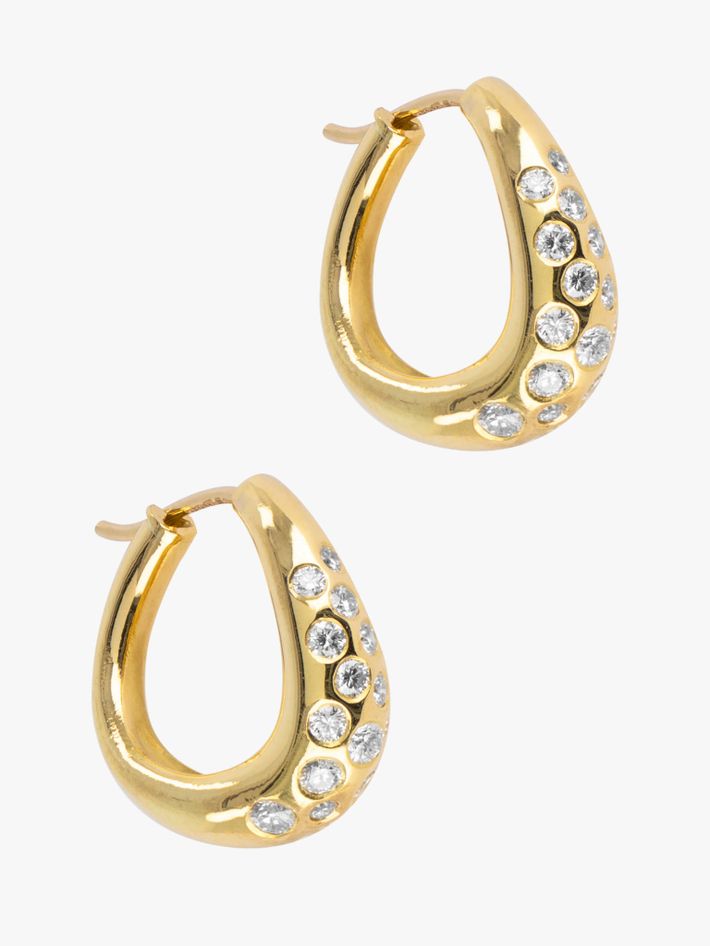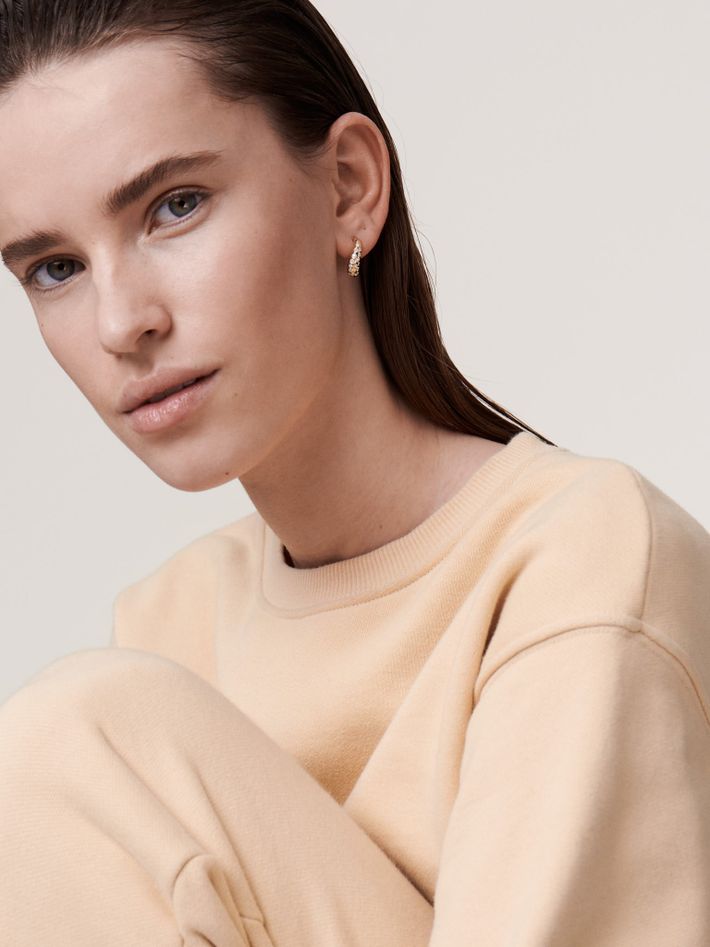 18 kt solid yellow gold
1.04 ct in 30 diamonds
Pair of earrings
---
Free shipping via DHL, fully insured
All taxes and customs duties included
Includes
certificate of authenticity
Ships in 1-2 days.
In stock
Certificate of authenticity
Designed & created by

Jessie Thomas

Issue date

11 August 2022

Location

London
Digital certificate
All jewellery pieces sold or appraised by Finematter have a digital certificate of authenticity.
Besides proof of ownership, it verifies the quality of your piece, including designer, metal, and gemstones.
If you are buying this as a gift, it can be transferred to give the receiver direct access to the warranty, aftercare services, and more.
Product details
Metals
Yellow gold
A precious and highly durable metal which comes in different golden hues depending on its purity.
18 kt
75.0% gold content, a warm buttery yellow hue and considered the most classic gold. An exclusive as well as durable precious metal.
Solid
Made of a single precious metal, this piece will never oxidise or discolour and will keep its looks for generations.
Polished
The surface has been polished to give it a bright shine. It can always be repolished to regain its shine after wear.
Gemstones
30 × Diamonds
30 gypsy set diamonds totalling 1.04 cts.
1.04 carat
The unit of weight for diamonds, equivalent to 0.2 grams, or about 6.4mm in diameter (slightly smaller than a regular pencil-end eraser)
VS2
Clarity
Inclusions are only visible with effort under 10x magnification
E
Colour
Colourless and exceptionally white, a rare and valuable diamond. (Grade E)
Round
Shape
Size and fit
Hoops earring
Butterfly
Closure
Made for you by
Jessie Thomas
Beautifully simple fine jewellery with a high level of craftsmanship
Our curator Miranda says:
Jessie excels at creating stunning diamond jewellery. Whether it be a classic diamond hoop or a bespoke bridal piece, her touch of contemporary design and hand-picked stones are top in class.
Handcrafts everything in her studio
Designer Interview
Jessie Thomas: "A lot of inspiration comes from developing a new technique or when I learn how to mount a diamond in a certain way."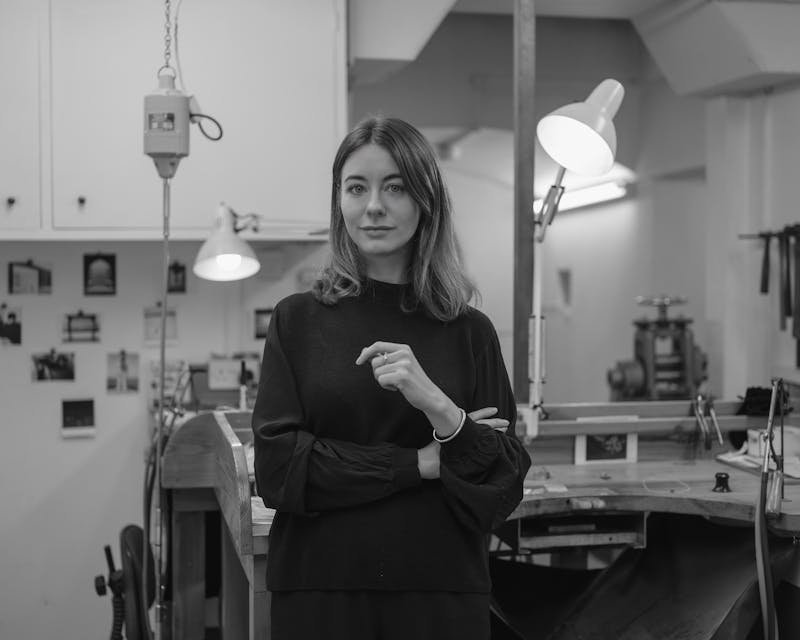 You learned your craft from your father, master goldsmith David Thomas, how was it growing up with and learning from him?
It is such a big part of our lives that it has always been that. But I didn't necessarily think it was what I wanted to do, but once I started, I became obsessed. Because it is a craft, and learning a craft just takes loads of time and practice. It's quite fascinating as a craft, I think. It is one of the most interesting ones, and it is one of the most technical ones. Once, I started, I was hooked.
This takes me to my next question, so you haven't always known that you wanted to be a goldsmith? Or was it always in the background?
He actually lives above the workshop, so I literally grew up above the workshop. It was very much a part of my childhood. Then, I actually didn't train in jewellery originally, because I did history of art. I worked for a couple of years in art, and then I ended up coming here and training under him. I think I've been here for nine years now. I did my whole apprenticeship and now I am what you call a journeyman goldsmith, whereas he is a master goldsmith, because he has obviously had apprentices.
Read more
People love how we ship their valuable purchases - free of charge