Designer interview
Stinne Holm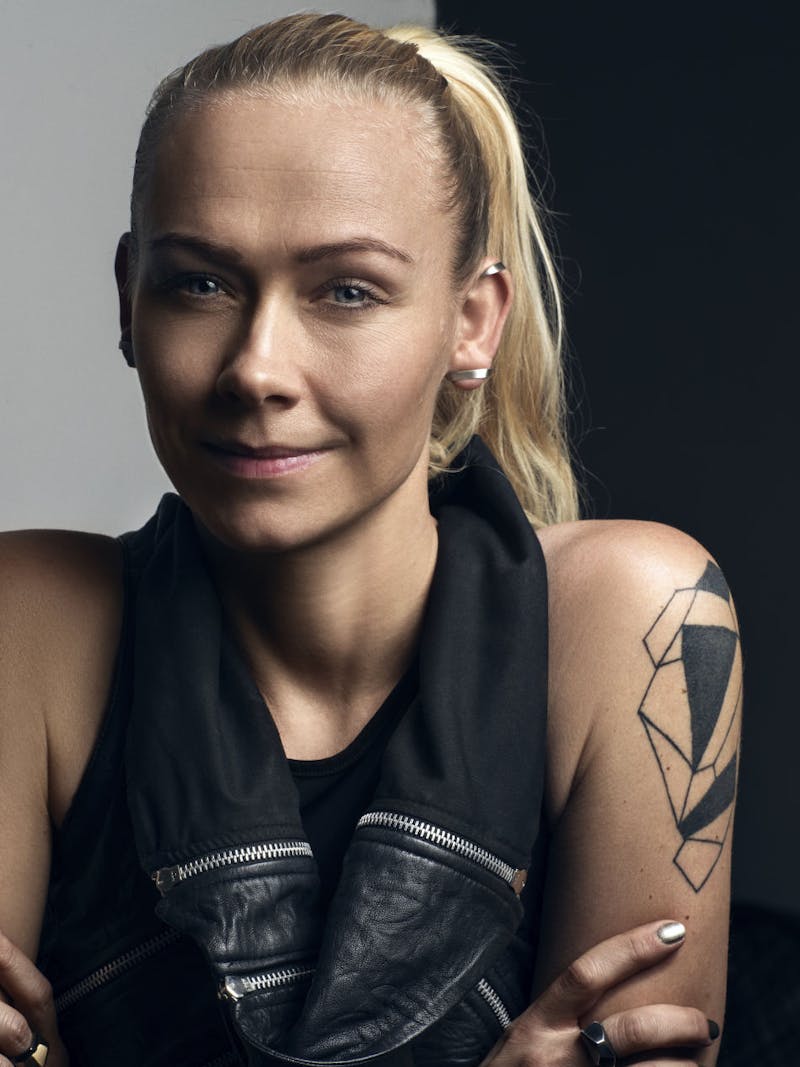 Stinne Holm has a veritable way with jewellery. She is a studious, pensive and introspective jewellery maker who takes a philosophical, almost intellectual approach to design. Jewellery is her medium of expression and boy does she articulate herself well through her craftsmanship. Her designs are sculptural living organisms that are inimitable in aesthetic. 'Life imitating art' is the natural discourse here, as she points out, and whether you see that as an asset of a deficit, at least there is a real beating heart that underscores every design. That said, Stinne has a dedicated fan base who seek out her jewellery rather than simply buy with no logic applied. She attracts a customer who will buy intentionally and who has an appreciation for the subversive way she manipulates metal. Her 'Bondage' collection has a way of wrapping itself like vines around your earlobe. Her 'Manrock' ring is brutalist but is still serene, just like Stinne herself.
We sat down with the endlessly interesting Stinne to find out the secret to her alchemy and what spurs her on in the jewellery world.
Can you tell me about your journey into jewellery?
I have had my own studio for 10 years now. I moved to Copenhagen because I wanted to be a goldsmith. I grew up in Fyn this little island in Denmark. But back then the only goldsmith school was in Copenhagen. So I moved to there and I found an apprenticeship with a very classic workshop. It wasn't actually a jewellery store, it was just a workshop. I started making jewellery from that point. I was about 20 years old at the time. I worked as an apprentice at the workshop for 4 years. But whilst I was working as an apprentice I started my own thing with some other girls, so I had a place to start making my own private collection even before I finished my education. From then on I went to work as a jewellery designer / goldsmith professionally.
Did you always want to work for someone else or did you always want to be your own boss and run your own show?
I didn't really like the style of the classic place I was working at because it was all very traditional but it was fantastic hand work with big diamonds so I was lucky to work with the best materials in the old and classic way, so it really helped my education. The style was a bit boring. When I felt more confident, it felt right to start my own label.
Jewellery is becoming more abstract now and moving away from the classic designs.
Yes I definitely agree. Especially here in Copenhagen, whenever I am travelling I am always trying to look at the jewellers and small galleries to find cool and new upcoming designers. But a lot of jewellery is the same. For example – in Paris I find very difficult. But Berlin, like Copenhagen is great for designs with a point of difference.  
Why are there so many jewellers in Copenhagen?
I don't know. Maybe because it's easy to start a good jewellery business here in Denmark, I don't know if it's the same ease to start as a small business elsewhere. And also you can make a good living out of it. And people are very much into design and aesthetic in Copenhagen.
Yes it's such a creative city regarding all aspects of design.
Yes I agree completely.
When did you decide to actually start your own jewellery company?
Well when I was working for another goldsmith, I just started buying some stones for myself and I was experimenting a lot. I got to a point where I decided I had to focus only on my own work, so I quit my job and started full time on my own brand, I rented a studio and worked from there full time.
"There is so much feeling and history and people want to get back to old values and buy something more permanent... People are more sentimental. They want to buy jewellery that is long-lasting"
Do you work from your shop now in Nørrebro?
Yes I have had this shop for ten years and I haven't left!
What materials do you use in your jewellery?
I use diamonds, silver, oxidised silver, 18 karat gold. I also do 14 karat, white gold and platinum on demand.
What is your inspiration for your designs?
I am always inspired by graphics. My first husband was a graphic designer and I never really looked at jewellery design as a point of reference, more graphic design when I started. I still find it more interesting to look at other design categories for example architecture, graphic design, landscape design - these are my true inspirations. Also nature always inspires me. I know everyone says that but it's true. I love the way nature has created the shapes of the diamond rough when they come out of the ground. The structure itself is inspirational.
But what's interesting is that I don't use rough because I work a lot with contrast, so for example my 'Facet' rings wouldn't suit diamond rough, because its rough and rough. I prefer using a perfect diamond round brilliant shape in the 'Facet' ring so you have something that balances it out and counteracts the harsh design with a soft diamond.
How often are you designing? Is it more business maintenance?
It comes in periods. I have a sketchbook in my bag so I draw and sketch a lot. Sometimes I go through my ideas and something new comes up. Sometimes my ideas are wild and crazy and just like an artist I go through the sketches and I will take an element out of them. So for example my 'Bondage' earrings started as a design that was too much, so then I iterated and reiterated and it became my best seller. So yes, I guess I start a bit crazy in the beginning but then I cut it down. Also the custom process can take up some time. I'll measure people's ears to get the perfect measurements, so I feel like a bit of a tailor. This is my approach.
What's a popular material that you use in your work?
People love diamonds in my designs. I think my designs look good alone, but there are many requests for diamonds which really contrast and enhance the pieces. I love clean lines and people have told me my designs are very masculine. Actually often when I inspect jewellery, I can tell if it's a female or a male designing it. Have you ever thought of that yourself?
No not really! But that's a really interesting point. Then again your designs look more male designed…
That's so interesting. Yes people often think that too. Now I always ask if a man or a woman designs the jewellery I am inspecting.
Who is the Stinne Holm woman?
She is 25-65 years old. She likes getting noticed. She is not someone who is the typical classic and conformed woman. She is someone who really dares to go her own way.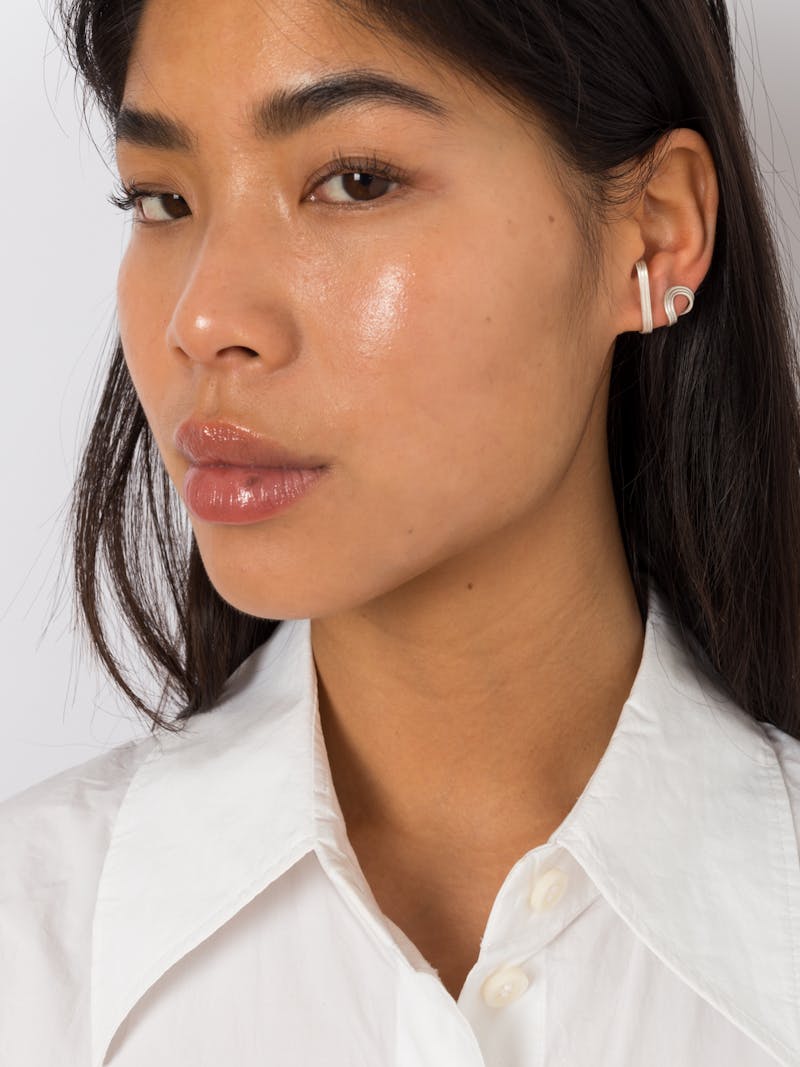 Would you say your life has gone that way too?
Yes, I like to think that I am like that.  In society it's easy to do the right thing and be a copy - cat. I don't like to look so much to other jewellery designers because there are so many on Instagram doing the same thing. For me, there are only about five interesting jewellers doing original work here in Denmark - everyone else is doing the same thing. I just had this conversation with my jeweller friend the other day and she told me that she wanted to figure out exactly what people wanted and I was thinking that I am trying to do exactly the opposite of what she was talking about. I try to create new ideas and do what I like myself.
I can even see that example from your 'Bondage' earring, I have never seen such a design like that before.
Thank you, I am trying to express new ideas through jewellery.
Would you venture into body jewellery?
Yes definitely. I made this amazing shoulder piece because I have always been very fascinated by body armour. There are so many great designs from body armour but there is a fine line because it shouldn't be too gothic and it can easily get there, I don't want to go into that zone.
You should make a line of body jewellery.
Yes I am thinking about it, only I have one apprentice and I have so many orders and much work to do so it's difficult to find the time.
Are you finding that people are happy to spend more money on jewellery?
Yes especially after Corona. In a way I think it has done the jewellery industry a lot of good. Because there is so much feeling and history and people want to get back to old values and buy something more permanent. Many people are using old family gold and remodelling it into something new. People are more sentimental. They want to buy jewellery that is long-lasting, because there is a lot of gold plated stuff which is not long-lasting and I really hope the younger generation put a bit more money aside for more fine jewellery or jewels that are better made quality but I feel it is happening. There are so many designers who design in Denamrk but the production is in Asia – why should that happen?
But I do feel a change people care more about the pieces they wear.
Yes certainly a few jewellery designers made the same remark to me that with the narrative changing on fast fashion, the narrative is changing on fast jewellery. People tend to ask more questions about the provenance and production as opposed to getting seduced by the bottom dollar.
Yes I hope and feel that is the direction we are going towards!
I literally just wrote an article on why it is better to buy fine jewellery as opposed to something cheaper and plated or assembly - line made that won't live beyond a few months, maximum a year. Honestly we have seen an uptick in sales of the more expensive category of jewellery that has taken sales away from commercially - made jewellery, so something must be happening.
I can also tell that I am now selling pieces that are the most expensive in my collection. Maybe its because people saved and have that money. I really don't know. I also sell more gold than I used to even though it's much more expensive right now! People are looking for good quality these days and its also nostalgia.
If you weren't a jewellery designer what would you be?
Motorbike mechanic.
Your jewellery in three words?
Graphic, minimalistic and unconventional.