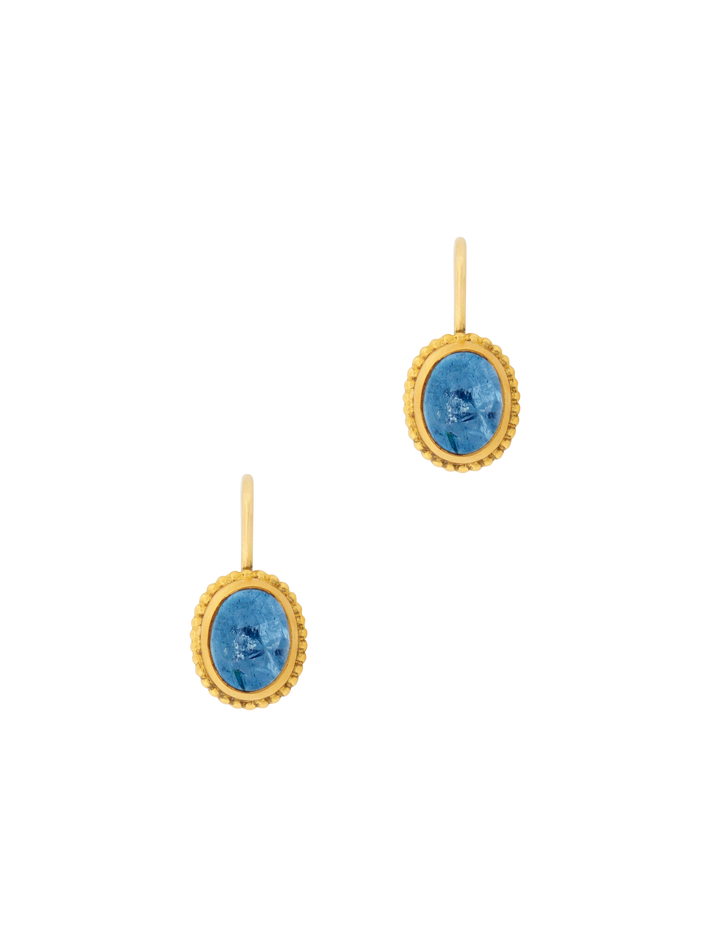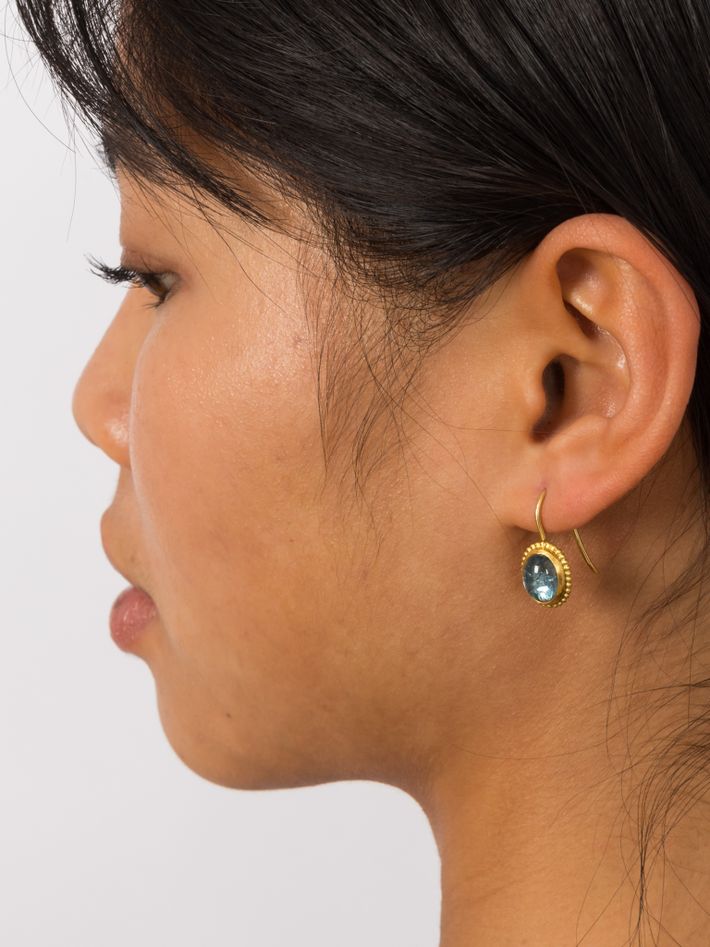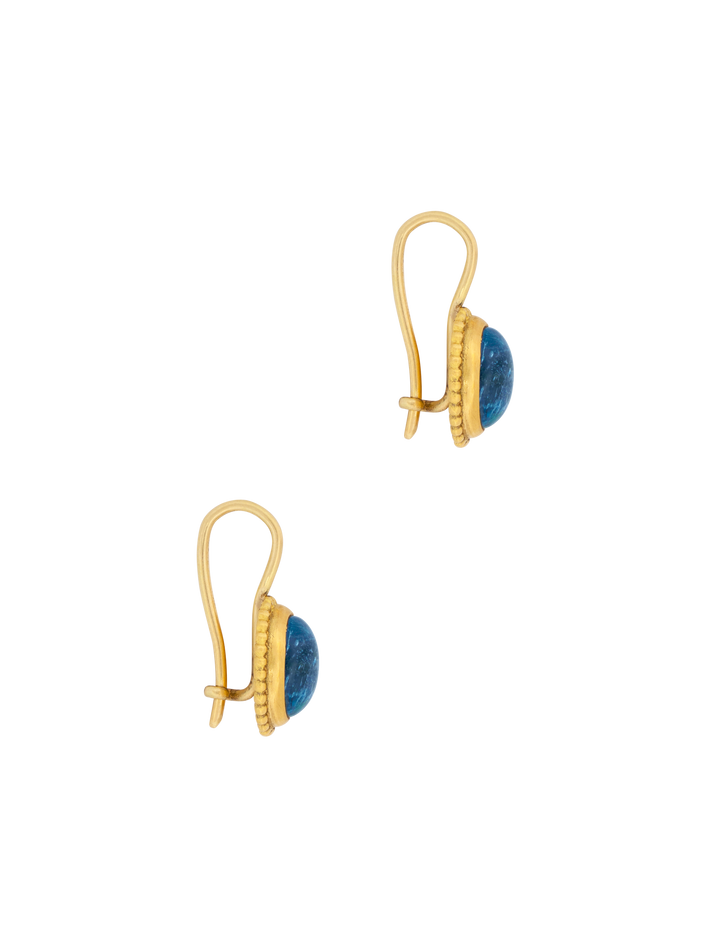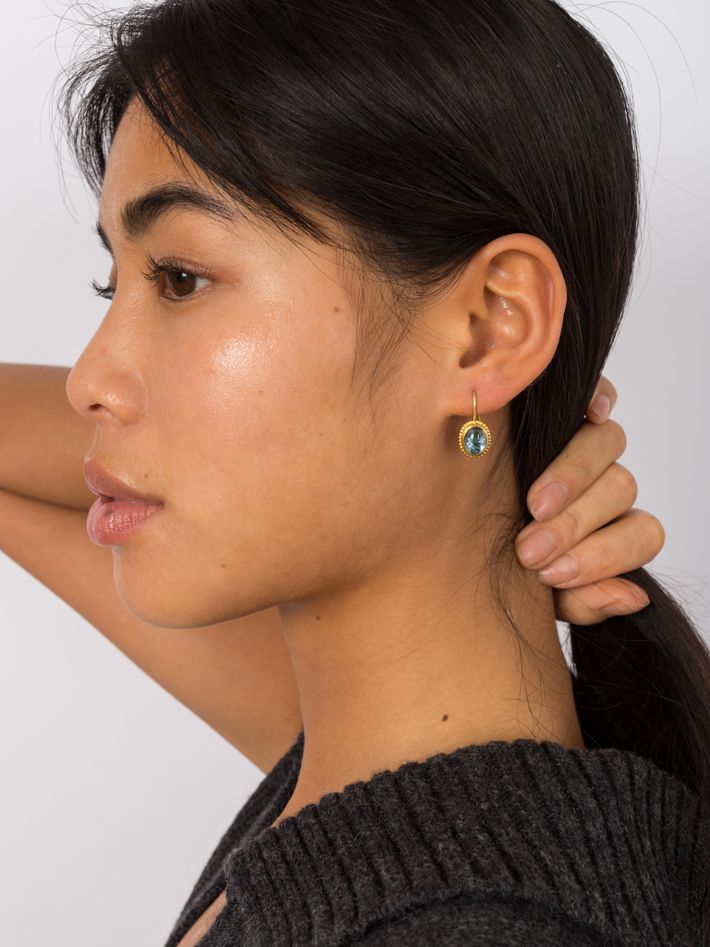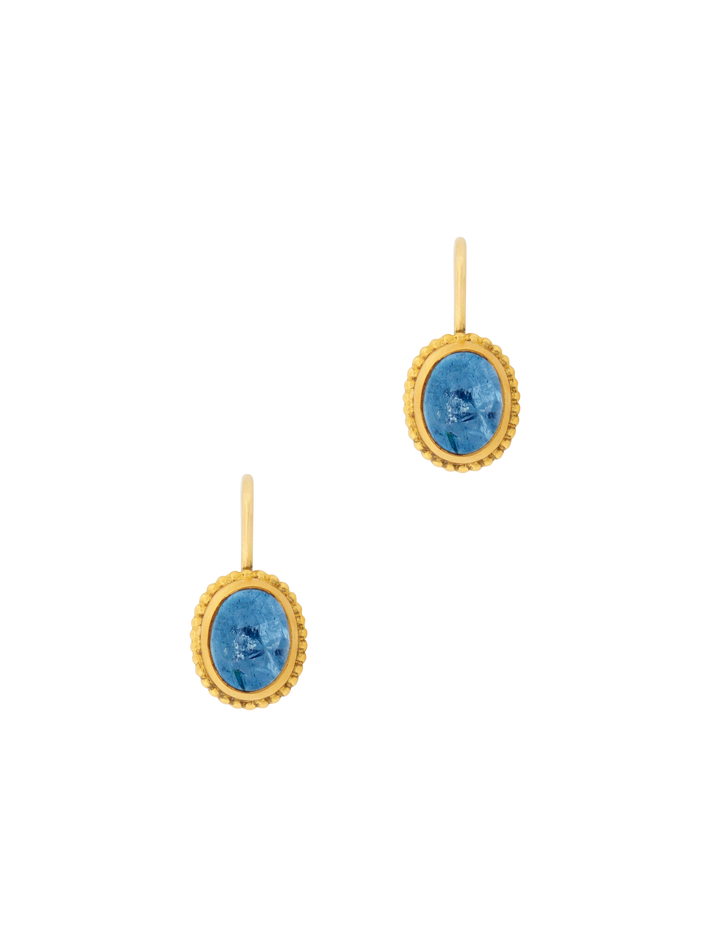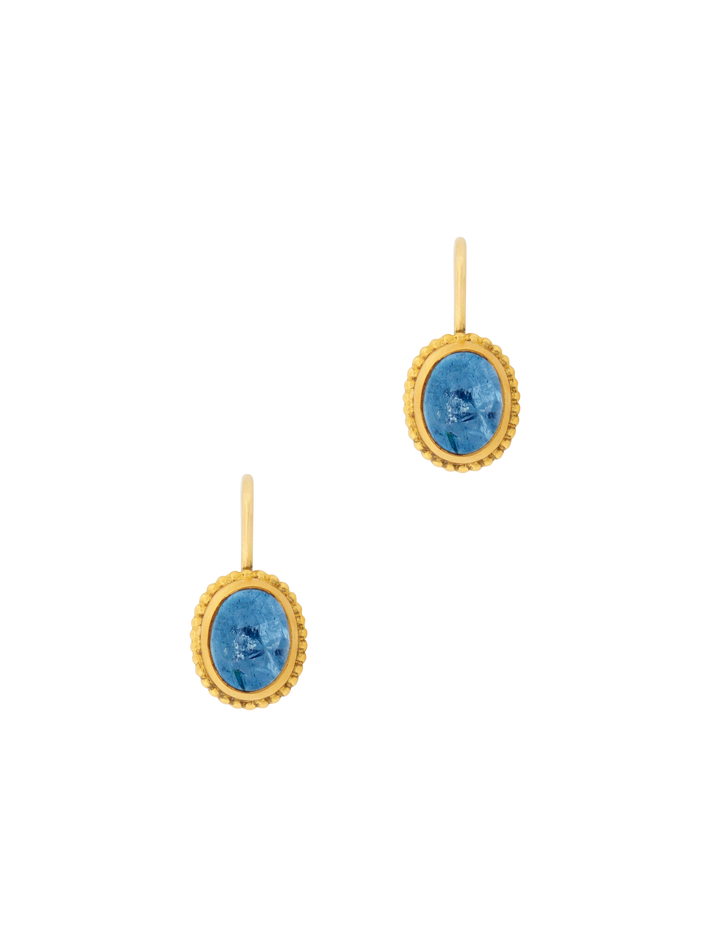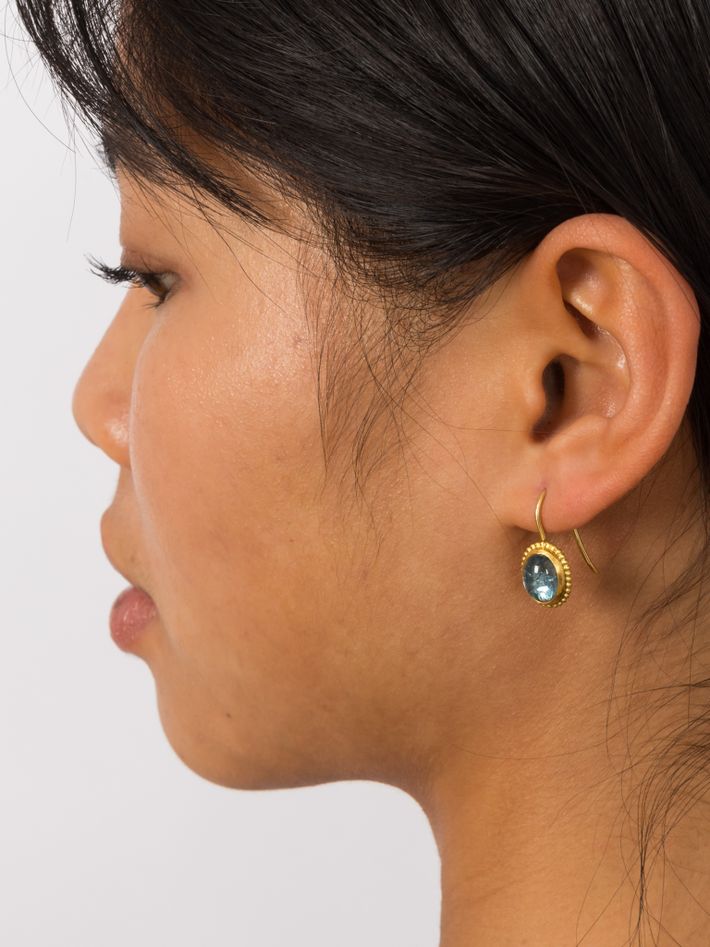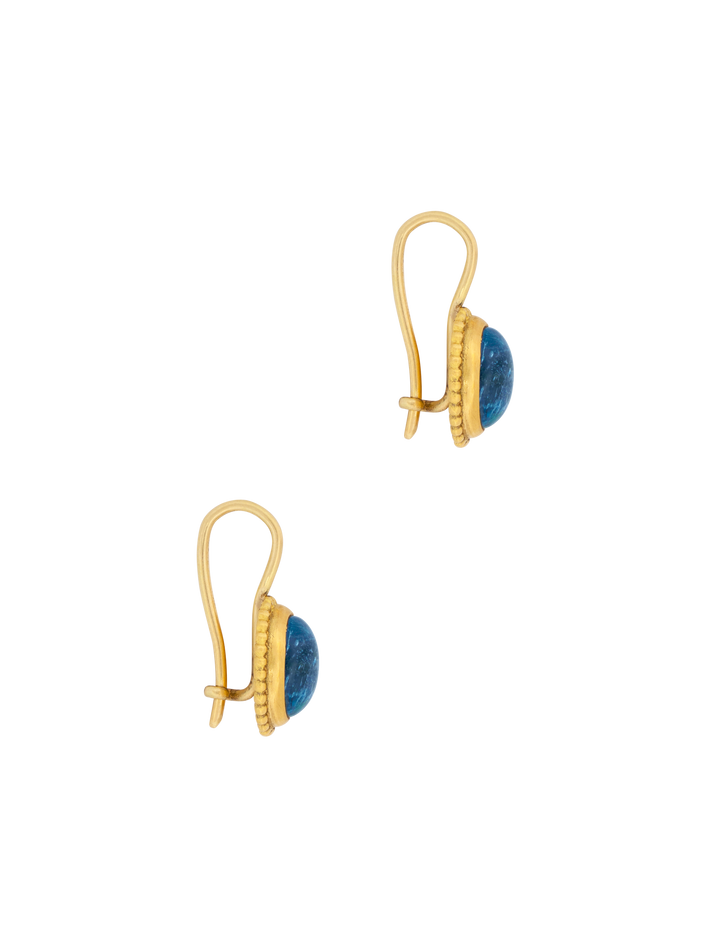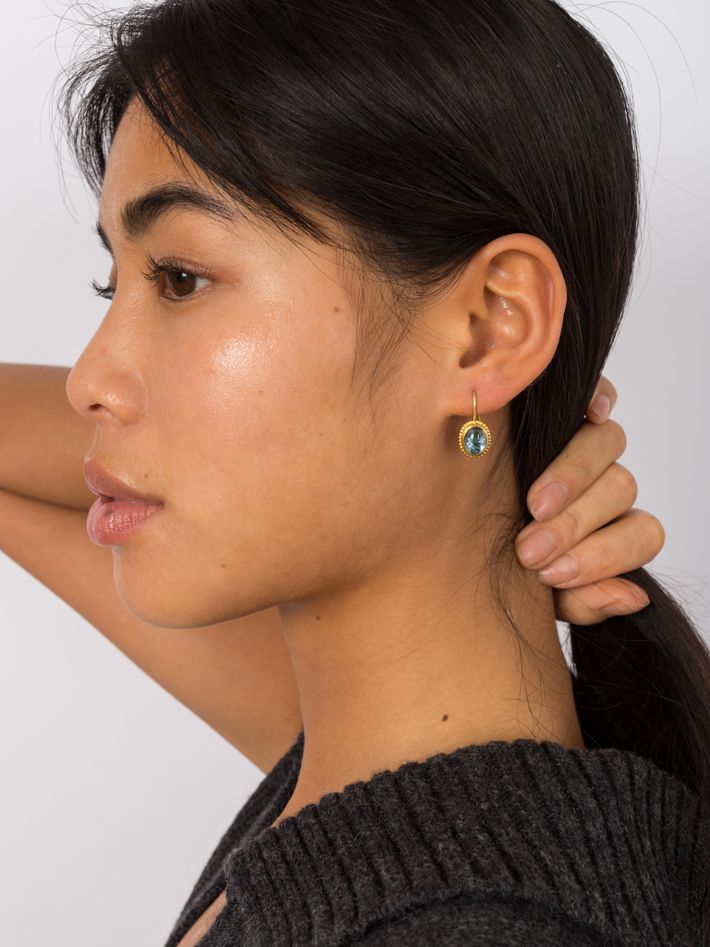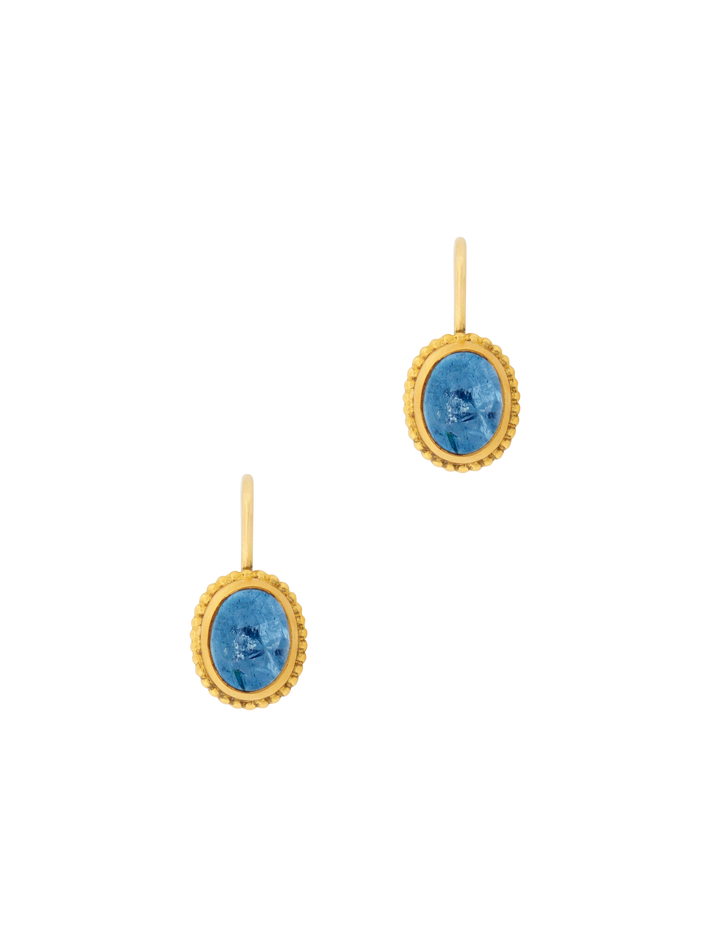 22 kt solid yellow gold
2 aquamarines
Pair of earrings
---
All taxes and customs duties included
Free shipping via DHL or UPS, fully insured
Includes
certificate of authenticity
Product details
Metals
Yellow gold
A precious and highly durable metal which comes in different golden hues depending on its purity.
22 kt
91.6% gold content, a warmer beeswax-yellow hue. An exclusive and malleable precious metal which will shape slightly to the wearer over time.
Solid
Made of a single, solid precious metal or metal alloy. Highly durable, can always be re-polished to regain its shine after wear.
Matte
Brushed surface gives an organic look. Will get more shiny with wear and can be brushed up later to regain its matte look.
Gemstones
Aquamarine
Aquamarine cabachons bezel set with a granulated trim.
Size and fit
Drop earring
Hook
Closure
20mm
Drop length
Made for you by
Prounis
Cult designs using only buttery-yellow 22k gold pieces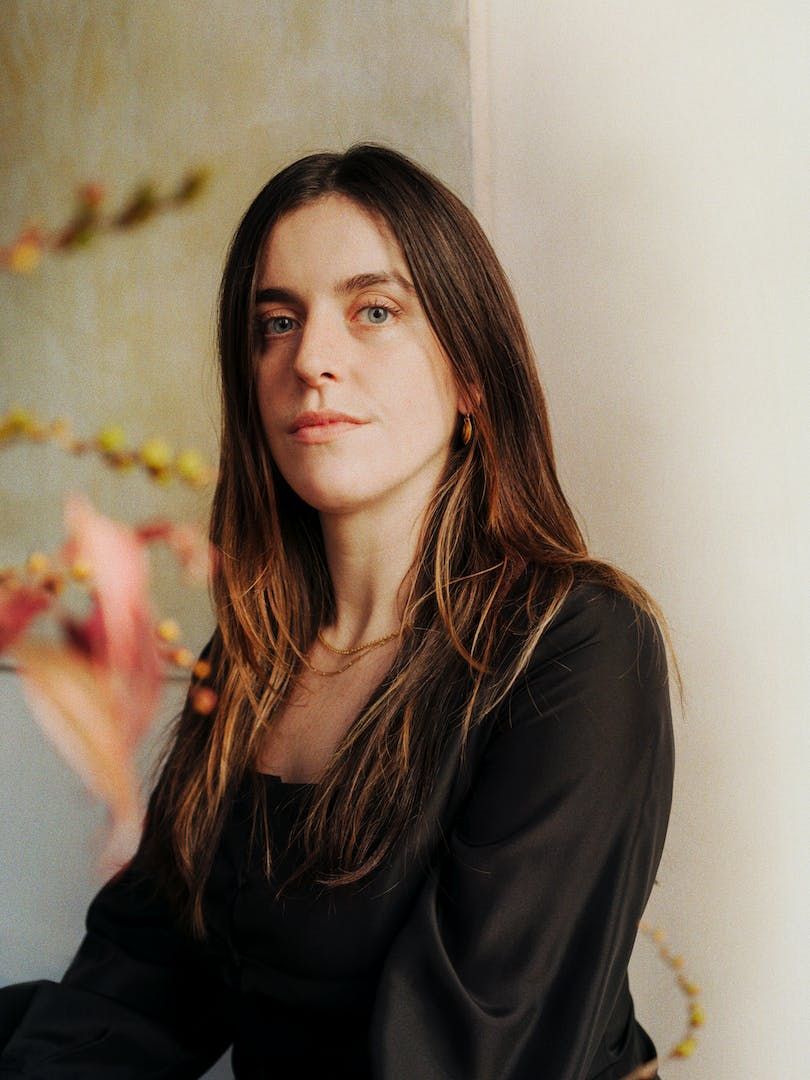 Designer Interview
Jean Prounis: "It's kind of like tying in multiple aspects of largely Greco-Roman times, but all types of ancient civilisations; also, ancient Nubian jewellery and pre-Colombian. I love to have a widespread dialogue in the pieces."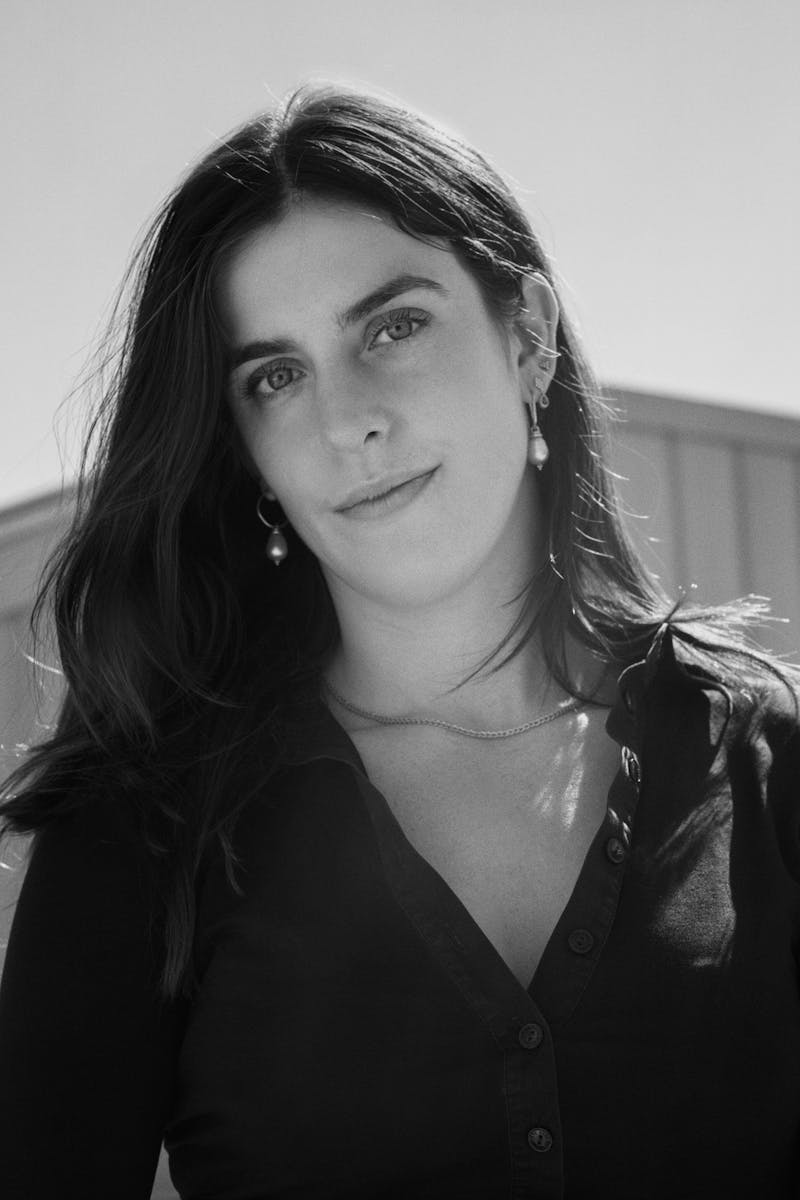 The first thing, I wanted to know, is what initially made you wish to become a goldsmith?
I guess it was from taking gold smithing classes. I studied jewellery and metal smithing in college and undergrad, and I just fell in love with these classes I would take out of school, which were specialised in ancient techniques. I just loved the meditative processes of chain making and granulation and these repeating forms. I tried to weave in those repeated techniques into how we design the jewellery and it feels much more grounding. It ties it together for me. And I just love 22 karat gold. I fell in love with it after I made my first 22 karat chain. It is the most beautiful material. It's amazing how it just comes out of the earth, I mean in 24 karat, but we alloy it here; that's just the process of adding fine silver and copper. 
That was definitely on my list of questions; the 22 karat gold. It has this very specific color.
Yeah, it's a really beautiful yellow. It is warm and buttery. I find it quite neutral. It is also the kind of gold where either you love it or hate it. But we have been converting a lot of people, who typically wore 18 or 14 karat, and then they buy one piece from us and they need more.
But there's not that many designers who use that specific color, which makes it very unique.
And the way we make it. It has a little more silver than used in a commercial 22 karat. And the reason why we do that is that when we alloy in-house, we are able to use recycled gold. We will buy 24 karat that has been recycled from scrap jewellery, so it is refined. We add the silver and the copper here, and from there we make sheets or wire, which is like the DNA of all jewellery to some extent. And the gold color, I like to reference ancient pieces that have more of a green gold. It is not as yellow as a 24 karat. I like the coloring. 
Read more
People love how we ship their valuable purchases - free of charge