How to pick your bespoke wedding piece
When you're looking for the perfect jewellery for your special day, you want to ensure you're wearing something that sparks joy and accentuates the smile on your face all day long. Finematter wedding jewellery for brides is made to last, so you'll be able to not only enjoy your beautiful bling on your wedding day but also pass it on to generations to come. Read on to learn how to pick wedding jewellery and find just the right pieces for your wedding-day style.
Make a statement
For a classic and feminine yet subtly opulent look, statement-making jewellery pieces are sure to impress on your special day. These pieces can compliment any style, from traditional ballgowns with intricate fabrics and embellishments to modern minimalist looks with few details. From delicate drop earrings that highlight your veil to statement necklaces that add a touch of glamour, statement jewellery allows you to be bold and confident as you walk down the aisle.
Something blue
Celebrate your individuality with your own interpretation of something blue — a piece of jewellery with a stunning sapphire. Representing wisdom and serenity, the gemstone is a superb companion for your special day, bringing a sense of calm and ease to your wedding-day preparations and festivities. Choose a necklace with a sapphire pendant or dainty sapphire studs in an array of blue hues that perfectly compliment other colours you're using for your wedding. Shop our edit of sapphire jewellery.
One-of-a-kind emeralds
As unique as they are stunning, emeralds will add a pop of colour to your wedding-day style. A symbol of truth and love, emeralds perfectly complement any skin tone and come in a variety of shapes and styles, from playful, pear-shaped emeralds to petite baguettes. Whether you're walking down the aisle or enjoying the celebration afterwards, these earrings will undoubtedly become a staple in your jewellery collection. Discover our carefully curated selection of emerald jewellery.
Opals
If you're looking to liven things up for your wedding day, opals are the gemstone for you! Associated with love, passion, and desire, opals' playful iridescence will remind you not to take your big day so seriously that you forget to have fun. Consider these Graduated pavé diamond hoops with opals by WWAKE, featuring two 10x8mm oval-shaped opals from Australia. This pair of hoops features vibrant opals suspended from thick gold hoops dotted with pave white diamonds — for that extra touch of sparkle that every bride loves.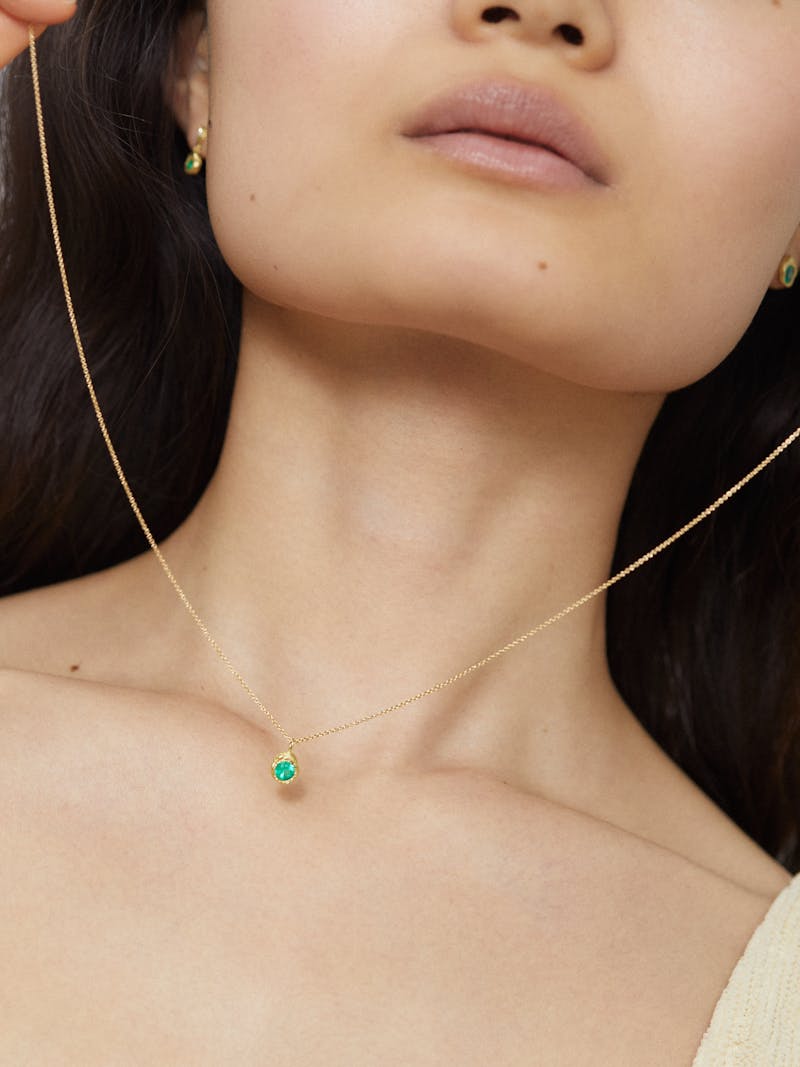 Diamonds are forever
Cherished as one of nature's most precious and stunning creations, most diamonds are over a billion years old and are formed deep within the earth. Enduring and pure, they symbolise the indestructible love you share with your partner, making them a timeless addition to your wedding-day jewellery selections. The Envoy diamond pendant, for one, features a 0.2 ct pear-shaped diamond that sits gracefully on an 18-inch yellow gold chain with a lobster claw closure — providing the perfect accent piece that works with any wedding-day style, along with everything in your wardrobe. If you appreciate special diamond pieces as much as we do, you will enjoy browsing our diamond jewellery edit. 
The classic look of pearls
The pearl is considered a symbol of purity and innocence, making for the perfect wedding-day accessory for brides with discerning tastes. Timeless and elegant, pearls can be layered or worn solo and come in a variety of colours, sizes, and shapes to suit any style. From beaded pearl bracelets to pearl drop earrings and even coordinating handbags and shoes this season, pearls are also an ideal accent for wedding guests. We could talk about pearls all day, but see for yourself what your favourite pearl wedding jewellery is, or take inspiration from our statement pearls edit.
Dainty and elegant style
Add a touch of sparkle to your neck with a delicate piece that catches the light just so on your big day. This style is classic and timeless, but it still feels fresh and modern — the kind of look that will never go out of style. The Shuga three stone diamond bar necklace by Dinny Hall, for instance, features three 2.5 mm diamonds suspended on a delicate gold chain made with 14kt solid yellow gold. Dainty and elegant, it's the perfect complement to any wedding-day look.
Wedding jewellery sets
For a perfectly coordinated look, consider a bridal jewellery set with matching earrings and a necklace or bracelet. These sets can be worn on the big day and beyond, making them an investment in more than just one special occasion. Consider Mociun's Aster necklace paired with the Aster earrings for a pulled-together jewellery set for your wedding day which adds colour and is both stunning and simple. Blue round-cut Montana sapphires steal the show — while additional sapphires and diamonds add colour and glamour. An 18kt solid yellow gold setting completes the look for this brilliant bridal set. Discover our wedding day sets for more inspiration.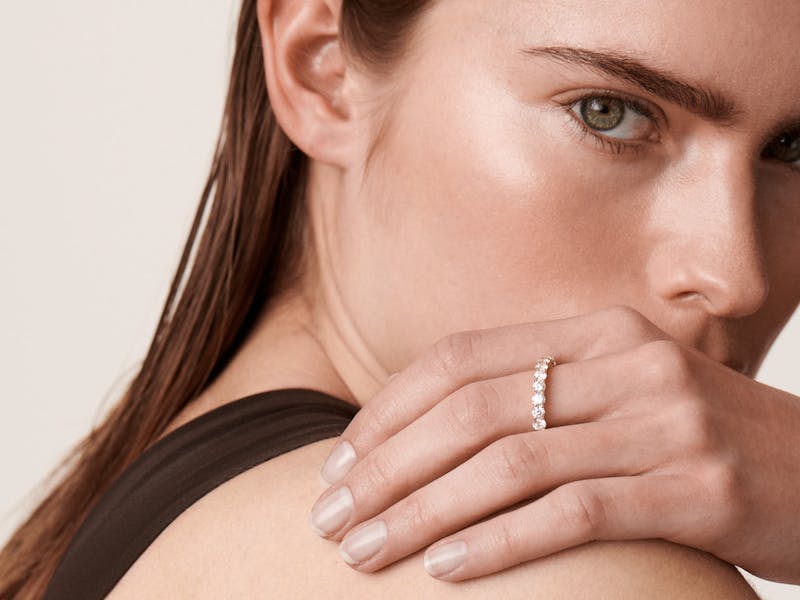 Bride and bridesmaid jewellery
Matching bride and bridesmaid jewellery is a lasting symbol of friendship and camaraderie that you can gift to your bridal party before your wedding day. Try coordinating bracelets, earrings, or necklaces that bring your bridal party together and symbolise the lasting friendship you share. Perfect on their own or layered, bridal party pieces come in a variety of styles to suit everyone's tastes. Maybe you want to make it even more personal by picking a specific gemstone, birthstones or an engraved piece.
Something old?
When you're looking for that special "something old," consider replating, repairing, or resizing jewellery that has been passed on to you. Whether you need a new clasp on your grandmother's diamond necklace or want to restore a pair of earrings that have been worn by generations, we can help. We'll ensure your special pieces look good as new and add that one-of-a-kind flair to your special day.
We want you to love your Finematter jewellery for your wedding day as much as we do, which is why our designers hand-make every piece with only the finest materials and craftsmanship. As you're searching for what jewellery to wear on your wedding day, remember that each piece of jewellery is made to last a lifetime and not just for your wedding, ensuring lasting memories well beyond your special day.